Beer & Pie July is back for 2021!
Publish Date

Tuesday, 6 July 2021, 8:57AM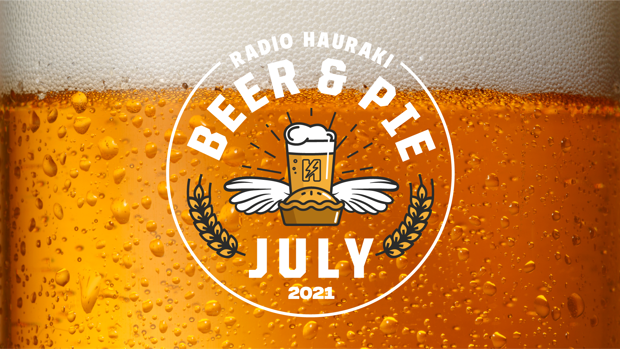 Welcome to the month of pure satisfaction… BEER & PIE JULY!
This year BEER & PIE July will be hitting hundreds of bars and restaurants around NZ with activations and functions each and every week.
Look out for the "Hauraki Pie Hole" game in your region where you stuff pies into the gobs of Matt Heath & Jeremy Wells to win one of FOUR trips for 2 to Auckland for Radio Hauraki's FRIDAY NIGHT PINTS BREWERY TOUR. A trip for two to give away each and every week of July.
PLUS Hauraki Drive has a chance for you and a mate to head to NZ's premiere Craft Beer festival – BEERVANA!
So grab an Emerson's, Mac's, Panhead, Fermentist or whatever tickles your crafty fancy and match it with NZ's national dish – the pie!

Want us to promote your Beer & Pie July activity? Email [email protected] with the details and we'll add it to the calendar!

Want to enter to win a Pie Day Friday Workplace shout in your region? Click the links below!

NORTHLAND
AUCKLAND
WAIKATO
MANAWATU
WELLINGTON
NELSON
MARLBOROUGH
WEST COAST
INVERCARGILL

DAY 1 - Dad's Pies Pepper Steak with an Emerson's Pilsner 
DAY 2 - Dad's Pies – The Bakers Son Vegan Mince and Cheddar with a Panhead Port Road Pilsner
DAY 3 - Scratch Pork Belly & Apple pie with a Mac's Green Beret
DAY 4 - Roti Brothers Butter Chicken Roti pie with a Mac's Apparition Hazy IPA
DAY 5 - Dough Boys Mince & Cheese pie with a Liberty Juice Bro Hazy IPA
DAY 6 - Roti Brothers Thai Beef pie with an Emerson's Hazed & Confused Cloudy IPA
DAY 7 - Dad's Pies Mexitarian pie with a Panhead Rat Rod 
DAY 8 - Emerson's Thai Chicken pie with a Kaleidoscope Hazy Pale Ale
DAY 9 - Cazador Wagyu Beer & Béchamel Sauce pie with a Panhead Quickchange XPA
DAY 10 - Bake Shack Pepper Steak pie with a Behemoth Something Hazy IPA
DAY 11 - Dad's Pies Bacon 'N' Egg pie with a Garage Project Ghost Light Hazy IPA
DAY 12 - Fairlie Bakehouse Bacon & Salmon pie with a Badass Beverages Hazy IPA 'Gift Horse'
DAY 13 - The Baker's Son – Angus Beef & Cheese pie with a Panhead Supercharger APA
DAY 14 - Roti Bros Truffle Beef Cheek pie with a Mac's Interstate APA
DAY 15 - Kiwi Kai Okaihau Steak & Cheese pie with a Good GeorgeFog City Hazy IPA
DAY 16 - Goodtime Pies Special Bacon & Egg pie with an Emerson's American Graffiti
DAY 17 - Oxford Pies Nacho Mince and Cheese pie with a Liberty Brewing Knife Party IPA
DAY 18 - Roti Bros Vege Panang Roti pie with a Harrington's Pilsner
DAY 19 - Scratch Bakery Chicken, Pancetta & Leek pie with a The Fermentists Pale Ale
DAY 20 - Potato Top made with Eddyline Brewery Roaring 40's Porter pie with Eddyline's 2021 Barrel-Aged Imperial Java Stout
DAY 21 - Snapper & Prawn pie from the Savour Group with a Little Creatures Pale Ale