Everything you need to know about UFC 259: Błachowicz Vs. Adesanya
Publish Date

Saturday, 6 March 2021, 2:30PM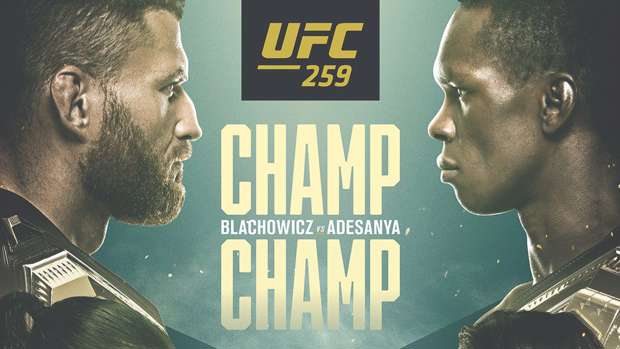 ACC UFC resident expert Felix Heath-Collins with everything you need to know ahead of UFC 259: Błachowicz Vs. Adesanya

Jan Blachowicz Vs. Israel Adesanya
In the UFC 259 PPV main event Polish champion Jan Blachowicz (27-8) (Wins-Losses) defends his light-heavyweight title against popular New Zealand middleweight champion Israel "The Last Stylebender" Adesanya (20-0), who is moving up in weight to attempt the rare achievement of becoming a simultaneous two division UFC champion.
Despite starting his UFC on such rocky footing it seemed he might be cut from the promotion, Blachowicz underwent one of the most significant transitions ever seen in MMA, suddenly leaping from a journeyman to a terrifying power-striking champion. He is known for technical brawling, and his "patented Polish power" (especially with the right hook). At 38 years old Blachowicz has hit his peak late for a combat sports athlete. With three KO/TKO victories in his last four fights however, Blachowicz has definitely hit his peak now.
This weekend Adesanya attempts the rare accomplishment of holding two UFC titles simultaneously. This has only been done four times before in UFC history (with Conor McGregor, Daniel Cormier, Amanda Nunes, and Henry Cejudo). After an incredibly impressive kickboxing career (75-5), Adesanya made his UFC debut in early 2018. After quickly amassing impressive victories over Derek Brunson, Kelvin Gastelum, Robert Whittaker, and Paulo Costa. Stylebender's style, while notoriously hard to decipher, is based on a complicated mix of feints, footwork/distance traps, cage-cutting, framing, lower leg kicks, and counter-strikes that land with a sniper's precision. However Adesanya's head coach Eugene Bareman has said it's Stylebender's "hardest fight", and so far he's coming in as a slight betting underdog against the Polish champion. He has been a dog before. Although technically, in that situation, the underdog was Paulo Costa...
Interestingly Adesanya actually has both the height (6'4" to 6'2") and reach advantage (203cm to 198cm) against his light-heavyweight opponent. This is despite Adesanya claiming he will weigh near the lower limit of the light heavyweight division, while Blachowicz intends to bulk up to heavyweight size. The stakes for this matchup are very high, with the legacies of both fighters on the line.

Amanda Nunes Vs. Megan Anderson
The only current holder of two UFC belts, the Women's MMA undisputed 'GOAT' (Greatest Of All Time) Brazil's Amanda "Lioness" Nunes (20-4), defends her Women's bantamweight title against streaking Women's bantamweight contender Megan Anderson (11-4) from Australia.
After her last loss to Cat Zingano in 2014, Nunes has since eliminated each of her top-level opponents. This historic win streak includes victories over some of the best fighters in Women's MMA history including: Valentina Shevchenko, Ronda Rousey, Holly Holm, and Germaine de Randamie. Nunes has floated the idea of retiring sometime soon. Her early retirement would likely be due to a lack of unbeaten competition, accompanied by her starting a family with her wife and fellow MMA fighter Nina Ansaroff.
in the opposite corner, Anderson is a surging Women's bantamweight contender from Australia who has high-level boxing and a tall frame for the weight class she fights in. In fact, Amanda Nunes only stands 5'8" with a reach of 175cm, while Megan Anderson stands four inches taller at 6'0" with a significant reach advantage at 183cm. In some ways Megan Anderson has a more natural frame for the bigger Women's weight class of bantamweight. Anderson offers a unique challenge for the now-legendary double champ Nunes, despite her previous dominance.
The betting odds for this fight should heavily favour the double champion in Nunes, but the significant height and reach advantages of Anderson could complicate the fight considerably, especially considering her arguably better technical striking. Because of the obvious disparity in skill level and experience between the double champ and contender, this fight has the biggest ramifications for the divisions involved in my opinion. If Anderson were to win it would dramatically change the conversation about the elite fighters in Women's MMA. Anderson could leap very high in the Women's GOAT discussion depending on her performance. If you want to watch the fights this weekend, but you haven't bought lottery tickets in time for the powerball draw, betting on Megan Anderson to win might be a good 'two-birds-one-stone'-type solution.

Petr Yan Vs. Aljamain Sterling
In the featured bout of the main card, recently crowned Russian bantamweight champion Petr "No Mercy" Yan (15-1) defends his title against the revitalised top contender Aljamain "Funkmaster" Sterling (19-3).
Yan, who is perhaps the best pure boxer in MMA today, earned the bantamweight title in a dominant finish of featherweight legend Jose Aldo, after Cejudo vacated the title upon his retirement. With a power and brutal striking efficiency not often seen in the lower weight classes, Yan has a considerable amount of stoppage victories and is considered by some as the future of the sport.
His opponent Aljamain "Funkmaster" Sterling was a great fighter until he got knocked unconscious from a flush knee to the head against Marlon "Magic" Moraes.
Since that fight, he has been seemingly unbeatable. On a five fight win streak which culminated in a swift rear-naked choke of bantamweight contender Cory Sandhagen early in the first round, Sterling has truly turned a corner in his fighting career. Sterling takes a different stylistic approach to fighting than Yan. Having originated as a college wrestler and then bjj black belt before ever focusing on striking, Funkmaster implements a fluid MMA game that balances submission wrestling with varied striking attacks and wrestling takedowns/control. He is very hard to prepare for.
This fight, the first of the three titles at stake on the UFC 259 card, has the potential to be the fight of the night, if not the year altogether. It should be a close fight, but also an exciting one. Plus these guys really hate each other which is always good fun. Just have a look:
Thiago Santos Vs. Aleksandar Rakić
In the main card opener light-heavyweight contenders Thiago "Marreta" Santos and Aleksandar Rakić fight, both intending to further their race to the title with an exciting striking match.
Santos rose to fame after moving weight classes up to light-heavyweight from middleweight, before going on a streak culminating in a five round close decision loss to one of Men's MMA's GOATs, former light-heavyweight champion Jon "Bones" Jones. Santos is, obviously, a power striker, but his particular speciality are in his implementation of 'Capoeira' kicks (from an acrobatic striking martial art originating in Brazil).
In the other corner, Aleksandar Rakic is a recently rising contender in the light-heavyweight division known for his high-level kickboxing, mixing both his punches and kicks with devastating skill. In comparison to the unorthodox power striking of the Muay Thai/Capoeira combination from Santos, Rakic has a more conventional kickboxing style. These conventional strikes might be more predictable to the opponent, but they are also quicker and more stamina efficient over a long fight.
This (hopefully) crazy striking affair in the light-heavyweight division is a great open to the main card and threatens to steal the show. There is always the potential for Santos to play smart and ground the fight, considering his BJJ (Brazilian jiu-jitsu) black belt against the kickboxer in Rakić. If this fight isn't awesome, the card's cursed. I'm calling it right now.

The fight card kicks off 4pm Sunday NZT.