Fish N' Chips From Whitby: The Jones Boy
Publish Date

Thursday, 1 October 2020, 10:00PM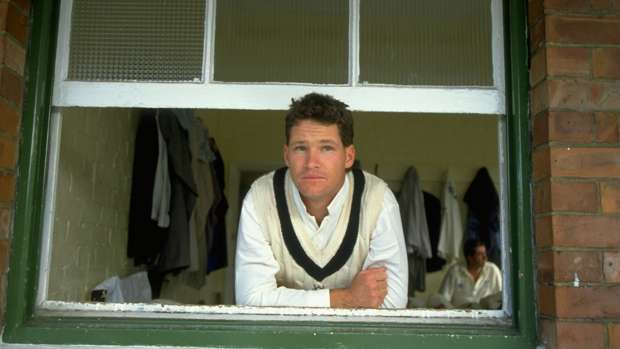 Musings from Tony Blain's acid-washed diaries...
The Jones Boy - 1st October 2020
Pontefract is one of many small West Yorkshire towns that went into steep decline in the mid-80s when the coal mining industry was snuffed out by the Thatcher government.
As far as I can tell it does have three legitimate and semi-interesting claims to fame however. First, they have the longest flat racecourse in England, which at two-and-a-half miles makes it one of the longest in Europe. Then there's the dubious honour of having Britain's most prolific serial killer, Dr Harold Shipman complete his internship at Pontefract General Infirmary in 1974, before he went on to kill in excess of 250 patients in and around the north of England.
For my money though,the best one is this: when the marvellous and pot valiant Irish actor Peter O'Toole was asked at the conclusion of filming David Lean's epic Lawrence of Arabia, after six months of deprivation in the Egyptian desert, "What do you think of Cairo?" he replied: "It's like Pontefract with scorpions."
I'm only mentioning "Ponte Carlo" (as it's facetiously known) because from where I live, in Gomersal (which is near Cleckheaton, the home of the industrial revolution's original punks, The Luddites) and just the other side of East Ardsley, about halfway to Pontefract on the M62, you'll find the village of Altofts.
Like Pontefract, Altofts is a struggling former "furnace filler" town that was killed by the coal cull of the 80s. They do however have a cricket pedigree of some repute.
In 1982, the Altofts cricket side – whose team was usually filled with solid if unspectacular club battlers, most of whom were of coal-mining stock – swept all before them in a gloriously triumphant season that would never be repeated.
The reason for this was twofold. First, because it was relatively rare for clubs at that time to have an overseas player, the league didn't have a cap on how many there might be per team. That was to change after the 1982 season because that year Altofts had four of them.
The second reason was that all four of these players were out of the top drawer. Each of them were to become accomplished first-class players; two went on to represent their country and one of those two forged a stellar one day international career.
The four chaps I'm speaking of were Alan Hunt, Lindsay Crocker, Ronnie Hart and Dean Jones. As I said, Altofts had had a winning season that year. At that time, Dean Jones was a fiery young fast bowler who very rarely got to bat – no surprise there given the quality of those ahead of him. As is often the way in cricket though, with time and dedication he developed and adjusted his skills.
Jonesy took his innate aggressive bowler's mentality and applied it to his batting style with spectacular success. In his pomp, Dean Jones was the equal of any one-day player of his generation.
Technically he had an orthodox, sound technique so at each visit to the crease he had a solid foundation to build from, but it was his busy, bustling manner at the wicket that was so effective at getting a bowler flustered, putting pressure back onto them. With his quick footwork and fast hands he'd never let a bowler settle, skipping down the wicket and always confident about going aerial when he wanted.
Much of his success came from his ability to get off the strike and often get back onto strike with his dynamite running between the wickets. He had a superior fitness level to most players of the day, and was the first to develop a "tumble turn" when coming back for a second or a third. Oft times the outfields back in the day weren't as they are now, so Deano would just pin his ears back and go, knowing that the chances of the fielder gathering it cleanly at pace and getting it in over the top wouldn't match his speed on the up and back.
These batting qualities and methods, coupled with his brazen Aussie moxie often did for a bowler's confidence, leaking runs as they wilted under the pressure of the Jones Boy's harassing schematic.
He did from time to time open his trap a touch wide, unwisely winding up Sir Richard prior to the 87/88 series in Oz but by and large Deano was a devoted cricket man with a big heart and, despite the occasional bout of Ocker braggadocio, was actually a humble and likeable bloke.
I asked Deano over to play in my benefit match in Wanganui in 1994. Given that he and I had locked horns on the field on a couple of occasions I wasn't particularly hopeful of his availability. He didn't hesitate in accepting the invite when I phoned him. On the day, the crowd at Cook's Gardens had a wee treat in store, as in my eleven one of the opening bowlers was a lad by the name of Hadlee.
To everyone's delight, including I think both Paddles and Jonesy, there came an opportunity in the match for a nice little joust between the two. Sir Richard, playing in his first game since major heart surgery, had kindly agreed that he would bowl three overs up front. Given his current medical status I was delighted with his offer: just to have the great man on the field was an honour and I certainly wasn't going to push him to bowl any more than he felt comfortably capable of. RJ had almost completed bowling his prescribed thrice overs, without any serious pace to worry the openers but at the same time with enough carry to keep the slips attentive, when, not unsurprisingly, he picked up a wicket.
Dean Jones came to the crease. The sight of the feisty Aussie No 3 stirred the warrior in Sir Richard. If the previous 16 deliveries from the Knight had been in cruise control, the next two that welcomed Jonesy weren't. The Bentley suddenly turned Ferrari and the two deliveries that greeted him were genuinely hot and heavy, hammering into the splice from a length, with the sound of a rifle shot. Jones negotiated both well enough, giving a nod to the great bowler at the over's conclusion.
I scampered down the pitch to thank Sir Richard for his spell. Paddles was blowing a bit and leaking profusely from the brow, but as he took his jumper from the ump our best ever looked at me and said, with a clenching jaw, "One more".
It's a shame when someone goes a bit soon. For Deano to have his innings cut short before 60 seems a little harsh but I guess you can only be grateful for the previous knocks and enjoy the memory of an enthusiastic life full of bounce and batting, never missing the opportunity to smack one to the ropes. He was a cricket man through and through and was highly thought of in Australia and I hope in New Zealand, too.
And if you're ever on the way to Pontefract, turn off the M62 just after East Ardsley and have a pint of Tetley Bitter at Altofts CC. The picture of the 1982 team has pride of place above the bar. Though the photo is puckering and yellowed now, you can just make out four skinny, hopeful, unknowing teenagers from Down Under, all bad haircuts and too tight cheap cricket shirts, grinning gloriously back at you.
Tony Elston Blain b. 17.2.62
11 tests: 456 runs; 19 catches, 2 stumpings
38 ODIs: 442 runs; 37 catches, 1 stumping
118 FC matches: 8 100s, 32 50s; 210 catches, 26 stumpings
110 List A matches: sod-all runs; 108 catches, 16 stumpings