UFC Uncensored #1 - Dana White
Publish Date

Saturday, 20 March 2021, 11:50AM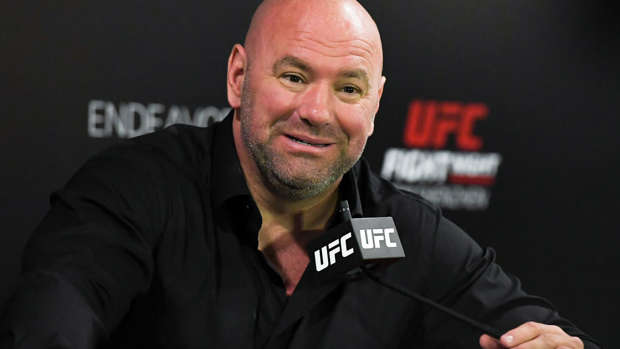 ACC UFC resident expert Felix Heath-Collins with UFC Uncensored #1

UFC Uncensored will look at the largest MMA organisation in the world, and attempt to critically assess the controversies of the global sports superpower.
UFC president Dana White recently announced that UFC 261 will take place in front of a capacity crowd of 15,000 fans in April in Jacksonville, Florida. The decision to restart full attendance shows in a state struggling with the pandemic as much as Florida is both irresponsible and selfish. Irresponsible because of the hundreds of deaths due to COVID-19 occurring in Florida daily; selfish because the company isn't looking out for the fighters as they claim, but instead values profit over people. Let's break it down.
The boss:
From state restriction disputes to fighter pay lawsuits, Dana White has been at the heart of combat sports since he became president of the then-struggling UFC promotion in 2001. Heralded by some as the sport's saviour, and denounced by others as a crimson-red con man, the boss Dana White has been polarizing since the beginning.

Dana White's first foray into combat sports came when he took up boxing at 17. After graduating high school and dropping out of college in the first semester (twice), White began teaching 'boxercise' classes to make ends meet. He has since debated the "boxercise" label often given to his former profession, instead calling the job teaching "boxing classes" for "housewives" and "businessmen"... which, according to White, isn't 'boxercise'.
White then claims he was strong-armed by infamous mobster Whitey Bulger, to the point he skipped town for 'Sin City' - Las Vegas. Dana then ran "boxing fitness" classes, which also don't count as 'boxercise', according to White.
Inevitably it would be his connections that would get him the big job, and not experience or skill. He went from 'boxercise' trainer to UFC president in record time. Since then, he has been involved in all kinds of controversies. From state restriction disputes to fighter pay lawsuits, White has been at the heart of them all.
For example, Dana White spoke at the 2016 Republican National Convention in support of nominee Donald Trump. White said, among other things that Donald Trump has "always been a friend to me." But lots of people supported Trump back in 2016, you might say. Well, Dana (a gambling fanatic) doubled down in Donald Trump's ill-fated 2020 re-election campaign.
During the 2020 election cycle, Dana White not only spoke again for Donald Trump at a reelection rally in Colorado, he also donated $1,000,000 of his own money to a Trump reelection committee called "America First Action".
As for the devastating COVID-19 pandemic, White has fought the lock downs. He at one point went so far as to disregard the legal infrastructure of U.S. state legislation, and instead attempt to host an event very early in the U.S. national lockdown, on Native American land (which falls their authority and not the state's). It took Disney executives, pressured by state and federal government, to force ESPN (UFC's current broadcast partner) to stop Dana White from continuing without state legislation.
Last November, after COVID-19 had already reached over 1,000,000 total worldwide deaths, Dana claimed "we're all gonna get it... it's like the flu, it's like the cold, we're eventually gonna get it." He had previously claimed the entire world "turned into p****** overnight". He also called the lock downs "unbelievable... I don't know what to say, it's embarrassing." The virus has now claimed around 2,600,000 lives in total globally.
The governor:
Back in September 2020, controversial Republican governor Ron DeSantis issued an order which removed various safety measures imposed to reduce the virus's spread in the recovering state of Florida. His order prohibits local governments from fining or shutting down businesses for mask wearing failures, despite all evidence suggesting he should not do that. With incredibly dangerous policy shifts like this mid-pandemic, Governor DeSantis managed to sky-rocket daily confirmed COVID-19 cases in his state to a record high on January 2nd of 31,518 cases. In just one day. That is well over ten times larger than New Zealand's total infections of the disease (2,444). COVID-19 now has infected "one in 11 Florida residents", but Florida recently decided to push through with plans to host the Super Bowl COVID super spreader event, with maskless parties abounding. Governor DeSantis is also currently under investigation for "establishing coronavirus vaccine distribution and administration sites in select locations to benefit political allies and donors, over the needs of higher risk communities," U.S. Representative Alcee Hastings said recently. Now DeSantis and his state are looking to host this upcoming UFC 261 PPV card in full attendance. Maybe they'll even get a new COVID cases per day PB!
The bottom line:
Dana White and the UFC have argued that full attendance events help keep fighter's payed, and that is why they are so adamant to have full attendance shows during the pandemic. This argument from the company ignores the fact that fighters would be compensated during the pandemic if they weren't in dodgy private-contractor agreements. "No layoffs at UFC," White said in an interview in mid 2020. "None of my people will be laid off. Not happening." Later that same year Dana announced the cutting of around 60 fighters. Despite trying to disguise these clearly COVID-related cuts as an end of year clean out of an "inflated" roster, the 60 fighter cuts is roughly double the yearly average. Those have nothing to do with COVID-19, also known by Dana White as "the cold", and "the flu". The bottom line is that the UFC needs to properly compensate their athletes for the performances they have. In the recently exposed financial fillings of the UFC, obtained through the fighter pay class action lawsuit, definitively shows that the organisation pays fighters an average of 20% of their revenue. This percentage is up to half of what other organisations pay, as a percentage of their revenue. MMA is a brutal sport, but it doesn't have to be a brutal business.