Hot Spring Spas T20 Black Clash In Association with Wolfbrook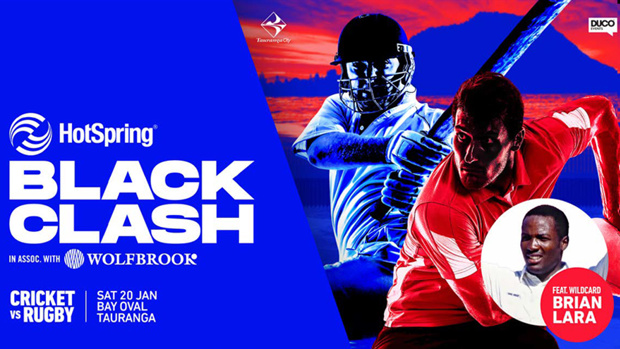 The 6th annual Black Clash is heading back to Mt Maunganui in 2024 and The Alternative Commentary Collective will once again be there... soaking in a sideline spa!
SATURDAY 20 JANUARY 2024 BAY OVAL, TAURANGA
The atmosphere is electric and fun, get up close and personal with some of the biggest stars of New Zealand rugby and cricket.
Big News! Team rugby have secured West Indies cricket superstar Brian Lara as their wildcard player!
Team Captain – Rugby – Kieran Read, Team Rugby brought to you by SnackaChangi
AND of course, Wildcard player for Team Rugby is BRIAN LARA, Team Rugy brought to you by SnackaChangi
Team Captain – Cricket – Dan Vettori, Team Cricket brought to you by TPW
More players to be announced in the coming weeks... stay tuned!
Tickets on-sale NOW!!! www.blackclash.co.nz
Take your Radio, Podcasts and Music with you