Red Bull Energy Station F1 Viewing Party!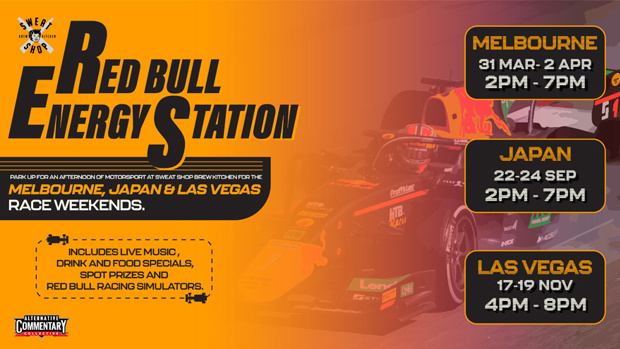 If watching Max gives you a Verstappen… This will give you Sergio!
The Alternative Commentary Collective are co-hosting the Red Bull Energy Station pop-ups in Auckland for THREE action-packed F1 viewing parties.
First up, Red Bull Energy Station - Melbourne, live from Auckland's Sweat Shop Brew Kitchen, Sunday April 2nd.
There's food, drink, live music, spot prizes and you can have a hoon on the Red Bull Racing Simulator all in time for LIGHTS OUT.
NEXT EVENTS:
SUNDAY, SEPTEMBER 24, 2023 AT 2 PM – 7 PM
Red Bull Energy Station - Japan
Sweat Shop Brew Kitchen
BOOK YOUR SPOT HERE
SUNDAY, NOVEMBER 19, 2023 AT 4 PM – 8 PM
Red Bull Energy Station - Las Vegas
Sweat Shop Brew Kitchen
BOOK YOUR SPOT HERE
Take your Radio, Podcasts and Music with you