Romain Grosjean's car explodes in fireball after first lap crash in Bahrain Grand Prix
Publish Date

Monday, 30 November 2020, 12:16PM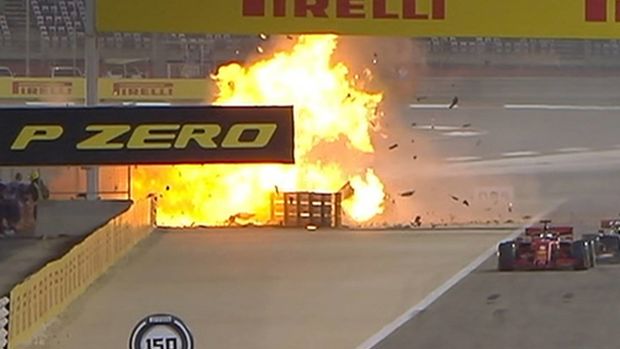 The Bahrain Grand Prix was red-flagged on the first lap after a horrific moment that saw Romain Grosjean's Haas engulfed in a fireball after colliding with the barriers.
Grosjean climbed out of the car through the flames and was dragged away from the fire by marshals before being helicoptered to hospital with a suspected broken rib and burns.
It was a terrifying moment after the start with all the drivers bunched up.
But with some going wide, it appeared as though Grosjean tried to cut through the pack into a gap but came in contact with the wheel of AlphaTauri's Daniil Kvyat, driving straight into the barrier at turn 3, a corner which is taken at approximately 140m/h (225km/h).
The car was sliced in half by the barrier with the tail sitting separate from the fire.
Haas team principal Gunther Steiner was quick to thank the rescue crews for their reactions, calling the crash "scary".
"The latest what I've got, he's doing OK," he told Sky Sports. "I don't want to make a medical comment here but he had light burns on his hands and ankles. He's obviously shaken and for sure is going through all the checks you need to do after an impact like this but he's conscious and he's fine.
"If you see where the barrier has been torn down, it's unbelievable. I think we were lucky by being unlucky. I prefer that luck than racing luck."
This article was first published on nzherald.co.nz and is republished here with permission