The ACC brings you live commentary of Super Rugby Pacific!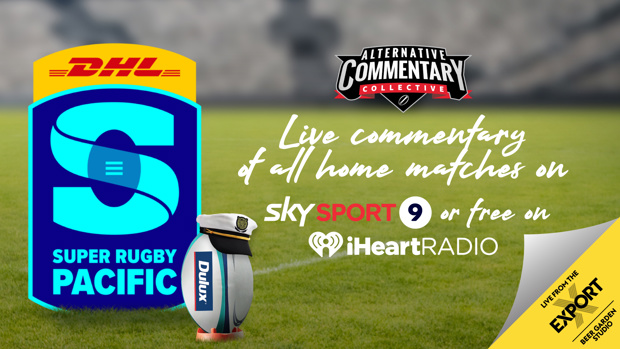 Super. Rugby. Is. BACK!!!

Oh yes boy, it is! And this year The Alternative Commentary Collective is covering each and every New Zealand-based Super Rugby Pacific game LIVE on iHeartradio & SKY SPORT 9!
That's right... No longer just Friday Night Footy but EVERY game played on NZ soil! 

Brought to you by the Great NZers at Dulux!


Round 1
Friday 24th February Crusaders v Chiefs - Orangetheory Stadium, Christchurch 7:05pm
Saturday 25th February Highlanders v Blues - Forsyth Barr Stadium, Dunedin 7:05pm
Round 2
Friday 3rd March Crusaders v Highlanders - AAMI Park 8pm
Saturday 4th March Moana Pasifika v Chiefs - AAMI Park 7:05pm
Round 3
Friday 10th March Chiefs v Highlanders - FMG Stadium Waikato, Hamilton 7:05pm
Saturday 11th March Hurricanes v Blues - Sky Stadium, Wellington 7:05pm
Round 4
Friday 17th March Hurricanes v Waratahs - Sky Stadium, Wellington 7:05pm
Saturday 18th March Chiefs v Rebels - FMG Stadium Waikato, Hamilton 4:35pm
Saturday 18th March Blues v Crusaders - Eden Park, Auckland 7:05pm
Sunday 19th March Highlanders v Force - Rugby Park, Invercargill 3:35pm
Round 5
Friday 24th March Crusaders v Brumbies - Orangetheory Stadium, Christchurch 7:05pm
Saturday 25th March Highlanders v Fijian Drua - Forsyth Barr Stadium, Dunedin 4:35pm
Saturday 25th March Moana Pasifika v Hurricanes - Mt Smart Stadium, Auckland 7:05pm
Sunday 26th March Blues v Force - Eden Park, Auckland 3:35pm
Round 6
Friday 31st March Moana Pasifika v Highlanders - Mt Smart Stadium, Auckland 5:05pm
Saturday 1st April Chiefs v Blues - FMG Stadium Waikato, Hamilton 7:05pm
Sunday 2nd April Hurricanes v Force - TBC 3:35pm
Round 7
Friday 7th April Crusaders v Moana Pasifika - Orangetheory Stadium, Christchurch 7:05pm
Saturday 8th April Highlanders v Hurricanes - Forsyth Barr Stadium, Dunedin 7:05pm
Round 8
Saturday 15th April Hurricanes v Chiefs - Sky Stadium, Wellington 7:05pm
Round 9
Friday 21st April Chiefs v Fijian Drua - FMG Stadium Waikato, Hamilton 7:05pm
Saturday 22nd April Blues v Waratahs - Eden Park, Auckland 7:05pm
Round 10
Friday 28th April Hurricanes v Brumbies - Sky Stadium, Wellington 7:05pm
Saturday 29th April Moana Pasifika v Rebels - Mt Smart Stadium, Auckland 4:35pm
Saturday 29th April Chiefs v Crusaders - FMG Stadium Waikato, Hamilton 7:05pm
Round 11
Friday 5th May Highlanders v Chiefs - Forsyth Barr Stadium, Dunedin 7:05pm
Saturday 6th May Crusaders v Force - Orangetheory Stadium, Christchurch 4:35pm
Saturday 6th May Blues v Moana Pasifika - Eden Park, Auckland 7:05pm
Round 12
Friday 12th May Chiefs v Reds - TBC 7:05pm
Saturday 13th May Hurricanes v Moana Pasifika - Sky Stadium, Wellington 4:35pm
Saturday 13th May Crusaders v Blues - Orangetheory Stadium, Christchurch 7:05pm
Round 13
Friday 19th May Moana Pasifika v Crusaders - Mt Smart Stadium, Auckland 7:05pm
Saturday 20th May Highlanders v Rebels - Forsyth Barr Stadium, Dunedin 4:35pm
Saturday 20th May Chiefs v Hurricanes - FMG Stadium Waikato, Hamilton 7:05pm
Round 14
Friday 26th May Highlanders v Reds - Forsyth Barr Stadium, Dunedin 7:05pm
Saturday 27th May Crusaders v Waratahs - Orangetheory Stadium, Christchurch 4:35pm
Saturday 27th May Blues v Hurricanes - Eden Park, Auckland 7:05pm
Round 15
Friday 2nd June Blues v Highlanders - Eden Park, Auckland 7:05pm
Saturday 3rd June Hurricanes v Crusaders - Sky Stadium, Wellington 7:05pm

Quarter-Finals
Friday 9th June - Sunday 11th June
Semi-Finals
Friday 16th June - Saturday 17th June
Final
Saturday 24th June
Take your Radio, Podcasts and Music with you