The ACC's Champagne Super Rugby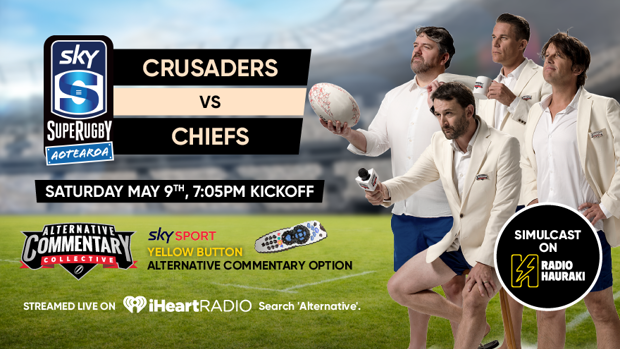 Due to popular demand The Alternative Commentary Collective's Champagne Super Rugby is back as the official alternative commentary option on SKY's yellow button. Make sure you select the 'ALB' audio option on the Yellow Button. 
Join The ACC's Champagne Super Rugby as they deliver high to medium-level live analysis of a feature Super Rugby match each week.
Catch all the ACC Champagne Rugby action live on SKY SPORT via the yellow button on your SKY remote OR you can listen on iHeartRADIO, search "alternative". Plus some games will also be simulcast on your local Radio Hauraki FM station.
Round One
7:05pm Saturday 27 February Hurricanes v Blues Sky Stadium, Wellington - Simulcast on ACC
Round Two
4:30pm Sunday 7 March Crusaders v Hurricanes Orangetheory Stadium, Christchurch - Simulcast on ACC
Round Three
7:05pm Saturday 13 March Crusaders v Chiefs Orangetheory Stadium, Christchurch - Simulcast on ACC & Hauraki
Round Four
7:05pm Saturday 20 March Hurricanes v Chiefs Sky Stadium, Wellington - Simulcast on ACC & Hauraki
Round Five
7:05pm Friday 26 March Highlanders v Hurricanes Forsyth Barr Stadium, Dunedin - Simulcast on ACC
Round Six
7:05pm Friday 2 April Crusaders v Highlanders Orangetheory Stadium, Christchurch - Simulcast on ACC
Round Seven
3:35pm Sunday 11 April Hurricanes v Crusaders Sky Stadium, Wellington - Simulcast on ACC
Round Eight
7:05pm Saturday 17 April Chiefs v Crusaders FMG Stadium Waikato, Hamilton - Simulcast on ACC & Hauraki
Round Nine
7:05pm Friday 23 April Chiefs v Hurricanes FMG Stadium Waikato, Hamilton - Simulcast on ACC
Round Ten
7:05pm Saturday 1 May Blues v Chiefs Eden Park, Auckland - Simulcast on ACC & Hauraki
Final Round
7:05pm Saturday 8 May FINAL - Simulcast on ACC & Hauraki