The Hot Spring T20 Christchurch Black Clash
Section

ACC,

Publish Date

Wednesday, 29 August 2018, 11:39AM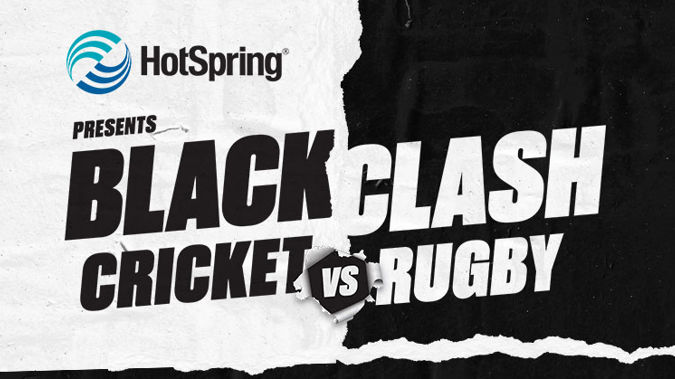 The Hot Spring T20 Christchurch Black Clash pits New Zealand's biggest sporting stars against each other in a high-intensity, hugely fun T20 cricket match at Christchurch's beautiful Hagley Oval on Friday January 25.
Stephen Fleming's Team Cricket will be defending its honour against Sir Graham Henry's Team Rugby, with a lifetime of bragging rights on the line for the victors.
Fleming has hand-picked T20 Master Blaster Brendon McCullum to lead the line-up for Team Cricket, while Sir Graham has called upon All Blacks captain Kieran Read – who played premier cricket for Karaka aged just 15 - to lead the upstart Team Rugby's charge.
Each team will be packed with international sporting superstars keen to show off their talents with bat and ball.
The leather, willow and a fair bit of banter will be flying at Hagley Oval in this summer sizzler.
TEAM RUGBY
Coach – Sir Graham Henry
Sir Graham etched his name into New Zealand sporting history when he masterminded the hoodoo-breaking 2011 Rugby World Cup victory – New Zealand's first triumph since 1987.
The victory, thanks to a nail-biting 8-7 final triumph over France, came despite the All Blacks suffering a relentless string of injuries to key players.
In Henry's eight years in charge of the All Blacks, the team claimed a series victory over the British and Irish Lions in 2005, five Tri Nations titles and three Grand Slams to go with the 2011 world cup triumph.
A right-handed wicket keeper batsman in his day, Henry played first class cricket for Canterbury and Otago.
Captain – Kieran Read
Canterbury and New Zealand rugby's gain was New Zealand Cricket's loss. The current All Blacks captain was just 15 when he forced his way into Karaka's Premier team – and his loss to cricket shortly thereafter was keenly felt.
"I don't think it's going too far to say he would have made the Black Caps," the club's captain at the time Todd McDonald told the NZ Herald. "He had something about him, even though he was so much younger than everyone else his maturity and temperament made him slot in so easily.
"It was instantly clear the ability he had, and by the time he was 16 he was the best batsman we had at the club." 
TEAM CRICKET
Player-Coach – Stephen Fleming
Former Black Caps captain Stephen Fleming was one of the most stylish left-handed batsmen ever to grace the black cap. Also one of the game's deepest thinkers, Fleming became New Zealand's youngest ever captain at just 23. Now 45, he is the brains behind the success of the Chenai Super Kings in the Indian Premier League.
Captain – Brendon McCullum
The former Black Caps captain – and current T20 gun for hire for the Royal Challengers Bangalore, Brisbane Heat and Trinbago Knight Riders – holds more records for hitting a ball hard and long than you can shake a cricket bat at. Recently deposed by Martin Guptill as the highest run scorer in international T20 history, McCullum has set marks for the fastest test century (54 balls), the third highest score in all T20 cricket (158 for Kolkata in the IPL) and is the first and only New Zealander to hit a test match triple century.
Tickets available for purchase 9AM Thursday 30th August via www.ticketdirect.co.nz
Adult $59
Concession $35
Kids $19
Family deal of 2 adults and 2 kids $140