Puck Yeah's guide to NHL On ESPN
Publish Date

Tuesday, 5 October 2021, 4:21PM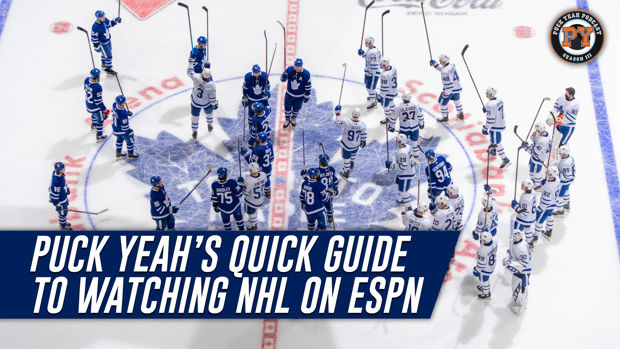 Words by Logan Swinkels. Follow him on Twitter @swinksnz

Kia ora and welcome to Puck Yeah's guide to hockey on ESPN!
STEP 1:
First up, make sure you have the ESPN app installed on your device. You'll find it in the App Store and the icon looks like this...
STEP 2:
Now that you have the app… tap the settings wheel in the top-right corner. Make sure you have Australia selected under 'edition' to customise the app to that region. Also select Australia or New Zealand within the 'video settings' tab, just go to watch region and tap PacRim for the options.
STEP 3:
If you have an ESPN account, you can log in here but this isn't where you gain streaming access. Instead, tap on 'TV provider' and select Sky in New Zealand, if you're in Australia select Foxtel or Fetch. Put in your SkyGo login details, wait for the app to link your account and then you're in! Sky Sport Now customers are currently not included.
STEP 4:
Next up, at the bottom of the app, open up the 'Watch' tab. Here you'll see every stream that's live right now. To find the hockey you want, tap on the calendar in the top-right corner - and you'll see what's live now, what's coming up, plus game replays.
Filter out your search by tapping on 'all sports' and scrolling down until you find 'ice hockey'. You can also browse the dates below to see what's coming up on the schedule or find a game you missed, then simply tap on the name to load your video.
STEP 5:
Once the live stream or replay has begun, you can watch on your device or cast it to your smart TV, Apple TV or Chromecast. That's it, you're back to watching hockey!

At this stage, live games currently have no DVR functionality but replays do, also you can't select home or away feeds. Fingers crossed more features like that will come in the future, after all this is a long-term commitment by ESPN in Australia and New Zealand.
We hope this short guide helps! Make sure you subscribe to Puck Yeah on iHeartRADIO or wherever you get your podcasts and we'll see you next time.
Listen to the latest Puck Yeah episode below!