Help spread the word of Kiwi Lager's return and you could get paid for it!
Publish Date

Thursday, 12 May 2022, 11:51AM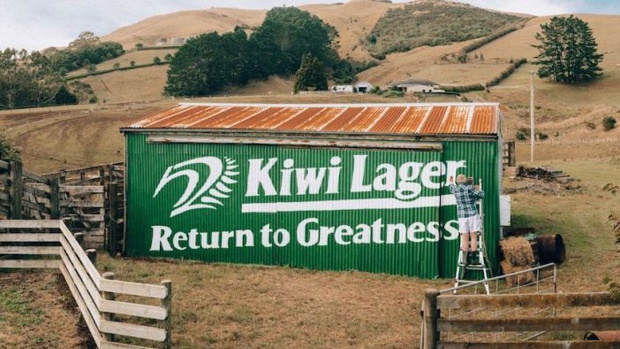 Through the mists of time emerges a lost national treasure, an iconic brew that once filled the proverbial belly of the nation. Kiwi Lager – New Zealand's lost lager. Ask any regular at your local drinking hole about the legend that is Kiwi Lager, and they'll tell you. There were Kiwi Lager boats, Kiwi Lager trains, planes (probably) and even jerseys! Kiwi Lager sponsored everything from the 1988 Olympic Team to the 1990 Ironman. Not to mention, the brand was once voted the 'best beer in the world.'
After a few decades absent from the shelves the legendary Kiwi Lager, complete with the original retro logo and the famous green and gold cans, is now back and ready for a return to greatness.
Sam Forrest, Senior Marketing Manager of Domestic Brands at DB Breweries, explains that the challenge for the launch campaign was the disparity between the beer's 'greatness', and the budget: "We're really excited about bringing this iconic Kiwi beer back, but when you're bringing a budget beer to market, you unfortunately don't have a lot of money left over for billboards."
"But, we thought, who needs billboards when you have garden sheds, hay bales, and pie tops to tell the nation of your return? With this campaign we're asking the fair people of New Zealand to offer up anything they own, for us to brand, to spread the news of Kiwi Lager's return," says Forrest.



We've offered up the mics in our studio. So what can you offer? Slide into Kiwi Lager's DMs on Facebook or Instagram and let them know and they'll be in touch...