Win a Musashi Cheat Day Prize Pack with The Daily Agenda!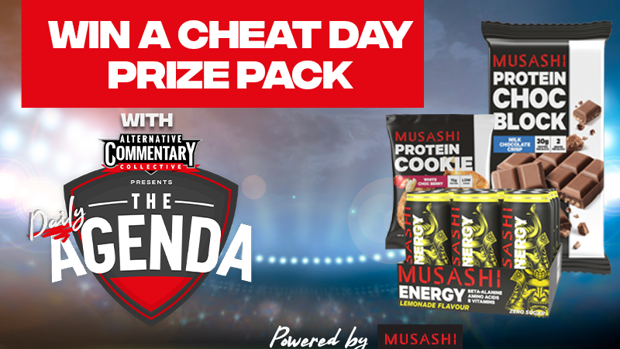 The Daily Agenda is powered by Musashi.
Summer is getting closer by the day and Musashi want to help you cheat the cheat day while you're on the pre-summer shred!
Listen to The Alternative Commentary Collective's Daily Agenda Podcast to go in the draw to win a CHEAT DAY Musashi prize pack!
With low sugar, low carbs and packed full of protein, the new Musashi Protein Choc Block (30g protein) and the Musashi Protein Cookie are the perfect guilt free snacks - so you can cheat the cheat day. AND for your pre-work out ritual, drink a Musashi Energy drink formulated with Beta-Alanine, Amino Acids and B Vitamins.
There are FOUR Cheat Day prize packs to be given away from 15th September – 6th October. Listen to the Daily Agenda with host Manaia Stewart to be in to win.
1X CHEAT DAY PRIZEPACK INCLUDES:
· 8x MUSASHI PROTEIN COOKIES (White Choc Berry Flavour) 58g
· 8x MUSASHI PROTEIN CHOCOLATE BLOCK BARS 120g (Milk Chocolate Crips Flavour)
· 1x MUSASHI ENERGY DRINKS 6 pk (Lemonade Flavour)
MUSASHI PROTEIN CHOCOLATE BLOCK is loaded with 15g of protein in a convenient, delicious milk chocolate bar full of crispy soy nuggets. Great for when you need your protein hit post-workout or as an easy protein snack on the go.

MUSASHI PROTEIN COOKIES are loaded with 15g of quality protein, low in sugar, filled with delicious choc chunks and have a 'melt in your mouth' soft bake texture, guaranteed to fulfil that sweet craving. Great for your protein hit post-workout, or as an easy snack on the go.

MUSASHI ENERGY DRINKS Musashi Energy is a zero-sugar flavour sensation with a synergistic blend of amino acids and key nutrients. An amplified energy beverage scientifically formulated to contribute to a reduction in tiredness and fatigue, and support normal energy metabolism.

Musashi offers a range of products to support your goals whether it is to fuel, recover, shred, or bulk – VISIT www.musashi.com
Take your Radio, Podcasts and Music with you