Win Leigh Hart's original ACC Blazer!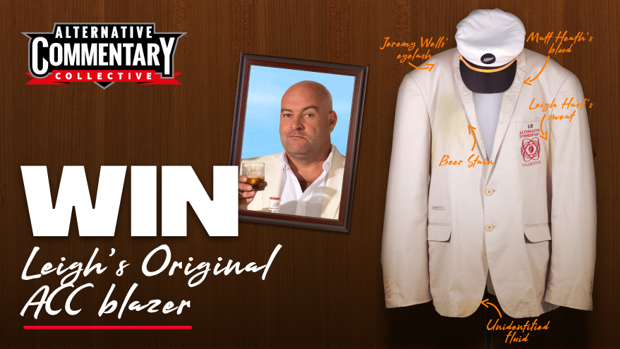 Your chance to win a piece of ACC history! This is Leigh Hart's original 2014/15 ACC team blazer…. stains and all. PLUS signed by the entire Alternative Commentary Collective team!
This jacket has seen some things - first worn in the 2014 NZ v India Series, its most famous outing was during the 2015 Cricket World Cup when the infamous drinks trolley incident occurred at McClean Park, Napier that saw The ACC unceremoniously thrown out of the tournament – the first and only time a commentary team has EVER been thrown out of a world tournament.
Alongside the musty scent of Leigh, other features include a small speck of Matt Heath's blood post-NZ v Australia at the CWC, a hair of some description from Jeremy, PLUS alcohol-soaked stains and other questionable fluids.

This is definitely one for the pool room that has many stories to tell.

To be in to win sign up to be an ACC Insider below! 

Winner drawn Friday, March 31st
Take your Radio, Podcasts and Music with you