Win the ULTIMATE Toppa Top Up for your flat!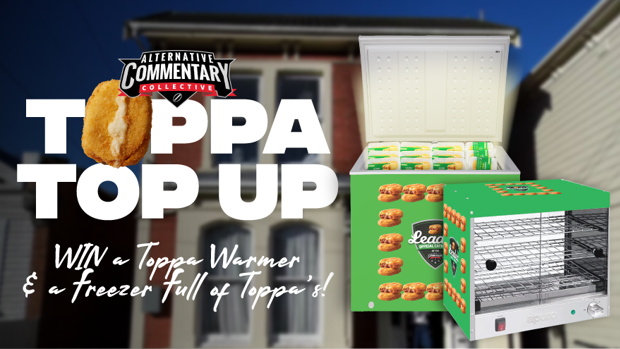 Thanks to Leader NZ and their delicious Lasagna Toppa's, the Alternative Commentary Collective wants to give you and your flatmates the chance to win a 'Toppa Top Up' THIS Super Rugby Season!
The punters who take home the prize will get a limited edition Toppa warmer and Toppa freezer delivered right to their doorstep! Better yet, the freezer will be stacked full of New Zealand's favourite snack – Toppas, so you can chuck a Toppa feed in the oven every halftime for the rest of the Rugby season! Make sure you and the Flatties don't go hungry this Super Rugby season.
There are three Toppa Top Ups to be won, in the following super rugby regions; Blues (Auckland), Hurricanes (Wellington), Crusaders (Christchurch)
To enter, text the ACC on 3236, with the keyword TOPPA and your Super Rugby region during The ACC's coverage of Super Rugby Pacific on Sky Sport 9 & iheartRadio to be in to win!

CLICK HERE FOR TERMS & CONDITIONS
Take your Radio, Podcasts and Music with you