Black Caps complete massive victory over West Indies
Publish Date

Sunday, 6 December 2020, 2:45PM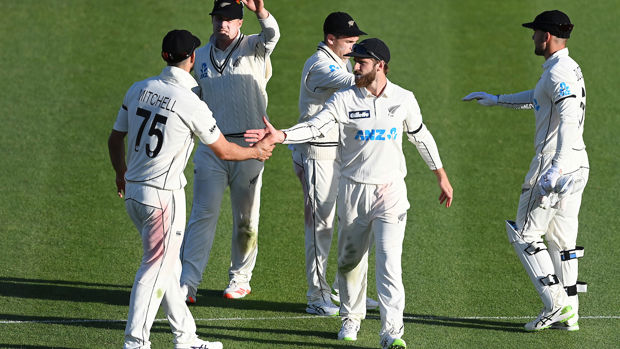 By: Dylan Cleaver
Another home test, another victory. New Zealand's hunger to establish themselves as one of the most formidable sides in the world in home conditions shows no sign of easing.
The Black Caps put aside a rare case of the drops for long enough to claim the three wickets required for an innings and 134 run victory in Hamilton.
While the win appeared an inevitability from early on day three when Tim Southee knocked the top off the West Indian first innings, triggering a spectacular collapse, the hosts were made to work well into the fourth day.
"It was a really good performance from us," captain and man of the match Kane Williamson said without fear of rebuttal.
"The West Indies middle and lower order played really, really nicely and we had to put in for long periods with the ball," Williamson said. "We had to show patience today and that was great to see because that's what you expect to see on days three and four when the surface is improving."
The West Indies started the day at 196-6 but were effectively seven down with Shane Dowrich unable to bat after injuring a finger.
The visitors frustrated New Zealand for the first hour, with Jermaine Blackwood riding a little luck and a lot of pugnacious shot-making to a second test century in a record 155-run seventh wicket partnership with Alzarri Joseph.
That was broken when Joseph holed out to deep point off Kyle Jamieson for a career-best 86. That wicket was quickly followed by the tireless Neil Wagner inducing a mishit pull from Blackwood (104). Shannon Gabriel was keen to get back to his room and pack for Wellington judging by his hopeless heave at a straight ball in the same over.
Wagner was the pick of the bowlers with 4-66 and credited the attack for not going "searching" for wickets when things weren't falling their way.
"What we did well as a pack is we didn't go searching and try to force something when it wasn't there," he said,
"We bowled really well, we bowled patiently and kept asking questions for long periods of time."
Wagner has earned a reputation as the blunt-force trauma specialist of the attack, using aggression and the middle parts of the pitch when the bowl is not swinging. This test saw him change his approach to great effect.
"I don't want to be seen as a one-trick pony," he said. "I know I can do other things. In first-class cricket I do work really hard on those sorts of skills. It's summing up the conditions and what's in front of you.
"If the short-ball stuff is going to be effective obviously we go straight to that plan... but it was quite nice to bowl with a ball that stayed in good nick for a long period of time and kept swinging."
It was a towering performance from New Zealand.
Their first innings of 519-7 was constructed on the back of Kane Williamson's epic 251, while the four-pronged pace attack was too good for the West Indies, rolling them for 138 and 247.
Enforcing the follow on is becoming less and less common in test cricket as more emphasis is placed on bowling loads. Williamson said it did play on his mind as he weighed up his options.
"Bowling fatigue was the main concern but they all said they were ready to go and from my perspective it was just trying to manage them in slightly shorter spells," he said.
"Because of the weather expected tomorrow [forecast rain] and also the way the surface was still offering something to the seam bowlers, we felt it was the best time to give ourselves an opportunity to take wickets, and that proved to be the case.
If their is a pebble under the headrest on the short flight to Wellington it will be the six dropped chances.
The catching in the second innings was particularly sketchy, lowlighted by Ross Taylor spilling the easiest chance of his career at first slip.
It wasn't quite Joe Denly dropping Kane Williamson at this ground a year ago, but it wasn't far off and the result was the same. Williamson went on to make an unbeaten century; Blackwood, on 89 at the time, brought up three figures shortly after Taylor's fumble.
These things tend to happen in follow-on innings but it would have been galling for fatigued bowlers to watch chance after chance find the turf, though they never showed it.
That was the one blip in an otherwise terrific outing, the Black Caps' 10th win in their past 14 unbeaten tests at home.
The second starts in Wellington on Friday.
This article was first published on nzherald.co.nz and is republished here with permission