Changes announced for Tui Catch a Million competition
Section

News,

Publish Date

Friday, 5 January 2018, 4:06PM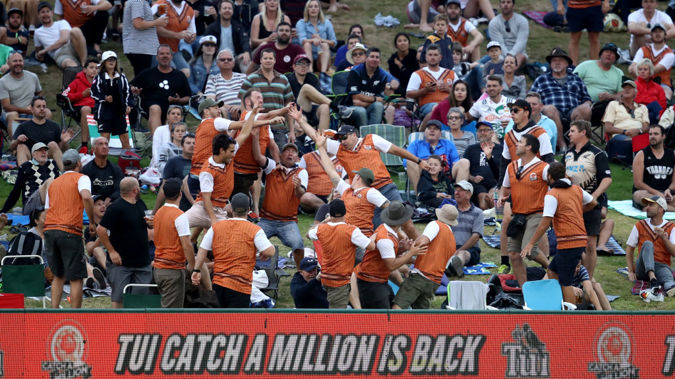 New Zealand Cricket has announced they will be implementing 'catch zones' with immediate effect for the Tui Catch a Million competition.
The competition was brought into the spotlight during the Black Caps' T20 match against the West Indies on Wednesday night in Mt Maunganui.
A number of would-be catchers in their specialised orange competition shirts hurled themselves at the ball with little regard for those around them.
New Zealand Cricket released a statement regarding the competition, which said changes would be made in the interest of crowd safety.
"The principal change to the procedures will see a dedicated "catch zone" created at venues, in which Tui Catch-A-Million contestants will have to be located in order to qualify for the prize. Catches taken by patrons outside these zones will be deemed ineligible.
"In another revision, unruly behaviour, or behaviour which risks injury (such as diving), will be deemed in breach of the promotion's terms and conditions, therefore disqualifying contestants in the event of a successful catch.
"Usual standards of behaviour applying to all venues will apply.
"Communications at venues will be amplified, in terms of both ground announcements and on-location personnel, so that those patrons involved in the promotion are regularly reminded of their responsibilities and acceptable behaviour.
"The only variation to these new measures will be at Eden Park and Westpac Stadium, where "catch zones" will not be incorporated. However, all other amendments surrounding behaviour to the competition rules will apply to these venues."
The competition offers up to $50,000 to a spectator in the specialised shirt who cleanly catches a six with one hand.
It's a popular promotion which sees a vast number of spectators take part in the hope of catching a fortune.

This article was first published on nzherald.co.nz and is republished here with permission.