Cricket match fixing claims: No letters good news for New Zealand?
Publish Date

Wed, 24 Oct 2018, 8:49AM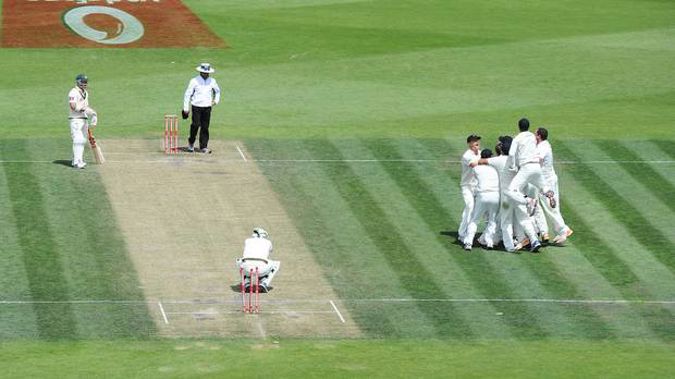 Cricket match fixing claims: No letters good news for New Zealand?
Publish Date

Wed, 24 Oct 2018, 8:49AM
Al Jazeera is refusing to confirm or deny whether any New Zealand cricketers are included in their latest allegations of widespread match fixing.
In an interview with the Radio Sport Breakfast, investigative journalist David Harrison said the news organisation was not publicly divulging the players it claims have been involving in fixing international matches because it hasn't yet identified the "money trail".
But he said Al Jazeera has written "hundreds of letters" to players and boards it believes are involved, in order to give them the right of reply.
A New Zealand Cricket spokesperson told Radio Sport that it has received no additional information from the documentary makers, who say New Zealand's 2011 win over Australia at Hobart is among 15 games under suspicion.
At the heart of Al Jazeera's investigation is their claim that 25 of 26 predictions made by a match fixer "proved to be correct".
A British bookmaker analyst told Al Jazeera the odds of this occurring were over nine million to one.
There are 15 allegedly tainted matches from 2011 and 2012. Harrison told Radio Sport that the public "can't assume" that New Zealand players were involved.
But during the 11 minute Radio Sport interview, he repeatedly said that the evidence of fixing in the games was "incontrovertible" and implied the ICC's anti-corruption unit faced a conflict of interest, and was not up to the job of uncovering the crimes.
Cricket authorities, including New Zealand Cricket, have called on Al Jazeera to provide better evidence to them.
Harrison said cricket's reaction was "no surprise".
"Cricket closes ranks, protects itself, people who haven't even seen the film are condemning it," he said.
"It is no surprise, it is a nervy sport, an insecure sport. Cricket doesn't want to face up to an ugly reality, there is a terrible, murky side to cricket. These guys don't want to face up to it.
"What they have all failed to do significantly is address key evidence in the documentary."
Harrison took a particular swipe at England bowler Mark Wood — the alleged fixing occurred long before Wood was playing international cricket — who has been outspoken in criticising Al Jazeera.
Harrison said: "Mark Wood is sounding off in Sri Lanka — I don't even know if he has seen the film. He is ignorantly defending the sport saying 'the boy who cried wolf'.
"I'm not sure I know exactly what he means by that analogy, it is a slightly confusing one."
The allegations centre on fixing small portions of games such as 10 over blocks, to produce certain run totals which bookmakers are able to take advantage of. It essentially involves batsmen underperforming.
The Al Jazeera documentary is based around the secret taped interviewing of Aneel Munawar, a Mumbai-based fixer linked to a South Asian mafia organisation known as D-Company.
Harrison said: "This wasn't an interview, he didn't make claims...
"We obtained secret recordings (of phone calls)...a well documented gangster who recorded all of them. We obtained a cache of these recordings. Of the 26 fixes, 25 of them were spot on.
"It is absolutely incontrovertible, no question that fixes went down.
"We set very high standards, burden of proof. What we don't have is the money trail. We don't have account details of the money being paid to individual players. So it would be irresponsible of us, wrong of us to name those players."
Harrison said the ICC was a huge organisation "raking in billions" from broadcasting rights. Their anti-corruption unit was a "small unit of retired coppers, retired policemen who will be well meaning but I'm sure this is way beyond them".
"It is not a question of will, it is a question of resources. They've got no powers of arrest, limited investigative powers.
"There is a slight conflict of interest, working for an organisation whose job is to protect the image of cricket. They don't want...allegations in the air which tarnish the brand. The brand is everything these days."
Harrison said he feared for his life at times during the undercover investigation, as they were dealing with "ruthless criminals".
"We are 100 per cent sure we have incontrovertible evidence," he stated.
Meanwhile leading cricket commentator Simon Doull, a former Black Cap, told Newstalk ZB's Mike Yardley he was confident the ICC was taking the allegations seriously.
"Spot fixing is not about the winning or the losing of the game...it's all about moments in matches," Doull said.
"If you have both batsmen involved and they just deliberately block the ball and turn runs down and things, yes that can happen. But you still need a little bit of luck to go your way and make that right.
"I'm with everybody else really. It's about the proof. Until we see it in definite form I guess it's all speculation. It's all just a story they are trying to put out there in bits and pieces without showing any definite evidence.
"They are talking about going to Interpol with the new stuff and maybe the old stuff as well...those players are still playing the game today, so nothing has been done about that at all."
English fast bowler Wood said: "If they (Al Jazeera) came up with concrete evidence or they said a name and they could prove something then I would be a bit more worried. But at the moment they keep making accusations and there's nothing behind it so I'm not too fussed."
The Telegraph also reported that a former England player was considering suing Al Jazeera.

This article was first published on nzherald.co.nz and is republished here with permission.