Donald Trump cheats way to golf championship win
Publish Date

Wednesday, 25 January 2023, 4:11PM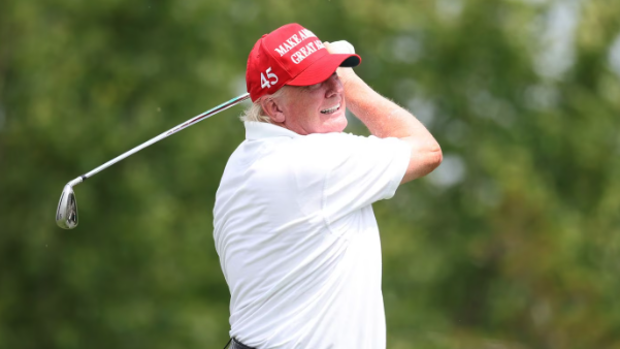 Former US President Donald Trump has a reputation for being fast and loose with the truth, and paradoxically a well-documented love for the game of golf, one where integrity is of the highest importance.
Over the weekend this has resulted in bizarre scenes as the former president claimed credit for a club championship, despite reportedly not competing in the tournament at the same time as everyone else.
"A great honor to have won the Senior Club Championship at Trump International Golf Club, one of the best courses in the Country, in Palm Beach, Florida," he wrote on his social media platform Truth Social.
"Competed against many fine golfers, and was hitting the ball long and straight.
"You need strength and stamina to WIN, & I have strength and stamina – most others don't.
"You also need strength and stamina to GOVERN!"
While the tournament was set for Saturday and Sunday, Trump wasn't present for the first day of play, and competitors were reportedly "surprised (although not exactly shocked) to see his name at the top of the leaderboard with a five-point lead over the overnight leader."
Trump reportedly shot a stellar round on the previous Thursday, with his self-counted 40 in Stableford play placing him five points better than second place.
Trump's relationship with the rules of golf has long been a tenuous one, with sportswriter Rick Reilly publishing a 2019 book titled "Commander in Cheat: How Golf Explains Trump".
The book includes interviews with employees, colleagues and playing partners of the 45th President, and describes the extraordinary extent to which he is said to cheat on the course.
"He cheats like a three-card Monte dealer," Reilly writes.
"He throws it, boots it and moves it. He lies about his lies. He fudges and foozles and fluffs.
"At Winged Foot, the caddies got so used to seeing him kick his ball onto the fairway they nicknamed him 'Pele'.
"He cheats at the highest level.
"He cheats when people are watching, and he cheats when they aren't.
"He cheats whether you like it or not.
"He cheats because that's how he plays golf, that's how he learned it, that's how he needs it, and whether you're his pharmacist or Tiger Woods, if you're playing golf with him, he's going to cheat."
The book interviews Bryan Marsal, chair of the 2020 Men's US Open, held at Winged Foot, where he tries to explain the psychology of Trump's proclivity for bending the rules.
"It's true, he's going to cheat you," Marsal said.
"But I think Donald, in his heart of hearts, believes that you're gonna cheat him, too.
"If everybody's cheating, he doesn't see it as really cheating."
This article was first published on nzherald.co.nz and is republished here with permission
Take your Radio, Podcasts and Music with you