Guptill blasts Blackcaps to easy win
Section

News,

Publish Date

Tuesday, 9 January 2018, 9:46PM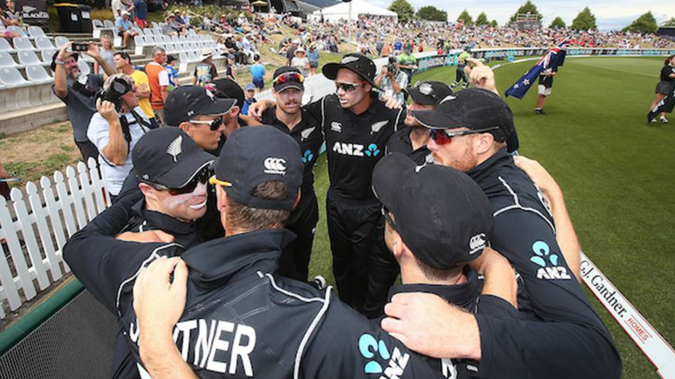 By Andrew Alderson

The belligerence of Martin Guptill and the pragmatism of Ross Taylor eased New Zealand to victory over Pakistan in a rain-disrupted second one-day international in Nelson.
The hosts left the field at 64 for two after 14 overs, chasing 247 for victory.
When they resumed, 87 runs were required from 11 overs to reach an adjusted target of 151. New Zealand won by eight wickets with seven balls to spare via the Duckworth-Lewis Method.
Guptill changed gears from ODI to T20 mode, accelerating like a finely-tuned sports car. He left the field with 31 runs from 40 balls and finished with 86 from 71.
Taylor was more like a tank. He negotiated any terrain, adding to his 14 runs from as many balls to end the match on 45 from 43.
Their unbeaten third-wicket stand was worth 104 runs.
The pair put pressure on Pakistan to extend New Zealand's unbeaten sequence this summer. They have won nine consecutive games across all formats.
The second match delivered more of the pep expected from Pakistan's Champions Trophy-winning side, yet New Zealand excelled.
Earlier, ODI bests from Hasan Ali and Shadab Khan salvaged what shaped as a feeble innings.
Hasan's previous highest score in 10 ODIs was 13, but he posted the Black Caps bowlers to all parts in a 70-run eighth-wicket stand with Shadab.
Hasan hammered 51 off 31 balls; Shadab made 52 off 68 balls, equalling his highest score against Sri Lanka in October.
Hasan, the world's No.1 bowler, normally reserves Freddie Mercury-type celebrations for dismissing batsmen. He saved an encore for his batting milestone.
Outside their cameos, and Mohammad Hafeez's 60 from 71 balls, New Zealand straitjacketed the visitors at the outset.
After being asked to field, the hosts took advantage of a Saxton Oval pitch struggling for bounce and carry.
Seven out of the nine completed ODIs at the venue have now been won by the chasing team.
Trent Boult (one for 54) and Tim Southee (two for 57) were parsimonious early, restricting Pakistan to 39 for two after nine overs before Mitchell Santner was introduced.
Boult continues his supremacy in the 50-over format this season where he has 13 wickets at an average of 14.53 and strike rate of 19 across both this summer's ODI series.
Pakistan, missing form opener Fakhar Zaman who was rested with a bruised right thigh, felt the pressure.
Imam-ul-Haq offered a weak pull to Colin Munro at mid-wicket off Boult; Azhar Ali fell lbw to Southee for consecutive matches after stepping too far across to off stump and trying to work the ball through the legside.
Ferguson bustled with pace, albeit on a slower surface than Wellington but he still caused havoc on occasion, defying the conditions. He coaxed the edge from Babar with his second ball, after coming on in the 11th over. Faheem Ashraf was caught by Southee at fine leg when he could not get bat to ball in time.
The spinning all-rounder duo of Mitchell Santner and Todd Astle delivered consistent returns for the most part, but Astle lapsed in his final over, conceding 21 runs.
Captain Kane Williamson opted to use Munro rather than Astle to deliver the penultimate over.
Santner finished with one for 34 from his 10 overs, including 41 dot balls; Astle took two for 50 from seven.
The concession of 12 wides might be a concern, but that is a minor distraction in a summer delivering major results.

This article was first published on nzherald.co.nz and is republished here with permission.