Steve Smith and David Warner banned for a year
Section

News,

Publish Date

Wednesday, 28 March 2018, 10:41PM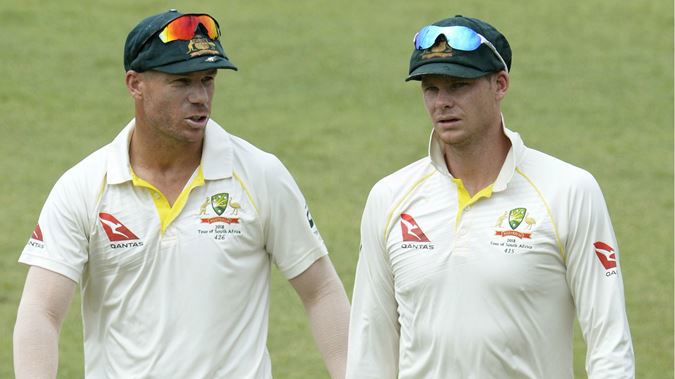 Australian cricket stars Steve Smith and David Warner have paid a hefty price for their part in the ball-tampering scandal.
Smith and Warner have both received 12 month international cricket bans from Cricket Australia for a pre-meditated plan to tamper with the ball in a test match against South Africa.
Smith, vice-captain David Warner and batsman Cameron Bancroft conspired to cheat by illegally changing the condition of the ball by rubbing it with a piece of yellow adhesive tape and some dirt.
Bancroft - the player instructed to tamper with the ball - has also reportedly received a nine month ban.
Cricket Australia chief executive James Sutherland met with the disgraced trio behind closed doors at the team hotel in Johannesburg on Wednesday morning, and is expected to officially confirm the bans at 11.30pm tonight (NZT).
However, Smith confirmed the 12-month ban to the Associated Press and a small group of Australian reporters at the team hotel. The ban will include all top-level cricket in Australia for the next year.
Smith and Warner have already been removed as captain and vice captain respectively of the Australian test side, and are being sent home from South Africa before the final test, along with Bancroft. Matthew Renshaw, Joe Burns and Glenn Maxwell were called up as their replacements.
Both Smith and Warner had also already stood down from their respective roles as captains with their Indian Premier League squads, and Smith will reportedly not play any part in the IPL at all.
Darren Lehmann remains coach of Australia, with CA's investigation team finding that no coach or member of support staff knew of the ball-tamping ploy, and that Smith, Warner and Bancroft were the only players aware.
The trio were charged with code of conduct breaches, and Sutherland said they would receive "significant sanctions".
For Smith and Warner, those sanctions are set to see them sit out a year before returning in time for the 2019 Cricket World Cup and Ashes series, while Bancroft won't play international cricket for nine months.
Tim Paine will take over as Australian captain, and Smith, wearing a white T-shirt and dark baseball cap, hugged Paine as he prepared to leave the team hotel in Johannesburg to fly home on Wednesday.
Smith will hold a media conference when he lands in Sydney, while the players have the option to challenge the verdict.

This article was first published on nzherald.co.nz and is republished here with permission.