Everything you need to know about UFC 260: Miocic Vs Ngannou
Publish Date

Saturday, 27 March 2021, 9:11AM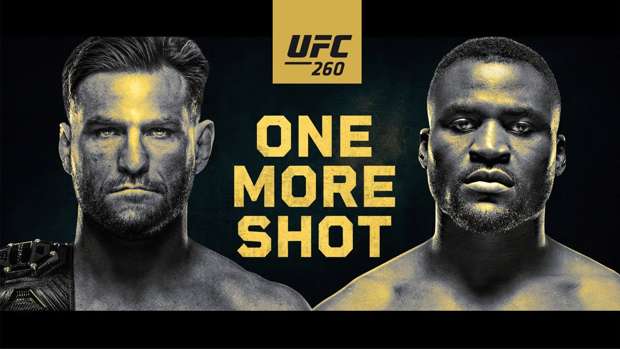 ACC UFC resident expert Felix Heath-Collins with everything you need to know ahead of UFC 260: Miocic Vs Ngannou

This weekend the UFC returns to PPV with UFC 260 in Las Vegas, headlined by a terrifying rematch between the heavyweight champion Stipe Miocic, and "The Predator" Francis Ngannou.
COVID catch-up:
Originally this card was co-headlined by a really interesting title fight between Australian featherweight champion Alexander "The Great" Volkanovski, and rising contender Brian "T-City" Ortega. Unfortunately, the virus had other plans. Volkanovski tested positive for COVID from within the UFC bubble, after testing negative twice on his way over. Questions remain as to the effectiveness of the UFC's testing and containment protocols in their native Las Vegas (the fight "island" cards in Abu Dhabi are more thorough, but a large chunk of those events have been paid for by the human-rights abusing government in charge there).
The other fighters who tested positive on this card are Hannah Goldy, and Randa Markos. William Knight was also removed from his fight due to COVID-19 protocols. Strangely the UFC has already booked several COVID-19 positive fighters with new fights. Two of the COVID positive fighters - Hannah Goldy, and Randa Markos - have been rescheduled for fights on cards happening April 17th, and May 1st respectively. Less than a month seems super pretty damn abrupt to properly recover from COVID-19, but, as private contractors they need to fight to be paid, pandemic or not. UFC president Dana White did say that the lethal global pandemic was "like the cold", and that "we're all gonna get it."
Other top UFC fighters who have previously tested positive for the virus include: Paulo Costa, Chris Weidman, Leon Edwards, Curtis Blaydes, Rafael Dos Anjos, Cody Garbrandt, and Gilbert Burns. Weidman, Edwards, Blaydes, Dos Anjos, Garbrandt, and Burns have all fought after surviving the virus.
Stipe Miocic Vs Francis Ngannou
Thankfully the must-see heavyweight main event has so far survived the COVID-19 cancellations. In this rematch, GOAT (Greatest Of All Time) heavyweight champion Stipe Miocic looks to defend his title against the supremely powerful KO artist Francis "The Predator" Ngannou.
A Croatian-American born in Ohio Stipe Miocic works full-time as a fire fighter, representing the working class heart at the core of combat sports. He doesn't trash talk, he doesn't fake beefs for the cameras, but when the cage is locked his kind deamenor leaves him, and he becomes the best fighter to have ever graced the UFC heavyweight division.
In an record-breaking three title defence run (at 120 kg as the upper limit, nobody has had the chin to hold the belt longer yet), Miocic had victories over legends Mark "The Super Samoan" Hunt, Andrei "The Pitbull" Arlovski, Fabricio Werdum, Alistair "The Demolition Man" Overeem, Junior "Cigano" Dos Santos, Francis Ngannou in their first match, and then two of three fights against the light-heavyweight GOAT (excluding drug cheaters) Daniel "DC" Cormier. Now the family man fire fighter must rematch the hardest hitter in the sport's short history. The heavyweight champion Stipe Miocic will somehow come into this rematch confident, though. He beat Ngannou in their first contest convincingly by unanimous decision. Ngannou landed some savage shots that rocked the champ in the first round, but Miocic nullified the powerful striking offence with wrestling control. By the fourth round Ngannou didn't land a single strike over five whole minutes he was so tired. The odds have been very close and have had Ngannou as the favourite so far, purely for power.
Francis "The Predator" Ngannou is the scariest contender at heavyweight, wielding ridiculous KO power. Since signing with the UFC only two years into his short MMA career (in late 2015), Ngannou has separated many of the best heavyweight's souls from their bodies in devastating first round KO's. Some of these victims include: former heavyweight champion Andrei "The Pitbull" Arlovski in 1 minute 32 seconds, former PRIDE champion Alistair "The Demolition Man" Overeem in 1 minute 42 seconds, contender Curtis "Razor" Blaydes in 45 seconds, former dominant heavyweight champion Cain Velasquez in 26 seconds, former champion Junior Dos Santos in 1 minute 11 seconds, and then contender Jairzinho "Bigi Boy" Rozenstruik in just 20 seconds flat.
Ngannou was born in the small village of Batié, Cameroon to an impoverished family. Financial issues caused Francis to begin working in a sand quarry at only age 10. These horrible child labour conditions probably contributed to his insane power. Ngannou has since said in interviews that his father's reputation as a street fighter inspired him to make a positive future through fighting professionally himself. The hardest hitter in MMA history didn't even begin boxing properly until age 22. When he was 26, Ngannou decided he would leave Cameroon for Paris, France, because he wanted to start a professional boxing career. After a long, and arduous journey through the North African deserts, Ngannou finally managed to sneak across the treacherous Strait of Gibraltar, which seperates North Africa from Spain. On arrival in Spain Francis was jailed for two months for the illegal border crossing. After leaving prison and reaching Paris, Ngannou was where he wanted to be, but now he was homeless. A local MMA coach found him living in a car park and offered him training at his gym. Slowly, but surely his new coach convinced him to try MMA. These humble beginnings made Ngannou the man he is today. He now gives back to his people in Cameroon through the Francis Ngannou Foundation charity, which supports Cameroonian kids to learn martial arts as an aggression release, or even a future like the local legend they look up to.
Stipe Miocic is a supremely well-rounded mixed martial artist, with a particularly effective technical boxing skill set. He mixes these striking fundamentals with very fast footwork for a heavyweight, and formidable wrestling to round it all out. Francis Ngannou, however, is very much a one trick pony. It just so happens that the trick he performs is devestatingly effective. Ngannou's style involves deals in the trading of souls to the Underworld. He hits so hard that some performance analysts have measured his hardest punch at the force of a small car going at top speed.
Somehow Miocic managed to nullify Ngannou's power in their first fight, with both wrestling and tactical boxing. Technically it's no contest. Miocic has all the experience, all the skills, all the determination and heart to survive and thrive in any environment that Ngannou can throw his way. Stipe Miocic has to stay technically perfect in his offence and defence to win this one, while Ngannou only needs a single clean shot to finish fast. I'm going to have to go with Ngannou for this one. He is screwed if this leaves the first few rounds again, though.
UFC 260 takes place in Las Vegas, Nevada at the UFC Apex facility. For New Zealand fans the main card starts at 3.00pm on Sunday the 28th.