Everything you need to know about UFC 261 Usman vs Masvidal II
Publish Date

Saturday, 24 April 2021, 8:56AM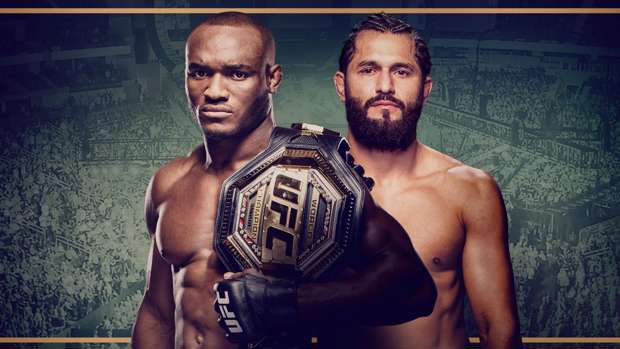 ACC UFC resident expert Felix Heath-Collins with everything you need to know ahead of UFC 261: Usman vs. Masvidal II.
The UFC is back on pay per view this weekend with UFC 261: Usman vs. Masvidal II.
Returning to a full attendance crowd, the UFC has sold out the VyStar Veterans Memorial Arena in Jacksonville, Florida. Since COVID-19 cases in the US have been rising again recently (in large part due to the lackadaisical pandemic response measures from certain states, and an overall reluctance to be vaccinated or even wear masks among Republicans throughout the US), the decision to return to a full arena of 15,000 mid-pandemic has drawn criticism from many.
In a recent interview with Yahoo! Sports, Dana White explained that the UFC 261 full attendance show in Florida will not need fans to wear masks. He also explained that they "had to create a bubble so that athletes wouldn't end up with COVID and all these fights falling out, but the media was being so crazy about the whole COVID thing you had to make the media feel safe." Here Dana is trying to have it both ways.
On the one hand Dana White has vaccinated his staff (the UFC managerial staff, not the fighters who are private contractors and therefore don't have rights), he has bragged about being the first sport to return, and he has complimented the effectiveness of his company's COVID-19 protocols. On the other hand Dana White has made the MMA media sign non-disclosure agreements (NDA's) about the UFC's handling of the pandemic at their shows, he has previously described the global pandemic as "like the flu", "like the cold, and also explained that "we're all gonna get it", he has supported his buddy Donald Trump's 2016 and 2020 election attempts with massive donations, he has neglected to wear a mask himself to most UFC events, and he has courted the approval of far-right nationalist fascists in America such as the former chief political strategist of ex-president Donald Trump Steve Bannon, who called Dana White a "great patriotic supporter of President Donald Trump" in response to White's move to return to a full-capacity sporting event in Florida.
Often in these social issues the UFC blatantly and transparently lobbies for causes that maintain or improve their profits, while ignoring or opposing causes which threaten their profits. Somehow the media are "crazy" and "scared" of the global pandemic, and yet the UFC has the "first" and best safety measures in the world. Strange considering the only properly protected pandemic shows for the UFC were sponsored by the human rights abusing government of Abu Dhabi.
The funniest example of this hypocrisy on public health issues was noticed online when the fine print for these UFC 261 tickets was found online.
In this fine print a clause called "Assumption of Risk" was identified by MMA media. Within this clause it states that "attendance at the Event... may lead to exposure to COVID-19 and that contraction of COVID-19 may result in severe and permanent damage to the health of the Holder and/or others, including, but not limited to, death, fever, weight loss, irreversible pulmonary, respiraritory and/or neurological system damage, loss of taste or smell, mental or emotional distress, temporary or permanent disability, loss of income, loss of employment, loss of financial or other opportunities, medical expenses, which may or may not be covered by insurance, cleaning expenses, mandatory self-quarantine, loss of licenses and similar approvals by any regulatory or self-regulatory body to which the Holder or any of the Releasing Parties... is subject, investigation and/or prosecution by civil, criminal or other regulatory authorities and other harms or lost opportunities, whether economic, reputational or otherwise (collectively, the "Harms")."
And last year poor testing procedures exposed many fighters and staff to Ronaldo "Jacare" Souza, who had asymptomatic COVID-19 and yet was even allowed to attend the weigh-ins. One epidemiologist from Atlanta tweeted to Dana in response to the Souza situation: "If this was your system working as designed, your system is bogus."
At this rate the first death in the UFC will be a fan.
Anyway, on to the fight card itself.
Headlining the main card is a rematch between welterweight champion Kamaru "The Nigerian Nightmare" Usman and controversial welterweight contender Jorge "Gamebred" Masvidal.
The champion Kamaru Usman won their first meeting with a one-sided unanimous decision victory against the popular welterweight contender Jorge Masvidal. Since that loss Masvidal has repeatedly claimed he wasn't properly prepared for the title fight, having only taken it on six days notice (instead of the typical eight to ten week training camp). According to Usman however, Masvidal only took the first fight since there was a built-in excuse due to it being a short-notice fight. Whatever the case may be Usman called out Masvidal for the rematch, and their second meeting should shed some light on the truth of the situation.
Kamaru "The Nigerian Nightmare" Usman has long been a "problem" for the UFC's welterweight division. Usman has incredible wrestling dominance that allows him to ensure sure the fight happens where he wants it to, and on his terms too. Not only is Usman known for controlling opponent's in dominating wrestling positions, but he has also exponentially improved his stand up striking recently. Most of that development can be credited to the legendary MMA striking coach he has been training with recently, Trevor Whitman (also notable for training current elite UFC contenders Justin "The Highlight" Gaethje and "Thug" Rose Namajunas).
Now that the champion Kamaru Usman has learned such devastating striking fundamentals from one of the best of the best coaches in MMA, his potential for greatness is enormous. The strength, the wrestling technique (both offensively and defensively), the energy output, the near-limitless energy reserves, and now the superior striking skills make Kamaru Usman a true "Nigerian Nightmare" for the welterweight division.
Jorge "Gamebred" Masvidal intends to take Usman's title with a career-defining moment for his era defining career. Like him or hate him, Masvidal inarguably puts 'butts in seats' with his universal popularity. Simply put he has fun fights.
Ever since he made himself famous on early YouTube through backyard brawls as Kimbo Slice's protege, Masvidal has been a true warrior. Not even eighteen years old and he was "knocking fools out" in filmed informal bare knuckle contests with concrete instead of the UFC octagon's canvas flooring. "Gamebred" could not be any more accurate of a nickname for Masvidal. Masvidal has even managed to draw mass popularity through record-breaking brutal finishes in recent years. Since losing to Stephen "Wonderboy" Thompson by unanimous decision back in 2017, Masvidal went on a streak. He finished Darren "Gorilla" Till via punches, insta-KO'd "Funky" Ben Askren via savage flying knee, and had a doctor's stoppage victory over fan favourite fighter Nate Diaz, all in 2019.
This fight between undoubtedly the two best welterweights in the UFC could be an amazing showcase of the best modern mixed martial arts. While the first fight was less than stellar, both Usman and Masvidal have ramped up the trash talk since then, and both seem likely to duke it out when they do meet again. With Usman promising he will "put [Masvidal] in a coffin" in order to shut him up properly, and with Jorge Masvidal fighting in front of his home fans in Florida, the fight should be frenetic this time around. In particular if Masvidal can stop Usman from grounding him we are in for one hell of a contest - fighters and fight fans both.
Also on this admittedly amazing card are two other UFC championship contests. In the co-main event the first Chinese UFC champion Weili Zhang defends her strawweight belt against former champion "Thug" Rose Namjunas, and in the co-co-main event Women's MMA great Valentina "The Bullet" Shevchenko defends her flyweight belt against brutal Brazilian Jessica Andrade. These two contests are arguably superior in both skill and potential for violence than the main event, which has greater name value. The contest which intrigues and confounds me the most is the co-main event fight between Weili Zhang and Rose Namajunas. Both of these elite competitors are so close in ability, yet so different in skill set that the winner of this particular fight could illuminate how such a stylistic showdown can go.
The UFC 261 main card begins this Sunday at 2PM for us in New Zealand, and it should be a good one. If the fights don't all fall out due to the COVID-19 cove of Florida that is.