Everything you need to know about UFC 263 Adesanya Vettori 2
Publish Date

Saturday, 12 June 2021, 4:13PM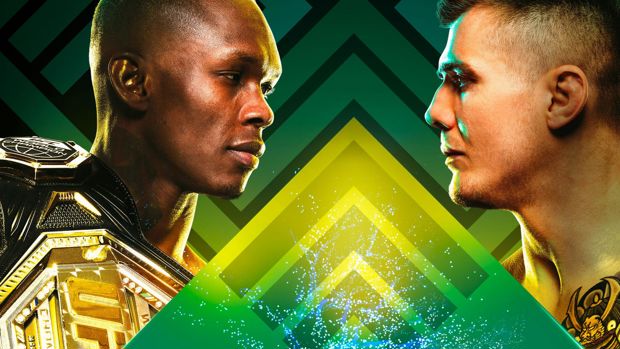 ACC UFC resident expert Felix Heath-Collins with everything you need to know ahead of UFC 263 Adesanya Vettori 2.
The top MMA promotion returns to Pay-Per-View ('PPV') this weekend with UFC 263, headlined by a rematch between the New Zealand middleweight champion Israel "The Last Stylebender" Adesanya (20-1) (Wins-Losses) and third-ranked middleweight contender Marvin "The Italian Dream" Vettori (17-3).
In the main event match-up, Israel Adesanya will rematch the opponent that got closest to beating him at middleweight, Marvin Vettori. Adesanya won that first fight via split decision in his second UFC appearance back in 2018. Although he took arguably more damage in the Kelvin Gastelum fight, Vettori actually won according to one of the three judges' scorecards.
What happened in that close first contest between Adesanya and Vettori is still the best predictor of how the rematch will go this weekend. Adesanya mostly kept Vettori at range and picked him apart striking, while evading most that was being thrown back at him. What Vettori did manage to do was to successfully crowd Adesanya and feint strikes, allowing him to blitz forward and land on the Kiwi at times. Vettori was mostly unsuccessful with the takedown attempts in the fight too. In my opinion, Adesanya either has to seriously underestimate his opponent, or Vettori has to have seriously improved since that first fight for him to come out the victor.
Since that split-decision win "The Last Stylebender" Israel Adesanya has already amassed an historical record at middleweight. He's beaten the likes of Brad Tavares, Derek Brunson, Anderson "The Spider" Silva, Kelvin Gastelum, Robert "The Reaper" Whittaker, Yoel "Soldier of God" Romero, and Paulo Costa. Adesanya's only pro-MMA loss came via unanimous decision in his last performance when he attempted to claim the light heavyweight title off of Polish powerhouse Yan Blachowicz. "The Italian Dream" Marvin Vettori also has an impressive record including victories over Cezar Ferreira, Andrew Sanchez, Karl Roberson, Jack "The Joker" Hermansson, and Kevin "Trailblazer" Holland. While Adesanya's record is clearly superior when compared to Vettori's, who knows the path Vettori's career could've taken had he won that split-decision against Adesanya back in 2018.
How will the rematch go? Well, judging by the pre-fight build-up and war of words that "The Last Stylebender" and "The Italian Dream" have had thus far, it should be violent. For the fight to be disappointing at this point would be shocking to see. I would be surprised if Adesanya and Vettori could even last the twenty-five minutes scheduled without one of them beating the other into unconsciousness. The genuine hatred between Adesanya and Vettori will almost surely lead to a finish and this fight won't go to the judges no matter who wins. Hopefully.
Also on this loaded UFC 263 fight card is the much anticipated co-main event which is a rematch between Deiveson Figueiredo (20-1) and Brandon Moreno (18-5) for the men's flyweight title. Their first fight is widely regarded as one of if not the best flyweight fight in UFC history and ended in a majority draw between the two. After recovering from their apparent injuries the two small killers go back to war against one another in what should be another fight for the flyweight record book.
The fight before that is between top welterweight contender Leon "Rocky" Edwards (18-3) and fan favourite fighter Nate Diaz (21-12). It's a battle of southpaw kickboxers as Edwards brings his more traditional style up against Diaz who brings the pitter-patter boxing along with the near-infinite cardio of a competitive marathoner. Simply put this fight could just come down to age. A few years ago Diaz even finished Irish megastar "The Notorious" Conor McGregor in their first meeting. Edwards is ready for the welterweight title shot now and is probably better situated to pull off a victory this time. I'm still rooting for Nate Diaz though, just like everybody else is.
Even further down is the fight that headlines the preliminary card between powerful southpaw finisher Drew Dober (23-10) and surging Kiwi kickboxer Brad "Quake" Riddell (9-1). Dober is more powerful a striker than Riddell, and he has far more UFC experience than his Kiwi counterpart. Riddell has the technical striking advantage and he has received less damage in his shorter pro MMA career. Of course, I'm expecting Christchurch's own Brad "Quake" Riddell to flatline the American and secure his spot in the lightweight top fifteen. For anyone without a national bias though, this one is hard to pick. And no matter what it should be very interesting.
It's no wonder that recent UFC fight nights and even PPV's have been somewhat lacking. It's because this PPV swallowed up all the good fights around it. Hell, even the major main card battle between Leon Edwards and Nate Diaz could've already happened had Diaz not been injured a few weeks ago when it was originally scheduled. But, for whatever reasons, here we are with a fourteen fight-long banger of a Pay-Per-View. The nine prelim and early prelim fights would serve as an above-average fight night alone. With the addition of the spicy main card matchmaking on top of the quantity in the prelims, this event should be brimming with riches and could be the best event of 2021. Don't miss it.
The main card of UFC 263 starts at 2:00 PM on Sunday for us here in New Zealand. If you want to see the preliminary cards headlined by the Dober/Riddell fight, you can tune in as early as 10:00 AM on UFC Fight Pass.