Everything you need to know about UFC 269: Oliveira vs. Poirier
Publish Date

Friday, 10 December 2021, 7:36AM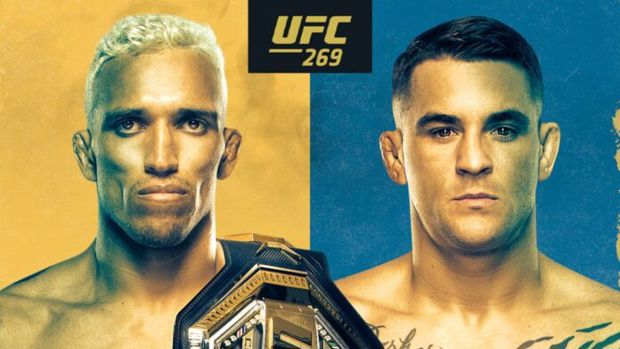 ACC UFC contributor Felix Heath-Collins with everything you need to know ahead of UFC 269: Oliveira vs. Poirier.
As 2021 draws to a close, the UFC's annual Christmas gift to MMA fans approaches. Well, it's more of a clearance sale than a gift, but nobody ever said the UFC was generous. This overloaded event is the last PPV (Pay-Per-View) of the UFC calendar. While next week's fight night is technically the last event of the year, this weekend's PPV is the real Christmas dinner. Next week's fight night is the admittedly impressive selection of left-overs in the fridge.
A thirteen fight appetizer of two preliminary cards (early and late) is followed up with a superbly stacked main card, which is topped off by a two title double-header as both the women's bantamweight and men's lightweight championships are up for grabs by night's end.
At the top of UFC 269's main card is a battle for the lightweight championship between the newly crowned champion Charles "do Bronx" Oliveira (31-8) (wins-losses) and the former interim champion Dustin "The Diamond" Poirier (28-6).
With a UFC career dating way back to a 2010 debut, Charles "do Bronx" Oliveira has been a veteran of the promotion for over a decade. And, with multiple two-fight losing streaks throughout, nobody expected Charles Oliveira to ever be championship material, let alone the undisputed champion of the murderous lightweight division, but here we are. At age seven, Charles Oliveira was diagnosed with Rheumatic fever and a heart murmur, with a medic telling the family that he might become paraplegic. And that's when a neighbour introduced the young Oliveira to BJJ (Brazilian Jiu-Jitsu). Not just a black belt, Oliveira has recently earned his third degree for that belt. In layman's terms, he has earned a black belt three times over. A two-degree or higher black belt is required to promote students to black belt in BJJ, so Oliveira's basically Mr. Miyasaki on the floor. He also holds the UFC records for most stoppage victories at 17 and most submission victories at 14. Plus Oliveira's supreme confidence fighting on the ground has allowed him to gain confidence fighting on his feet also. In his title-winning performance for the vacant lightweight belt (following Khabib's retirement) Oliveira was nearly finished by "Iron" Michael Chandler in the first round, only to come back in early-round two with a precision left hook into ground-and-pound TKO.
Challenging for Oliveira lightweight belt is the man who likely would be champion if he hadn't chased after his well-deserved paycheck fight trilogy against "The Notorious" Conor McGregor. Having won parts two and three of that trilogy - both this year and both by stoppage - Poirier is now turning his attention to the true prize: the undisputed lightweight championship. Poirier's UFC debut came under six months after Oliveira's in January of 2011. In that time he's beaten the likes of Max "Blessed" Holloway twice, Bobby "King" Green, Jim "A-10" Miller, Anthony "Showtime" Pettis, Justin "The Highlight" Gaethje, Eddie "The Underground King" Alvarez, Dan "The Hangman" Hooker, and the aforementioned Conor McGregor two times in a row. Poirier's slick southpaw boxing, his blitzing hook combinations, his devastating leg kicks, and his BJJ black belt have all combined to make him one of the best fighters in lightweight history. What is truly unparalleled in MMA, however, is Poirier's heart. The dude's a Lousiana born-and-bred dog who refuses to lose. But where his heart truly shines like a diamond is in his extensive charity work with him and his wife's incredible charity The Good Fight Foundation.
Will the surgical striking and supremely dominant grappling of Oliveira be enough to defend the lightweight title, or will the potent boxing combinations and debilitating leg kicks (ask McGregor) of Poirier allow him to finally claim the title of champion? I can't begin to guess, but I also can't wait to find out!
In the co-main event, the dominant double champion of the women's bantamweight and featherweight belts Amanda "The Lioness" Nunes (21-4) defends her bantamweight belt against the fresh contender Julianna "The Venezuelan Vixen" Peña (10-4).
Amanda Nunes is the greatest female fighter in MMA history. At bantamweight first, there was the Judo Olympian and first female champion "Rowdy" Ronda Rousey, who was demolished by the kickboxing champion Holly "The Preacher's Daughter" Holm in 2015, who was choked out by Miesha "Cupcake" Tate in 2016, who was choked out by Amanda "The Lioness" Nunes a few months later. And a devastating first-minute TKO of Cris Cyborg secured her the featherweight belt too, making her the champion of half of all the female divisions in the UFC (two out of four). Now at the top of both the female bantamweight and featherweight divisions, Nunes looks immovable at the top. Her fight-ending striking is truly a rarity in the female divisions Since starting her MMA career Nunes has married fellow female fighter Nina Ansaroff and the two have a baby together, which Ansaroff carried. And as cliched as it is, Amanda Nunes fights even more like a lioness now that she has a cub to care for.
Julianna Peña may seem like a lamb to the slaughter in comparison to her champion of an opponent. As we've seen so many times before, however, the champion is often supremely dominant until they simply aren't. For example, Anderson "The Spider" Silva reigned over the middleweight division from claiming the belt in 2006 until he was shockingly KO'd by Chris "The All-American" Weidman in 2013, after which Silva lost seven of his next nine fights before finally retiring in 2020. Although there's not much to say about Peña yet, who knows if this will be her big break into the mainstream MMA consciousness? Any win over Amanda Nunes would be shocking enough to catapult Peña's popularity, but beating Nunes is the real kicker to that.
Everybody expects "The Lioness" Amanda Nunes to devour her prey this weekend. Everybody, that is, except Julianna Peña and her team. While you should expect Nunes to win dominantly, any victory for Peña would flip the MMA world on its axis and be among the biggest upsets in the history of the sport. Either way, it should be a striking spectacle.
Further down the main card, we have Kiwi kickboxer Kai "Don't Blink" Kara-France (22-9) defending his 6th ranking at flyweight against the former bantamweight champion Cody "No Love" Garbrandt (12-4) who is making his debut in the division. Kara-France had an insane TKO victory against Rogério Bontorin in his last outing earlier this year and has a lot of momentum toward a title shot in the relatively shallow men's flyweight division. Cody Garbrandt may have under half the fights and no experience at flyweight, but his initial eleven-fight undefeated streak capped off by a bantamweight title-winning performance against all-time-great Dominick "The Dominator" Cruz is worth far more than Kara-France's 31-fight pro-MMA record. Kara-France's key advantage would be in flyweight experience, however, and should Garbrandt struggle with the lower weight, the Kiwi will be on him quick. The agility and elusiveness of Kara-France matched up against the explosive power of Garbrandt's fists makes this a classic matador vs. bull fight.
Co-headlining the prelim card is a bout between bantamweights Pedro "The Young Punisher" Munhoz (19-6) and former champion of the division Dominick "The Dominator" Cruz (23-3). While Munhoz is a year younger and arguably more punishing, Cruz has a beautifully organic and unconventional style of footwork that is unmatched in its effectiveness throughout the sport. It's more fun to watch Dom move than it is to watch most fighters fight.
UFC 269 is one of the most talent-rich and exciting MMA events in recent memory. I can't wait for the weekend, even if it's the second-to-last card of a truly extraordinary year in MMA.
The main card of this MMA extravaganza begins at 4:00 PM this Sunday for us here in New Zealand, while the preliminary action kicks off a few hours earlier at 12:15 PM. Enjoy!