Everything you need to know about UFC 270: Ngannou V Gane
Publish Date

Friday, 21 January 2022, 7:53AM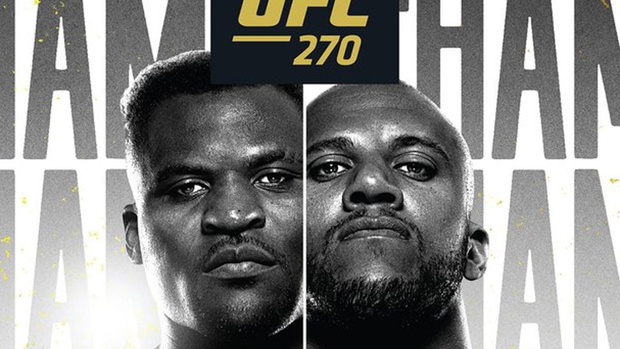 ACC UFC contributor Felix Heath-Collins with everything you need to know ahead of UFC 270: Ngannou vs. Gane.
UFC 270 marks the first UFC 'PPV' (Pay-Per-View) of the year, and boy is it a doozy. In the main event the supremely dangerous Cameroonian UFC heavyweight champion Francis "The Predator" Ngannou faces his ex-sparring partner, the undefeated French interim heavyweight champion Ciryl "Bon Gamin" Gane.
As in boxing, in MMA the heavyweight champion is considered king. Since the UFC is (unfortunately) the only truly massive MMA promotion (RIP Pride), their heavyweight champion is THE heavyweight champion.
And that man is Francis "The Predator" Ngannou (16-3) (wins-losses). The "Iron" Mike Tyson of MMA, Francis Ngannou's fights are generally over in seconds, not minutes. Of Ngannou's thirteen UFC fights, eight were first-round knockouts for Ngannou. Beyond a mere "Predator", Ngannou is a killer of kings, willing to end the career of any former champion in reach. Among Ngannou's many victims are former UFC champions Andrei "The Pitbull" Arlovski (in 1 minute, 32 seconds), Cain Velasquez (in 26 seconds), Junior "Cigano" dos Santos (in 1 minute, 11 seconds), and, in his last appearance, former champion Stipe Miocic (52 seconds of round 2). Ngannou's path to victory in any fight is simple. His technique is rarely ever as good as his competition's, but his power is simply unprecedented.
After winning a demoralizing decision in their first encounter, we once believed that Stipe Miocic could win another fight against Francis Ngannou. Now we know the only man with a live chance at victory now is Ciryl Gane.
Undefeated Frenchman Ciryl "Bon Gamin" Gane (10-0) is the yin to Francis Ngannou's yang. Ngannou is an intimidating 6'4" (193cm), and so does Gane (193cm). Ngannou has a long reach of 83.0" (211cm), and so does Gane (211cm). Despite being the same height and reach, Ciryl Gane's strengths are the opposite of Francis Ngannou's. And that's because Gane's strength isn't strength, it's speed. This is one fast Frenchman - especially for the heavyweight division. In tandem with a middleweight's movement and striking speed is an extreme technical proficiency in Ciryl Gane's striking. Quick and fluent striking sans significant finishing power. Yes, Ciryl has UFC wins via submission and two by KO/TKO, but forcing a finish against Francis is a terrible game plan.
So, who wins the main event? Everybody seems to be picking the interim champion Ciryl Gane, and he's been the betting favourite as of now. Maybe the incredible violence Ngannou provides is clouding my judgement, I just have a soft spot for the big guy. A childhood salt-miner turned illegal border jumper turned homeless man turned heavyweight champion is a story I'll always root for.
In the co-main event, the newly-crowned first-ever Mexican-born champion of the flyweights Brandon "The Assassin Baby" Moreno (19-5) concludes a trilogy of fights against the former flyweight champion Deiveson "Deus da Guerra" Figueiredo (20-2). The first fight was a war that went to a draw, which allowed Figueiredo to keep his title. The second fight was a dominating victory and rear-naked choke submission in round 3 for Moreno. And now we have what is likely their final fight for the flyweight belt. Once again it's the bull and the matador, with the bull, in this case, being Figueiredo and the matador being Moreno. Who wins? Who knows?! But I sure wouldn't wanna miss it.
Before the co-main is the fight hardcore fans have been buzzing about. Capoeira and general backflip-artist Michel "Domlidor" Pereira (26-11) faces the debuting Andre Fialho (14-3). What makes this one so special? Well, while Francis Ngannou is the Mike Tyson of MMA, Andre Fialho is the Francis Ngannou of the welterweight division. With 5 of his 13 wins coming via first-round KO/TKO, Fialho is one to fear. A Brazilian dance-fighter versus a Portuguese boxing butcher.
The main card of UFC 270 kicks off at 4:00 PM this Sunday for us here in New Zealand, while the early prelims begin back at 12:00 PM (midday). There are plenty of crap cards in MMA, but this ain't one of them. Enjoy!