Everything you need to know about UFC 273: Volkanovski vs. The Korean Zombie
Publish Date

Friday, 8 April 2022, 7:13AM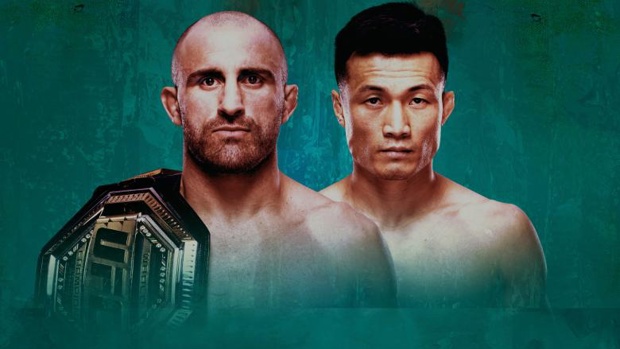 ACC UFC contributor Felix Heath-Collins with everything you need to know ahead of UFC 273: Volkanovski vs. The Korean Zombie.
The UFC's back at it again with a fantastic PPV (Pay-Per-View) offering in the form of UFC 273: Volkanovski vs. The Korean Zombie. Two titles are on the line - Volkanovski's featherweight belt and Sterling's bantamweight belt, so plenty is of hardware is at stake. UFC 273 is sure to be essential viewing for any fan of MMA or combat sports. Two titles could change hands this weekend.
Featherweight champion Alexander "The Great" Volkanovski headlines UFC 273 with a defence of his belt against "The Korean Zombie" Chan Sung Jung. It should be fireworks.
Alexander "The Great" Volkanovski (23-1) (wins-losses) is the only current Australian UFC champion, and he's not ready to relinquish that belt anytime soon. With a UFC career dating back to late 2016, Volkanovski has gone completely undefeated in the big leagues (his lone loss coming against Corey Nelson at Australian FC 5 back in 2013). Since debuting in the UFC, Volkanovski has dominated the featherweight division. Names such as Chad "Money" Mendes, José Aldo "Junior", Max "Blessed" Holloway, and Brian "T-City" Ortega have all fallen to the dominant Aussie champion. As with many fighters who predominantly win by decision, Volkanovski has his fair share of detractors. And Volkanovski loves to prove them wrong, "time and time again", as the promo reel keeps reminding us. Volkanovski's head trainer is the super underappreciated Joe Lopez, but he also cross-trains at Auckland gym City Kickboxing (the gym of Kiwi champion Israel "The Last Stylebender" Adesanya).
"The Korean Zombie" Chan Sung Jung (17-6) on the other hand has a nickname so good that he insists everybody abandon his birth name in favour of it. And boy has he earned that nickname. No matter the danger, "The Korean Zombie" will continue to march forward... like a zombie. Famously "The Korean Zombie" earned the first-ever UFC Twister submission against Leonard "Bad Boy" Garcia in his memorable UFC debut back in 2011. In direct contrast to Volkanovski, "Zombie" willingly takes massive risks and they often pay off, even. He rolled the dice and D'Arce choked Dustin "The Diamond" Poirier, and KO/TKO'd Dennis "The Menace" Bermudez, Renato Moicano, and Frankie "The Answer" Edgar. But he also lost spectacularly to Yair "El Pantera" Rodriguez via savage up-elbow in the literal last second of the 5-round fight. Win or lose, "The Korean Zombie" is essential viewing every time he fights.
Who wins this tantalizing main event? Wrestling-wise, Volkanovski reigns supreme and could prove to be a problem for "The Korean Zombie" if the Aussie gets top control. Volkanovskin was a pro-Rugby League player who would've weighed around the same as a UFC heavyweight in his prime, so even at featherweight, he's a bulldog. Grappling-wise, "The Korean Zombie" has a dangerous arsenal of submissions, even from underneath his opponent. With the first of the only two ever Twister submissions in UFC history, on the ground "The Korean Zombie" is equal parts lethal as flamboyant. The true battle lies on the feet. Maybe Volkanovski or "Zombie" will instantly prove superior, but chances are it'll be a back-and-forth war of attrition between the two. I suspect that the wrestling (and Rugby-tackling) skills of Volkanovski will influence the confidence of "The Korean Zombie", even on the feet.
The co-main event sees the massively anticipated rematch between bantamweight champion Aljamain "Funk Master" Sterling and challenger Petr "No Mercy" Yan.
Aljamain "Funk Master" Sterling (20-3) combines a lethal Matt "The Terror" Serra-trained Jiu-Jitsu mastery on the ground along with a Ray Longo-guided kickboxing strategy on the feet. Sterling's wrestling is all his own, however. Sterling rebounded from a brutal knee-KO courtesy of "Magic" Marlon Moraes with a five-fight win streak culminating in a rear-naked choke of Cory "The Sandman" Sandhagen. Having earned himself a title shot, Sterling went on to face then-bantamweight champion, Petr Yan. The fight went very dominantly in the favour of Yan, with Sterling only getting 5% of his attempted takedowns (1/17), while the supposedly inferior wrestler Yan landed all 100% (7/7). Fortunately for Sterling, Yan showed how little "Mercy" he truly has when he clocked Sterling with a full-force knee to the head on the ground, ending the fight. Now Sterling has the belt off of an insanely blatant foul and nobody is happy.
Petr "No Mercy" Yan (16-2), as noted above, has absolutely "No Mercy". Not only did he break the most obvious rule in the book (unless the book's written in Japanese), but Yan has begun attacking Sterling by whatever social media means he can find. Yan's savage personality pales in comparison to the violence he inflicts inside the cage. Despite only debuting in the UFC back in 2018, Yan has already recorded an 8-1 UFC record highlighted by stoppages of Urijah "The California Kid" Faber by head kick and José Aldo "Junior" by ground and pound. Above all, however, Petr Yan is a boxer. The violent fluidity and deceptively fight-finishing power of Yan combine to make him kind of like a tiny Canelo Alvarez, only Russian instead of Mexican - and a villain instead of a hero.
Everybody except the most ardent Aljamain Sterling fans seem to be picking Petr Yan for the rematch and for good reason, too. With supreme boxing and anti-grappling with smooth transitions to clinch-striking, Yan was already a handful and a half. But now he's proven he can beat Sterling at wrestling, too. You can surprise someone with a well-timed takedown but seven of seven is a pretty clear trend. One of the only areas I would clearly favour Sterling is in the submission game, of which he is an elite black belt. Logic says that Yan will dominate Sterling from bell to bell, while the fairytale ending would be the American hero Sterling repelling the Russian villain Yan, but that seems super unlikely. Who knows, maybe Yan will win all the way to another disqualification. And then he could embrace the villainy before ultimately changing his nickname to Petr "The Cheater" Yan. That's where my money is, anyways.
Also featured on this awesome main card is a long-awaited step-up in competition for the undefeated and surging welterweight prospect Khamzat "Borz" Chimaev (10-0) and the powerful Brazillian legend Gilbert "Durinho" Burns (20-4).
All this action and more goes down this Sunday for us here in New Zealand. The PPV main card begins at 2:00 PM while the early prelims begin a few hours earlier at 10:00 AM. Enjoy!