Everything you need to know about UFC 284
Publish Date

Friday, 10 February 2023, 11:00AM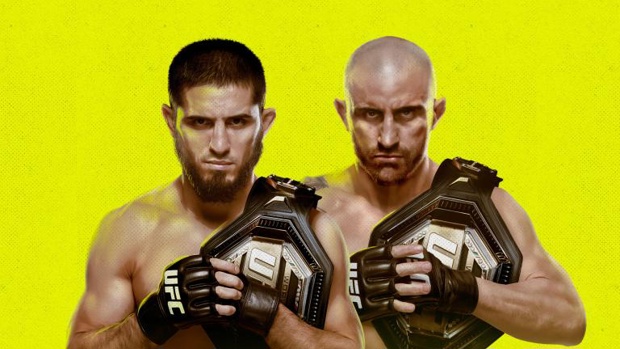 ACC UFC contributor Felix Heath-Collins with everything you need to know ahead of UFC 284.

MMA is back with another banger in this weekend's UFC 284 PPV (Pay-Per-View).
In the main event Khabib-protege Islam Makhachev (23-1) (wins-losses) defends his lightweight title in a super-fight against the Australian featherweight champion Alexander "The Great" Volkanovski (25-1).
Makhachev is the new lightweight king, the successor to his lifelong friend and coach Khabib Nurmagomedov's lightweight legacy. As you could probably guess Makhachev is an elite wrestler just like his coach. But, while Nurmagomedov was a wrestler first and a submission specialist second, Makhachev is the opposite. He has little issue taking the fight to the ground, and once the fight is on the mat, it's over. To earn his championship belt Makhachev arm triangle choked the former champion and all-time submission king Charles "Do Bronx" Oliveira.
Volkanoski is an extremely dominant fighter and champion with a drowning pressure and pace. His scalps include all-time-greats Jose Aldo "Junior", Max "Blessed" Holloway three separate times, Brian "T-City" Ortega, and "The Korean Zombie" Chan Sung Jung. The Australian champ is a short, stocky powerhouse with an unrelenting will to win. Volkanovski's training is split between his head coach Joe Lopez at Freestyle MMA in Australia and with Eugene Bareman at the world-famous City Kickboxing gym in Auckland.
Who wins? While I do have a clear bias toward the Oceanic champ Volkanovski, on paper this fight is easily his toughest test yet (and perhaps ever). Volkanovski's game plan likely involves constant takedown defence and striking pressure. Makhachev's game plan likely involves his Dagestani wrestling and arsenal of submissions. Moving up weight classes from featherweight to lightweight does have the potential to limit Volkanovski's power against a larger opponent like Makhachev. But Volkanovski used to play rugby at about 97 kg which is the equivalent of a UFO heavyweight. I see Volkanovski using his immense power and skill to keep the fight standing before winning his second belt via unanimous decision. Anything is possible, however.
Further down the card are a plethora of excellent Aussie fighters, but the hidden gem is the fight between the only Kiwi on the card "Smokin'" Shane Young (13-6), and the undefeated prospect Blake "El Animal" Bilder (7-0) at featherweight.
UFC 284 goes down this Sunday for us here in New Zealand with the main card starting at 4:00pm and the earliest prelims beginning at 12:00pm. Enjoy!
Take your Radio, Podcasts and Music with you