Everything you need to know about UFC Fight Night Barboza vs. Chikadze
Publish Date

Friday, 27 August 2021, 8:19AM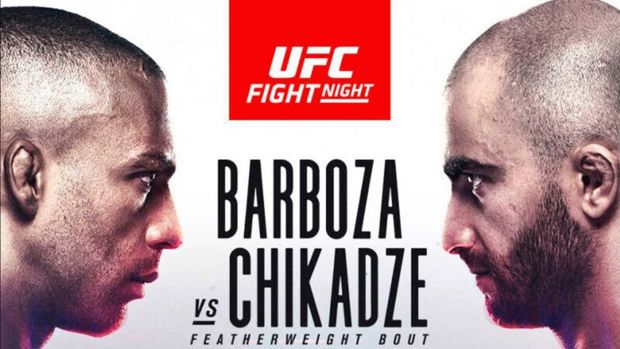 ACC UFC resident expert Felix Heath-Collins with everything you need to know ahead of UFC Fight Night Barboza vs. Chikadze.
The UFC returns this weekend with a killer fight night card. It's headlined by an explosive featherweight bout between the division's two most credentialed strikers Edson "Junior" Barboza and Giga "Ninja" Chikadze. A total of ten fights originally on this card have been cancelled or changed due to injuries or illnesses, so we can only hope that the remaining fights survive till Sunday.
In the main event, the UFC veteran and Muay Thai master Edson Barboza faces the fresh-faced Georgian kickboxing prodigy Giga "Ninja" Chikadze at featherweight.
Edson "Junior" Barboza (22-9) debuted in the UFC way back in 2010 at UFC 123: Rampage vs. Machida, and since then he has established himself as the benchmark for the best strikers at featherweight and lightweight. His devastating combination of traditional Muay Thai and boxing skills have kept Barboza at the top of the most dangerous division in the sport, while he has simultaneously built an impressive highlight reel of violent finishes. In his collection of rare and antique techniques, Barboza has finishes against Marcelo Giudici, Mike Lullo, and Rafaello Oliveira via leg kicks; a finish against Beneil Dariush via flying knee; a finish against Kiwi Dan "The Hangman" Hooker via body punch; a weird delayed-reaction right hook KO/TKO against Shane Burgos in his last performance; and, most impressively, a legendary wheel kick KO against Terry Etim back in 2012 that is infinitely rewatchable.
Giga "Ninja" Chikadze (13-2), despite being only two years younger than Edson Barboza (33 and 35), has only six UFC fights compared to Barboza's twenty-five. And, while Barboza has been in the UFC for over ten years since 2010, Chikadze only debuted a couple of years ago in late 2019. Whereas most fighters see a dip in performance as the competition level increases, the reverse is true for Giga Chikadze. Starting his UFC career off with two split decision victories (against Brandon Davis and Jamall Emmers), Chikadze then improved to two unanimous decision victories (against Irwin Rivera and Omar Morales) and has since improved again with two KO/TKO victories (against Jamey Simmons via head kick to ground strikes and against veteran featherweight Cub Swanson via body kick to ground strikes). Along with his impressively slick striking, Giga Chikadze packs a few signature weapons in his elite kickboxing arsenal. Most significant would be his eponymous "Giga Kick", a sadistic roundhouse kick to the liver that Giga has recently said "no one can really take", and was the fight-finishing strike against Cub Swanson, only 63 seconds into the fight.
If this one stays on the feet, it will be a fight for the ages. You can separate MMA's casual and hardcore fanbase by simply announcing this Edson Barboza v. Giga Chikadze fight because the hardcore fan will break out in goosebumps at the pugilistic potential.
Further down the card, we have a couple of match-ups from the recent "Ultimate Fighter" reality show season between teams Volkanovski and Ortega. Bryan Battle vs. Gilbert Urbina and Andre Petroski vs. Michael Gillmore. Who cares? Not me.
A tantalising middleweight bout kicks off the main card as the brutal Tajikistani knockout artist Makhmud "Mach" Muradov faces his greatest test so far in longtime-veteran Gerald "GM3" Meershaert. Muradov, much like Barboza and Chikadze, has an impressive collection of finishes, including seven KO/TKO's via punches, two KO/TKO's via flying knee, one KO/TKO via elbows, one KO/TKO via knee and punches, and a forearm choke. Meerschaert, on the other hand, is the organisational veteran with thirteen fights in the UFC dating back to his debut in late 2016. In what is a theme for this fight night, the relatively MMA 'green' striking star (Muradov) faces the litmus test of a well-rounded UFC veteran (Meershaert).
This fight night is looking exceptional. While it's hard to guess how particular fights will play out, there is no doubt that some knockout (or several) will steal the show.
For us here in New Zealand, the main card begins at 2:00 PM this Sunday, while the somewhat less-stacked prelims start at 11:00 AM. Enjoy!