Everything you need to know about UFC Fight Night Brunson vs. Till
Publish Date

Friday, 3 September 2021, 9:21AM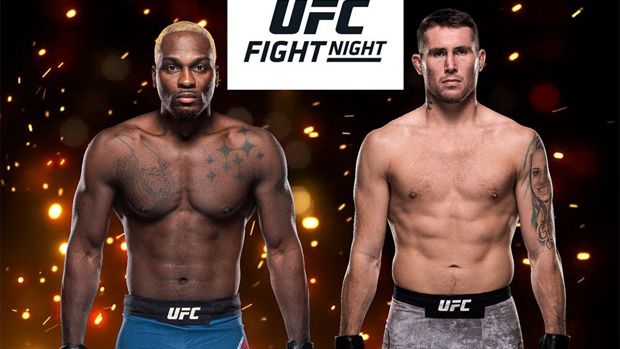 ACC UFC resident expert Felix Heath-Collins with everything you need to know ahead of UFC Fight Night Brunson vs. Till.
First, a quick COVID-19 update.
The UFC's lead colour commentator Joe Rogan has recently come down with COVID-19. This comes only weeks after Rogan caused multiple controversies when he downplayed the global pandemic and suggested exercise as a viable alternative to vaccination. Now he's suggesting the reason the virus didn't hit him as hard is that he took controversial ivermectin and monoclonal antibody therapy to recover, a ridiculously expensive pseudoscientific concoction that includes anti-worming medication ivermectin, a drug commonly prescribed to livestock and not to humans. Among other outrageous claims in his statement, Rogan also said there's "obviously... nothing that [he] could control". No, Joe, you could control whether or not you were vaccinated, whether or not you wore a mask, and, most importantly, whether or not you continued to perform sold-out comedy shows to live audiences in COVID-19 hotbeds where you definitely caught (and almost definitely spread) the virus. Joe Rogan is a f*ckwit. Luckily for us MMA fans, though, he's a terrible commentator who's long since been surpassed by superior colour commentators in MMA like Bas "El Guapo" Ruten and Mauro Ranallo. Take all the time off you need Joe. Honestly, nobody misses you.
And now, on to the fights.
The UFC returns this weekend with a stacked UK centric fight night headlined by a bout between middleweight gatekeeper Derek Brunson and brash British trash talker Darren "The Gorilla" Till. Also, opening the main card is my fight of the night between UFC debuting MMA star Paddy "The Baddy" Pimblett facing Luigi Vendramini. This card is loaded and shouldn't be missed!
In the main event, 5th-ranked middleweight Derek Brunson faces 7th-ranked middleweight Darren Till in a race for the title shot that is so tantalizingly close for both athletes.
Derek Brunson (22-7) (wins-losses) is a long-standing veteran of the weight class who debuted in the UFC way back in late 2012 against fan favourite fighter Chris "The Crippler" Leben. Brunson's impressive record includes wins against the likes of Chris Leben, Lorenz Larkin, Ed "Short Fuse" Herman, "Smilin'" Sam Alvey, Uriah "Prime Time" Hall, Lyoto "The Dragon" Machida, Elias Theodorou, Ian Heinisch, Edmen Shahbazyan, and Kevin "The Trailblazer" Holland. Plus Derek Brunson is only beaten by the best, including losses against Yoel Romero, Robert "The Reaper" Whittaker, Anderson "The Spider" Silva, Ronaldo "Jacare" Souza, and Israel "The Last Stylebender" Adesanya. Brunson is the water-mark for middleweights to make if they want a title fight. And while it might seem disrespectful to consider Brunson a gatekeeper, he has kept that gate for a long-ass time at this point, so props to him for longevity near the top.
Darren "The Gorilla" Till (18-3) is as famous for his elite MMA striking skills as he is infamous for the shit he talks. In many ways he's the British Conor McGregor, from the south-paw kickboxing to the cocky banter, Darren Till has it all. So cocky and magnetic is Till that despite losing three of his last four fights, here he is as the main event again. The dude sells tickets, but he's only got a single victory in the middleweight division by split-decision.
All in all, it's hard to see the consistency of Derek Brunson halted by the chaos that Darren Till brings to bear. It's unlikely either of these two can best champion Israel Adesanya, but the more attractive title contender of the two by far would be Darren Till because he hasn't fought Adesanya before (unlike Brunson) and he draws in a lot of fans (also unlike Brunson).
Opening the main card is a bout between fresh lightweight prospects Paddy "The Baddy" Pimblett and Luigi "The Italian Stallion" Vendramini.
Paddy "The Baddy" Pimblett (16-3) is the future of MMA. He's young at 26 years old, he has an absolutely magnetic personality, and he fights like a demon. While he's never fought the level of competition on offer in the UFC, he does come from Cage Warriors, the same Uk-based promotion through which MMA superstar Conor McGregor stamped his ticket to the UFC. Pimblett's intense and intimidating personality is surpassed by his technical BJJ/submission wizardry and ever-evolving striking. Most iconic is the Paddy "The Baddy" Pimblett walkout. Highlighted by a techno-cool remix of Tiesto's "Lethal Industry", along with Pimblett's signature bopping mop of hair, and intense eye contact. No one else asks "where's your head at?" so intimidatingly. Personally, I can't wait.
Pimblett's opponent Luigi "The Italian Stallion" Vendramini (9-2), a three-fight UFC veteran a lone win in the organisation doesn't have a lot to lose but has a lot gain. Because, despite the odds being close, the UK audience will be at Pimblett's beck-and-call come Sunday.
This special UK-time UFC card begins at the earlier time of 8:00 AM this Sunday for us here in New Zealand, while the prelims begin a couple of hours earlier at 5:30 AM. Along with Liverpool's finest fighters Paddy "The Baddy" Pimblett and Darren "The Gorilla" Till, we also have UK heavyweight prospect Tom Aspinall (10-2) in the co-main event and the always-exciting Canadian Charles "Air" Jourdain (11-3) on the prelims. Enjoy!