Everything you need to know about UFC Fight Night Cannonier vs. Gastelum
Publish Date

Friday, 20 August 2021, 9:50AM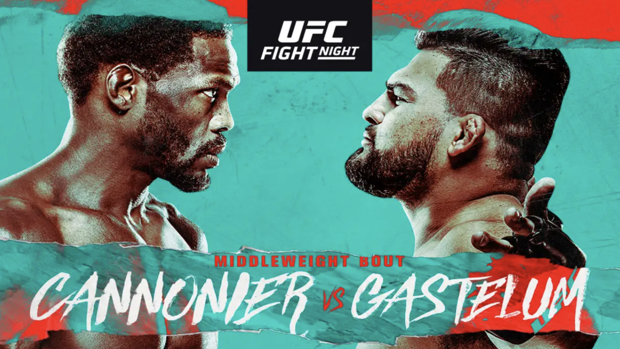 ACC UFC resident expert Felix Heath-Collins with everything you need to know ahead of UFC Fight Night Cannonier vs. Gastelum.
After a rare break, the UFC returns this weekend with a sneaky-good fight night. The headlining bout at middleweight between Jared "Killa Gorilla" Cannonier and Kelvin Gastelum is particularly exciting. Originally Cannonier was set to face a returning Paulo Costa in this headlining spot, but Costa withdrew and so Cannonier will now face replacement fighter, Kelvin Gastelum.
Jared Cannonier is ranked 3rd at middleweight, while Kelvin Gastelum is only ranked 9th - and has four losses over his last five fights. Cannonier's original opponent Paulo Costa is ranked 2nd, but somehow this replacement fight is almost preferable to the original. That's because Kelvin Gastelum is a dog in the cage who's impossible to count out of any fight. Plus both fighters have a lot to prove, each coming off of a loss to resurging Australian former champion Robert "The Reaper" Whittaker.
Once described by Adesanya as the middleweight "dark horse" contender, Jared "Killa Gorilla" Cannonier (13-5) (wins-losses) is a devastatingly powerful kickboxer. And that devastating power makes sense because Cannonier started his pro MMA career and even earned his UFC contract at heavyweight only to cut down to light-heavyweight, and, eventually, middleweight. Not only that, at heavyweight, Cannonier has multiple round one KO victories, and at light-heavyweight, he was facing the likes of current contenders Glover Teixeira and Dominick Reyes, along with current champion Jan Blachowicz (all of whom Cannonier lost to). After his move down to the middleweight division, Cannonier collected victories against David Branch, former champion Anderson "The Spider" Silva, and (now 6th-ranked) contender Jack "The Joker" Hermansson.
Kelvin Gastelum (17-7) inflicted the most damage to current-champion Israel Adesanya than anyone else - in MMA, that is, otherwise kickboxing killer Alex Pereira would beg to differ. Gastelum is perhaps the best, least-consistent fighter in MMA history. A true underdog, Gastelum was the last-picked welterweight fighter when he debuted on the reality show "The Ultimate Fighter Season 17". And yet he won the whole damn thing, beating the favourite Uriah Hall in the finals of the show back in 2013. Eventually, the 5'9" Mexican-American Gastelum would be banned from welterweight by UFC management for missing weight too many times, an essentially unprecedented feat. An experienced veteran across welterweight and middleweight, Gastelum has wins over Nate "The Great" Marquardt, Johny Hendricks, Tim Kennedy, Michael "The Count" Bisping, Ronaldo "Jacare" Souza, and Ian Heinisch. He also has losses against Tyron "T-Wood" Woodley, Neil Magny, Chris "The All-American" Weidman, Israel "The Last Stylebender" Adesanya, Darren "The Gorilla" Till, Jack "The Joker" Hermansson, and Robert "The Reaper" Whittaker. Currently, he's coming off of three losses, a win, and then another loss. But one of those losses was a five-round war against the current middleweight champion Israel Adesanya.
Will the orthodox power kickboxing of the "Killa Gorilla" Cannonier demolish his opposition, or will Gastelum's southpaw boxing supremacy and tremendous heart overcome the considerable odds? Either way, it will undoubtedly be a war.
Opposites attract in the co-main event as the ridiculously-credentialed 56 pro MMA fight veteran Clay "The Carpenter" Guida and the 10-0 undefeated prospect Mark "The Olympian" Madsen.
Clay Guida (36-17) began his pro MMA career way back in 2003. And since then, he's had quite the career. His notable wins include Josh "The Punk" Thomson, Marcus Aurelio, Mac Danzig, Nate Diaz, Rafael Dos Anjos, Takanori Gomi, Anthony Pettis, Joe Lauzon, BJ Penn, and Michael Johnson. His losses are also star-studded with the likes of Gilbert Melendez, Din Thomas, Tyson Griffin, Diego Sanchez, Kenny Florian, Benson Henderson, Gray Maynard, Chad Mendes, Dennis Bermudez, Brian Ortega, Charles "Do Bronx" Oliveira, Jim "A-10" Miller and Bobby "King" Green. Like any good carpenter, though, Clay Guida just continues to clock in, day after day, as he has for decades now. As a wrestler by trade, Guida will be hard-pressed in that domain against a literal Olympian wrestler.
Mark "The Olympian" Madsen (10-0) is a Danish 2016 Olympic silver medalist in Greco-Roman wrestling. And, in stark contrast to Guida, there's nearly nothing to Madsen's record. So far he's 2-0 in the Octagon with his wins coming against Danilo Bellurado via ground and pound KO/TKO and most recently against Austin Hubbard via unanimous decision.
Overall we should be in for a hardcore fan's fight night. In other words, there should be many amazing fights between largely unheralded prospects. But trust me, there should be some ridiculous fights in this quaint card.
The main card begins this Sunday at 2:00 PM for us here in New Zealand. But don't miss the prelims a few hours earlier at 11:00 AM, which include colourful characters like William "Knightmare" Knight and Brian "Boom" Kelleher. Enjoy!