Everything you need to know about UFC Fight Night Costa vs. Vettori
Publish Date

Friday, 22 October 2021, 7:58AM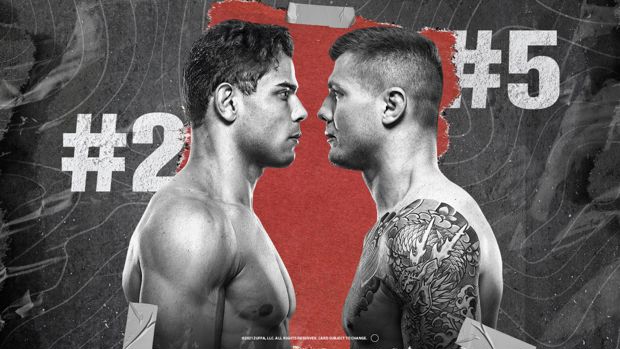 ACC UFC contributor Felix Heath-Collins with everything you need to know ahead of UFC Fight Night: Costa vs. Vettori
The UFC has underdelivered over the last couple of relatively shallow events, but all that changes with this weekend's fight night. Headlining the main card is a catchweight bout between top middleweight contenders Paulo Costa and Marvin "The Italian Dream" Vettori with the potential for war. Over the next couple of weeks, we have two big back-to-back PPV (Pay-Per-View) events (UFC 267 on October 31st and UFC 268 on November 7th). In comparison to those two massive MMA meals, this weekend's fight night is more of an appetizer. But it's a good appetizer, like garlic bread or something.
In the main event top middleweight contenders Paulo Costa and Marvin Vettori fight at a catchweight of 195 (10 pounds above the middleweight upper weight limit of 185). Why are these two middleweights fighting at a catch-weight? Because Paulo Costa is a f**king enormous for a middleweight. Yesterday, with less than 48 hours until the official weigh-ins, Paulo Costa announced he was 212 pounds (or 27 pounds above the middleweight non-championship upper limit of 186 pounds). With such a small window of time until official weigh-ins, that level of weight cut is impossible (short of harming the fighter). So Paulo Costa suggested a new catch-weight for the fight of 195 pounds, and Marvin Vettori accepted the new weight. Unprofessional as missing weight this badly is, Paulo Costa is such a colossal Brazillian beefcake that he reportedly rehydrates after official weigh-ins and fights as large as a heavyweight does.
Paulo "The Eraser" Costa (13-1) has the exact career you'd expect from someone who misses weight by two whole weight classes. An undefeated 8-0 professional record led to Paulo Costa being signed by the UFC, where he made his debut back in March of 2017. Impressing immediately, Costa finished his opponent Garreth McLellan by KO/TKO punches in 1 minute and 17 seconds, earning himself a $50,000 performance of the night bonus right out the gate. Next up Costa fought Oluwale Bamgbose and former welterweight champion (and roid-monkey) Johny "Big Rig" Hendricks - both of whom he finished similarly via KO/TKO punches about a minute into round two apiece. The competition stepped up, and so did Paulo Costa performances. In his next fight against Uriah Hall, Paulo Costa stamped yet his third consecutive KO/TKO via punches in the second round, along with another $50,000 performance of the night bonus. Somehow even more impressive was Costa's next fight against Yoel "Soldier of God" Romero, which he won via unanimous decision along with yet another $50,000 bonus for fight of the night. Not surprising it was the fight of the night as it was many fans' fight of the year. Unfortunately for Paulo Costa, he'd earned himself a title shot against the dangerous Nigerian-Kiwi kickboxer Israel "The Last Stylebender" Adesanya. After being dismantled by the devastating Adesanya for a round and a half, Costa finally caught a left hook before being punched to a finish on the floor. Now, a year after his undefeated 13-0 record was snapped, the Brazillian brawler returns to fight the middleweight monster Marvin Vettori.
Marvin "The Italian Dream" Vettori (17-4) has something key in common with his opponent Paulo Costa - both of them were demolished by middleweight champion Israel Adesanya in their last outings. Yes, Paulo Costa's TKO loss was the more devastating, but Marvin Vettori's was arguably the more humiliating. And that's because they'd met before. Following an impressive 12-2 record and a signing with the UFC, Marvin Vettori was rewarded with a fight in 2018 against the promotion's new toy at the time, former kickboxing champion Israel Adesanya. A gruelling three-round fight followed with a split-decision victory being awarded to Adesanya after the full fifteen minutes. Even convincing one of the three judges that he had won the fight is impressive enough. Vettori then went on a five-fight win streak following that decision loss, while Adesanya decapitated the division and took the middleweight title in a legendary title run. Now, over three years since their first meeting, it finally made sense to rematch "The Italian Dream" and "The Last Stylebender" for the middleweight title. This time Adesanya upgraded a three-round split-decision to a five-round championship unanimous decision in which he won all five rounds in a shut-out performance. The truly humiliating part for Vettori wasn't the fight itself, but his insistence that he could've won, and that he's a better striker than Adesanya - which is straight-up nonsense.
Paulo Costa brings a marauding roid-rage flurry of power punches whenever he fights - usually for as long as he fights. And that's not usually very long. Vettori, on the other hand, is a pressure-heavy southpaw grappler and ground strike specialist. He takes you down and smashes you on the ground. In my eyes, the potential outcomes are fairly clear. Either Vettori's refined, mildly boring style of pressure-grappling cuts through Costa's largely untested takedown defence game like butter, or else Costa's violent skillset will end the night for Vettori violently. Either way, it should be a hell of a fight.
Also featured on this fight night is a personal favourite fighter of mine, "The Iron Turtle" Park Jun-yong (13-4). He's a determined, gutsy, and violent fighter with a cool quasi-TMNT (Teenage Mutant Ninja Turtles) nickname, and, best of all, a surprisingly squeaky voice. He's the Sunday morning cartoon segment of the event, headlining the prelims against Gregory Rodrigues (10-3) at around 8:30 AM.
The fight night is this Sunday for us here in New Zealand, with the main card starting at a sprightly 9:00 AM. Hopefully, it's a good one. And if it isn't, then you can just go watch a washed-up "The Last Emperor" Fedor Emelianenko on Bellator 269 in Moscow, Russia.