Everything you need to know about UFC Fight Night: Font vs. Aldo
Publish Date

Friday, 3 December 2021, 7:22AM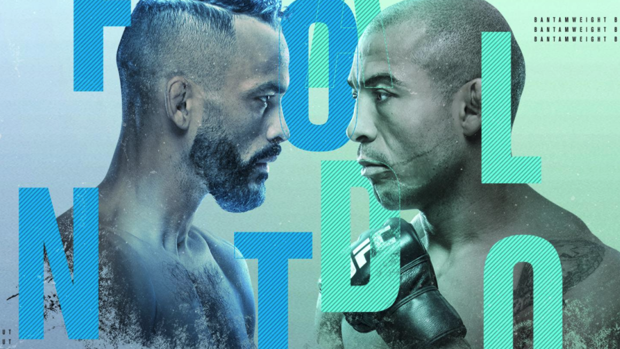 ACC UFC contributor Felix Heath-Collins with everything you need to know ahead of UFC Fight Night: Font vs. Aldo.
The UFC returns from a Thanksgiving break with a beautifully-crafted fight night card. It's headlined by a bout between top bantamweight contenders Rob Font and Jose Aldo "Junior", while the co-main event is of particular note as Kiwi standout striker and striking coach Brad "Quake" Riddell faces off against his former student and fellow Muay-Thai/striking stylist Rafael Fiziev. This isn't the fight night to miss - doubly so if you're a Kiwi.
In the main event, the consistent Bostonian bantamweight prospect Rob Font (19-4) (wins-losses) faces the old king of the featherweights, the fight-fan-favourite Brazilian Jose Aldo "Junior" (30-7).
Rob Font's UFC experience dates back an impressive seven years. Over that timeframe, he has gone an even more impressive 9-3 at the top of professional MMA. And, as the boxing idiom goes: he isn't crushing tomato cans, either. Font's UFC record includes wins over the likes of Thomas Almeida via KO/TKO, current Bellator bantamweight champion Sergio "The Phenom Pettis via U.D. (Unanimous Decision), Ricky Simón via U.D., "Magic" Marlon Moraes via KO/TKO, and former bantamweight champion Cody "No Love" Garbrandt via U.D. His only losses in the promotion have come against John "Hands of Stone" Lineker, Pedro "The Young Punisher" Munhoz, and Raphael Assunção.
Despite being only a year older than Rob Font at 35 years old, Jose Aldo "Junior" has fourteen more professional MMA fights (Font has 23, while Aldo has 37). His extensive UFC tenure dating back to mid-2011 doesn't even do his career justice. Jose Aldo is actually from one of the earliest waves of MMA with his professional MMA debut coming nearly 20 years ago in 2004. Over his richly storied career, Aldo has seen the highest of highs and the lowest of lows. He was undefeated across an 8-fight WEC that saw him claim their featherweight title and defend it twice before the WEC was absorbed into the UFC. Thereafter the UFC's featherweight division was formed, and Aldo was crowned as its first champion. He would go on to defend his featherweight belt seven times with victories over the likes of Kenny "KenFlo" Florian, Chad "Money" Mendes, former lightweight champion Frankie "The Answer" Edgar, "The Korean Zombie" Chan Sung Jung, and Ricardo Lamas. Next up Jose Aldo faced the then-surging superstar "The Notorious" Conor McGregor and lost his belt via KO in only thirteen seconds flat. Upon McGregor's move up to lightweight and the championship there, Jose Aldo once more regained his then-vacant featherweight belt, only to lose it again to Max "Blessed" Holloway. A few fights later and Aldo made the surprising move down to bantamweight. Despite initial scepticism about his ability to perform at so light a weight, Aldo has returned to his winning ways and is currently on a two-fight win streak.
In the very likely case that elite kickboxers Rob Font and Jose Aldo duke it out, we'll all be in for a war. And I can't see either man taking the fight to the ground. They're both violent strikers that love to play the showman. Mark my words: this fight will be a fun one.
In the co-main event and the people's main event, Kiwi kickboxing guru Brad "Quake" Riddell (10-1) faces an old student of his in fellow kickboxing specialist Rafael Fiziev (10-1).
Brad "Quake" Riddell lives up to his epic nickname in every way. I've seen him live and with every punch, every kick, every technique that this Muay-Thai/kickboxing master throws causing the arena around him to "Quake". And that's not even why he's called "Quake". Brad Riddell was born and raised in Christchurch, and the devastating earthquakes there destroyed Riddell's place of work, while also motivating him to move to Auckland to build his combat sports career. And build it he has! A 6-1 professional MMA record and 3-fight win streak earned Riddell a UFC contract in late 2019. Riddell has since gone undefeated in the big leagues of the UFC: defeating Jamie Mullarkey (via U.D. along with fight of the night honours), against Magomed Mustafaev (via split decision in Auckland), Alex da Silva (via U.D.), and most recently against Drew Dober (via U.D. along with fight of the night honours).
Rafael "Ataman" Fiziev is a fellow kickboxer from Kyrgyzstan, fighting out of the widely respected Tiger Muay Thai gym in Phuket, Thailand. While Fiziev has the same amount of wins and losses as his opponent Brad Riddell (10-1), there is one clear distinction in their records: and his name is Magomed Mustafaev. While I saw Brad Riddell win a split decision in a war against Magomed Mustafaev, Rafael Fiziev wasn't so lucky and was KO/TKO'd in the first round. Styles make fights, however, and all fighters perform differently in every fight depending on everything from their weight-cut to their opponent and even to their stress level or that particular fight's perceived importance.
Who wins between the Muay-Thai master and apprentice? It might seem obvious that the teacher would be the more experienced, but at 28 (Fiziev) and 30 (Riddell) years old, drastic improvements can occur quickly. Will Brad Riddell's elite training with the likes of UFC middleweight champion Israel "The Last Stylebender" Adesanya at City Kickboxing in Auckland prove superior, or will Rafael Fiziev's continued pure Muay-Thai exposure at Tiger Muay Thai win out? I can't wait to find out.
The main card for this banger of a fight night starts at 4:00 PM this Sunday for us here in New Zealand, while the fantastically loaded prelims begin a few hours earlier at 1:00 PM. If you love MMA striking and combat sports even a fraction as much as I do, this fight card is unmissable. So don't miss out!