Everything you need to know about UFC Fight Night Gane vs Volkov
Publish Date

Saturday, 26 June 2021, 11:36AM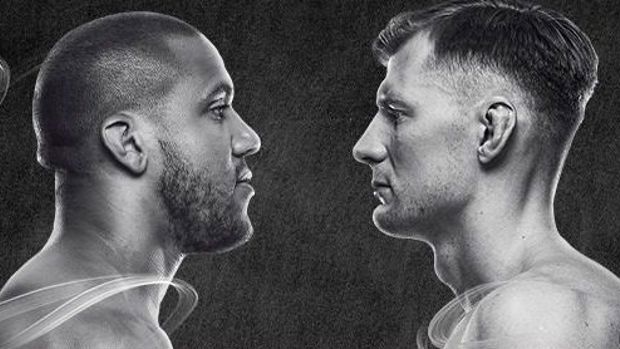 ACC UFC resident expert Felix Heath-Collins with everything you need to know ahead of UFC Fight Night Gane vs Volkov
The UFC keeps the MMA action rolling this weekend with Fight Night: Gane vs. Volkov. Headlining is a heavyweight kickboxing showcase between the surging French contender Ciryl "Bon Gamin" Gane (8-0) (Wins-Losses) and the battle-tested Russian Alexander "Drago" Volkov (33-8).
Ciryl "Bon Gamin" Gane is a new name on the pro-MMA scene. Debuting in the Canadian promotion "TKO" back in 2018, Gane finished his first three fights (one via choke and two via punches), each in the first two rounds. From there he was quickly graduated to the UFC, and he signed with them in 2019. An arm-triangle choke and a heel hook followed against other prospects. From there the competition increased significantly when he fought heavyweight brawler Tanner "The Bulldozer" Boser (a fighter in this weekend's co-main event), winning via unanimous decision. Following four cancelled bouts throughout 2020, Gane managed to cap off the year in style with a savage elbow KO of former heavyweight champion "JDS" Junior Dos Santos in December, cementing Gane's popularity with a defining victory against a legend. In February of 2021, Gane was booked as the main event of a fight night against fellow young prospect at heavyweight Jairzinho "Bigi Boy" Rozenstruik. Stylistically flawed, the two countered each other standing and Gane eeked out a fairly boring unanimous decision. Now he's been granted the rare second opportunity as the main event this weekend, and win or lose, he has to put on brilliant showing to justify the UFC's faith in him thus far. An argument could easily be made that Gane is only receiving extraordinary treatment from the UFC because of their interest in the new and unexploited French MMA market. At the start of 2020, MMA was legalised in France, thus opening the doors for French fighters and also a renewed audience of French fans. This fight could significantly increase Gane's standing in the heavyweight division, and especially his standing in the French fanbase. It's fairly transparent that UFC president Dana White is grooming Gane to be the first French champion in UFC history. Let's just hope "Bon Gamin" ('good kid' in English) lives up to everybody's expectations.
Unlike his opponent, Alexander "Drago" Volkov has been anything but fast-tracked. He made his MMA debut way back in 2009, with four of his first five fights being round one KO/TKO's via punches. Volkov started his pro career bouncing between an impressive number of MMA organisations in his native Russia, including names like M-1, ProFC, Field Of Arms, Lipetsk Mixfight Federation, Voronezh MMA, S-70, Corona Cup, Baltic Fights, the Far Eastern Modern Pankration Federation, and Union MMA. Following a semi-successful stint in Bellator, Volkov went back to fight again in Russia, before finally being signed by the UFC with an impressive pro record at the time of 26-6. Carving out his popularity in the UFC with victories over renowned fighters Tim Johnson, Roy "Big Country" Nelson, Stefan "The Skyscraper" Struve, Fabricio Werdum, Greg Hardy, Walt "The Big Ticket" Harris, and Alistair "The Demolition Man" Overeem in February of this year.
Dana White and the UFC seem to be moving forward at heavyweight with the uninspired rematch between current champion Francis "The Predator" N'Gannou and budget contender Derrick "The Black Beast" Lewis as the next title fight. While that fight surely won't be as bad as it was the first time (arguably the worst MMA fight ever), it is not the fantasy fight that could've happened next between the devastating heavyweight champion Francis "The Predator" N'Gannou and the light-heavyweight 'GOAT' (Greatest Of All Time) Jon "Bones" Jones. That's because, despite being valued earlier this year as a company at $11.6 billion (11,600,000,000), the UFC probably and systematically only pays fighters 20% of the total revenue share. The greatest of all time, who debuted in the UFC in 2008, who won the light-heavyweight belt in 2011, and who has been undefeated since simply wants too much. Or, in the words of Donald Trump's buddy Dana White, Jones "doesn't want to fight".
This whole heavyweight mess relates to the main eventers this weekend because the UFC plans to go forward with the Derrick Lewis fight (and reportedly a third Stipe Miocic fight) before Jon Jones so the winner of this weekend's main event could be in title contention soon. All it would take is Lewis (or Miocic) having to pull out due to illness/injury for the potential of Gane or Volkov getting a short-notice replacement for the championship fight. Since the UFC is always looking for the best fighters at the cheapest rates, the formerly overlooked prospect and veteran in Gane and Volkov could have a golden belt of an opportunity awaiting one of them, should they win in style this weekend.
In the co-main event, we have another heavyweight fight between brawling prospect Tanner "The Bulldozer" Boser (19-8) and respected veteran "OSP" Ovince Saint Preux (25-15). True to his nickname, Boser is a bulldozer - that also has a mullet. Enough said. Saint Preux, on the other hand, is a UFC vet dating back to 2013. He's a southpaw with tricky kickboxing and a "Von Flue Choke" game which is so legendary that MMA fans often refer to the technique as the "Saint Preux Choke". As a brawler on a two-fight decision losing streak, Boser will be looking to kill when he enters the cage. Saint Preux has also struggled recently. Last year he lost a decision to heavyweight veteran "Big" Ben Rothwell, followed by a win via counter hook KO against Alonzo Menifield, and then capped off with a December TKO loss to strikes against fresh prospect Jamahal Hill. It's an all-or-nothing fight between Boser and Saint Preux as the winner will move that much closer to title contention, while the loser will move much closer to the possibility of being cut from the promotion.
So there is plenty to sink your teeth into this weekend as far as fights. Sure the name value isn't high as is usual for fight nights, but for these fighters, the stakes are plenty high all the same. Most of them are extremely skilled and entertaining. Many of them are also on the chopping block, so to speak. Fireworks should follow. And, if not, at least we have a few heavyweight fights queued up too. It just isn't a complete MMA event without a knockout after all. Hopefully several.
You can catch the main card live at the earlier-than-normal time of 8:00 AM this Sunday. Or you can be a sucker like me and get up at 5:00 AM for the prelims, which feature my bonus fight between the mysterious 13-0 undefeated Kazakhstani "Nomad" Shavkat Rakhmonov in his second UFC appearance against the steep challenge of Michel "Tractor" Prazeres, a 26-3 MMA veteran. Enjoy!