Everything you need to know about UFC Fight Night: Kattar vs. Chikadze
Publish Date

Friday, 14 January 2022, 9:31AM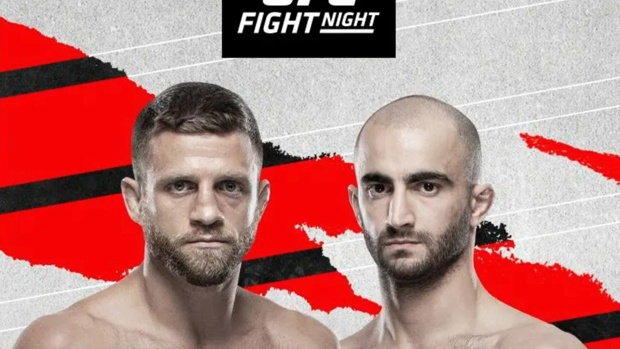 ACC UFC contributor Felix Heath-Collins with everything you need to know ahead of UFC Fight Night: Kattar vs. Chikadze
MMA's back on the menu, boys! This weekend the UFC returns with a quiet little fight night that has every potential to explode with MMA action.
In the main event Bostonian boxer Calvin Kattar (22-5) (wins-losses) faces Georgian kickboxing master Giga "Ninja" Chikadze (14-2).
Fifth-ranked featherweight Calvin Kattar is a prolific fight-finisher. Debuting in the UFC back in 2017 with an impressive record of 16-2, Kattar has gone from strength to strength. Since his debut, Kattar's UFC record includes wins over Andre "Touchy" Fili via decision, "Hurricane" Shane Burgos via KO/TKO punches, Ricardo "The Bully" Lamas via KO/TKO punches, Jeremy "Lil' Heathen" Stephens via KO/TKO elbows to ground and pound, and Dan "50k" Ige unanimous decision. Kattar's only UFC losses have come against top featherweight contenders Renato Moicano, Zabit Magomedsharipov, and former featherweight champion Max "Blessed" Holloway - all via decision. With a UFC strikes-landed-per-minute of 5.07 and a strikes-absorbed-per-minute of 8.16, few fighters at featherweight beat Kattar on the entertainment front. Kattar's true advantage doesn't lie in a particular technique or set of techniques but in the intangibles: his heart, determination, and ability to snatch victory from the jaws of defeat through pure determination and force of will. He's a Bostonian bruiser, a brawler, and a blast to watch.
Eighth-ranked featherweight Giga "Ninja" Chikadze's fighting-finishing ability doesn't come from a brawling bulldozer mentality like Calvin Kattar. Interestingly, Chikadze is deadly for quite the opposite reason to Kattar. While Kattar is a butcher, Chikadze is a surgeon. His violent precision and clean, cutting kickboxing make him a horrifying nightmare for anybody in the featherweight division. Just ask veteran contender "Killer" Cub Swanson who took a devastating "Giga Kick" to the liver before collapsing and being finished by ground strikes. Or ask Edson "Junior" Barboza, one of the most respected kickboxing champions in the UFC, who Chikadze out-boxed before Barboza succumbed to punches in the third round. Alongside Chikadze's deadliness is his admirable dedication to "knockout cancer", which his mother (and biggest fan) Nino succumbed to back in 2013. Giga Chikadze may be a striking surgeon, but he's an ethical one. And it's damn hard to root against the guy.
The important question isn't whether this fight will be great - that's all but guaranteed when a fan-favourite boxer and an elite kickboxer clash. The important question comes down to whether Calvin Kattar's MMA-based boxing acumen is enough to bridge the striking gap against such a supremely-skilled kickboxer in Giga Chikadze. While Kattar has the obvious experience advantage, Chikadze has a far superior (and much more varied) arsenal of weapons at his disposal. Chief among Kattar's weapons are his close-range punch combinations and his even-closer-range elbows - which are violent fight-finishers. Chikadze, on the other hand, has access to a veritable loadout of punches, head kicks, and especially, body kicks like his signature "Giga Kick" to the liver. At this point, the odds favour the "Ninja" Giga Chikadze as a surprising 2-1 favourite over the top-five ranked featherweight contender Calvin Kattar.
Also featured on this unassuming little fight card is a fight between flyweights Brandon "Raw Dawg" Royval (12-6) and Rogerio Bontorin (16-3), plus prelim appearances from fan-favourite bantamweight Brian "Boom" Kelleher (23-12) and the welterweight veteran of the card Court "The Crusher" McGee (21-10). This fight card is a stealth bomber - it flies under the radar and yet it will deliver devastation, I can promise you that.
The main card of this fight night begins at 1:00 PM this Sunday for us here in New Zealand, with the preliminary card coming a few hours earlier at 10:00 AM. Don't miss it!