Everything you need to know about UFC Fight Night Makhachev vs Moises
Publish Date

Friday, 16 July 2021, 8:00AM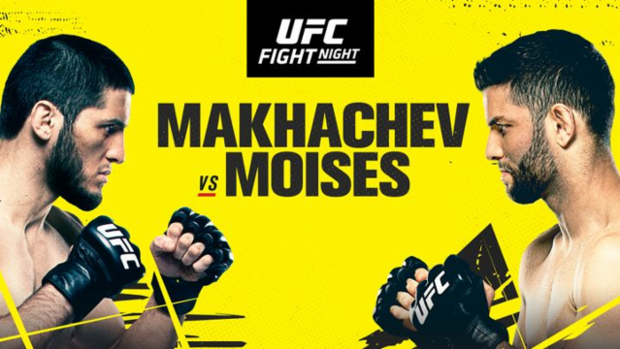 ACC UFC resident expert Felix Heath-Collins with everything you need to know ahead of UFC Fight Night Makhachev vs Moises.
The UFC returns this weekend with a fight night headlined by a fight between surging lightweight prospects Islam Makhachev and Thiago  Moisés.

In the main event, lightweight prospects Islam Makhachev (19-1) (wins-losses) and Thiago Moisés (15-4) fight to progress up the lightweight ladder. At lightweight, Makhachev is ranked 9th while his opponent Thiago Moisés is ranked 14th. As perhaps the most stacked division in the UFC, earning a ranking at lightweight is an incredibly impressive feat, one that both of these men have already achieved.

Originally this fight night was headlined by a hotly anticipated bout between former featherweight champion Max "Blessed" Holloway and exciting prospect Yair "El Pantera" Rodriguez. Sadly Holloway had to withdraw due to injury, and the replacement main event between the 9th and 14th ranked lightweights - although exciting - is severely lacking when compared to the former main event between featherweights ranked 1st (Holloway) and 3rd (Rodriguez) which had immediate title implications.

Although the stakes aren't as high for this replacement main event there is still a top 10 ranking on the line at lightweight.

Islam Makhachev is a much-heralded prospect at lightweight who is also a training partner and childhood friend of the retired lightweight 'GOAT' (Greatest Of All Time) Khabib "The Eagle" Nurmagomedov, who will likely be in his corner this weekend. With an impressive record and a seven-fight winning streak at only 29 years of age, Makhachev could well be a future champion at lightweight. Since debuting in the UFC back in 2015 Makhachev has acquired wins over Leo Kuntz, Chris Wade, Nik Lentz, Gleison Tibau, Kajan Johnson, Arman Tsarukyan, Davi Ramos, and, earlier this year, Drew Dober.

Thiago Moisés is a newer prospect in the UFC having debuted back in late 2018 after a win in the "Dana White's Contender Series" show. After a rocky start in the UFC in which he traded decision wins and losses, Moisés has since hit his stride with a three-fight winning streak against credentialed opponents Michael "The Menace" Johnson, Bobby "King" Green, and Alexander "The Great" Hernandez.

Now, these two streaking lightweights face each other to potentially determine the future of the division. And since their fight is the new main event of this fight night, it is scheduled for five rounds instead of the typical three.

Further down the main card is a bout with the potential to be the fight of the night. Violence should ensue as veteran featherweight brawler Jeremy "Lil' Heathen" Stephens (28-18) fights the credentialed wrestling prospect Mateusz "Gamer" Gamrot (18-1) at lightweight. Although Stephens is currently on a four-fight losing streak and therefore close to being cut from the UFC, he has delivered enough exciting wars to the company and the fans to survive in the roster a little longer. Hell, "Lil' Heathen" Stephens has the 10th most performance bonuses of all the male fighters in UFC history, at a total of 10 (6 fight of the night, 3 knockout of the night, and 1 performance of the night). The last time we heard from Stephens, however, he shoved his opponent Drakkar Klose so hard On the other hand, Mateusz "Gamer" Gamrot only have two performance bonuses in the UFC, but he also only has two UFC fights. It's truly a battle of bonuses between Stephens with ten performance bonuses against Gamrot who currently has 100% of his fights ending with a win bonus.  

The stakes are high in this bout - especially for Stephens, as a fifth loss will almost surely spell the end of his UFC career which dates way back to UFC 71 in 2007. For Gamrot this is more of an opportunity than a risk as an impressive win against the veteran Stephens could supercharge his popularity among UFC fans.

And finally, in the opening fight of the main card, Gabriel "Moggly" Benítez (22-8) faces Billy Quarantillo (15-3) in the featherweight division. Benítez made his debut back in 2014 after an unsuccessful run on "The Ultimate Fighter Latin America Season 1". He has had many impressive fights and finishes in his UFC run thus far, including guillotine choke victories over Humberto Brown Morrison and Sam Sicilia, a slam-into-punches TKO win over Humberto Bandenay, and in his last fight, a TKO win via knee to the body over Justin "Guitar Hero" Jaynes. Quarantillo only debuted in 2019 but he has definitely made the most of his short UFC run thus far. Over 2019 and 2020 he collected victories against Jacob Kilburn via triangle choke, Spike Carlyle via unanimous decision, and Kyle Nelson via right cross KO/TKO.

This well-matched fight is an intriguing test for both competitors at featherweight. And, although this particular fight is flying under the radar for most UFC fans, it could well steal a performance bonus away from the more renowned fighters further up the fight card.

Despite losing its main attraction between Holloway and Rodriguez, this card remains a hardcore fight fan's delight. Not only is the skill level of each combatant exceedingly high, but, unlike last week's UFC 264 'PPV' (Pay-Per-View) event, the matchmaking in this fight night is of a much more competitive variety. Whereas last week there were mainly so-called 'can' vs. 'can-opener' fights such as the egregious O'Malley vs. Moutinho bout which the UFC brass should be ashamed of. Now that we're back to close fights between competent fighters, I'm very excited for these largely unheralded prospects to shine this weekend.

This fight night's main card starts at 2:00 PM on Sunday for us here in New Zealand, while the preliminary card starts at 11:00 AM. Enjoy the fights! I sure will.