Everything you need to know about UFC Fight Night Reyes vs Procházka
Publish Date

Saturday, 1 May 2021, 8:13PM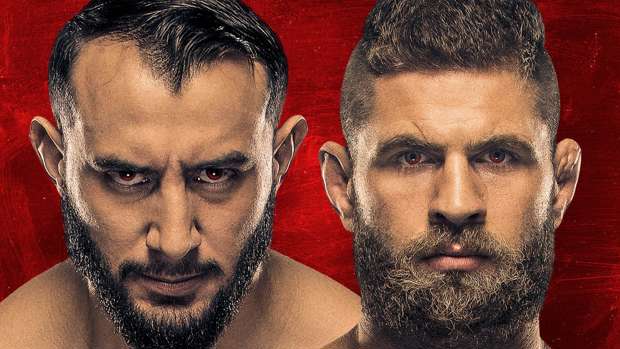 ACC UFC resident expert Felix Heath-Collins with everything you need to know ahead of UFC Fight Night Reyes vs Procházka.
The UFC returns this weekend with a fight night headlined by a fight between top light-heavyweight contender Dominick Reyes and surging light-heavyweight contender Jiří Procházka.
While the potential for fireworks does exist between these two light-heavyweights, the name value and excitement of a big fight doesn't really factor into this contest, or the card overall. Dominick Reyes leads the card ranking-wise with a light-heavyweight ranking of three, while Jiří Procházka holds the fifth rank in the division. This fight night main card would rank as one of the best PRELIM cards in UFC history. As it stands however, this main card ranks as one of the worst in memory. The UFC has recently made a trend of short-changing particular cards (usually fight nights like this one), in favour of over-loading some PPV's. Consequentially this fight night is only essential viewing for hardcore UFC fans.
Dominick Reyes's main claims to fame are actually his two losses. Namely a close split decision loss against divisional 'GOAT' (Greatest Of All Time) Jon "Bones" Jones, and another loss against current light-heavyweight champion Jan Błachowicz - that particular loss via brutal KO. So both of his losses have come against top-level champions. His opponent this weekend Jiří Procházka has the opposite problem. Instead of a close two fight losing streak like Dominick Reyes has, Procházka instead only has one UFC fight: a dominant KO finish of elite light heavyweight gatekeeper Volkan "No Time" Oezdemir. So while Reyes has a few close losses against the best, Procházka has had minimal octagon time which he has maximised to the fullest.
Stylistically they are also opposites. The Mexican-American Reyes utilizes a traditional kickboxing stance with great fundamental skills. His power comes from the explosiveness he honed as an almost-pro NFL (American Football) player before switching to MMA. The Czechian Procházka on the other hand started training in Muay Thai (traditional Thai kickboxing) at the age of 16, going on to win a national Muay Thai championship before transitioning to MMA shortly thereafter. His power comes from the unpredictability he honed as a young Muay Thai fighter, and later as an MMA fighter with both his punches and his kicks. It's the conventional fast twitch muscle fibre of the athlete Reyes versus the unconventional striking angles of the Muay Thai technician Jiří Procházka.
Another major factor in this competitive contest is the difference in experience between the two athletes. While Dominick Reyes only has a record of 12-2-0 (Win-Loss-Draw), Jiří Procházka has over double that experience with 27-3-1 (Win-Loss-Draw). However eight of Reyes's twelve fights have been in the UFC, and of Procházka's thirty-one fights only one of those has been in the UFC. So although Reyes's record is blown out of the water by Procházka statistically, Reyes has a deceptively short career since the majority of those fights have been in the largest, most competitive promotion around. But Procházka is no stranger to elite competition either, having won the Rizin MMA (a prominent Japanese UFC competitor) light-heavyweight belt. Not to mention that Reyes is on a two fight losing streak, while Procházka is on an impressive eleven fight winning streak.
As I've previously mentioned this card seems picked almost clean of particularly exciting or relevent fighters in favour of other events, such as last week's spectacular COVID-19 special UFC 261 in Florida, or next month's (potentially even more public health endangering) PPV UFC 262 in Texas. Florida has the bronze medal for third highest total COVID-19 cases in the U.S. at 2.22 million infections, while Texas beats them for the silver medal and the dubious honor of having the second highest COVID-19 cases in the U.S at a shocking 2.89 million infections.
Of what fights remain on this card, I'm hyped for the co-main event match-up between fresh featherweight contender Giga "Ninja" Chikadze and the battle-tested veteran of the weight class "Killer" Cub Swanson. This match-up should bring both the extreme MMA skill and violence that makes this sport so horrifyingly great. It could even provide enough violence to take the 'FOTN' (Fight Of The Night) bonus check.
Yes Reyes vs. Procházka and Chikadze vs. Swanson are great fights stylistically. The only problem is that the card deteriorates from those fights down relatively rapidly. While this weekend's UFC card doesn't have the same high level names or the same high level contests as the average UFC card, it does have fights. And fights are violent, unpredictable fun to watch. To paraphrase the famous quote from Alien vs. Predator (2004) for the purposes of MMA: whoever loses... the fans win.
UFC Fight Night: Reyes vs. Procházka is on this Sunday for us here in New Zealand, with the main card beginning at 2.00 PM.