Everything you need to know about UFC Fight Night Rozenstruik vs Sakai
Publish Date

Saturday, 5 June 2021, 12:33PM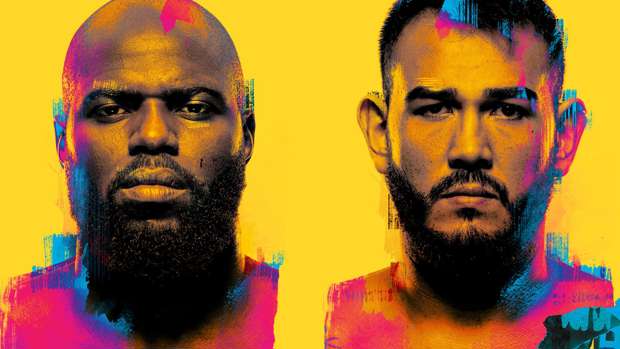 ACC UFC resident expert Felix Heath-Collins with everything you need to know ahead of UFC Fight Night Rozenstruik vs Sakai.
The UFC returns this weekend with a fight night headlined by a bout between top ten heavyweight kickboxers Jairzinho Rozenstruik and Augusto Sakai. Only a week out from the much more exciting PPV card UFC 263, this fight night might seem lacking in comparison. While there aren't any particularly popular fighters featured, this fight night should have plenty of technique and violence for the more hardcore MMA fans.
Two of the most elite kickboxers at heavyweight in the UFC headline this fight night as the only representative from Suriname in the promotion Jairzinho "Bigi Boy" Rozenstruik (11-2) (Wins-Losses) takes on surging Brazillian prospect Augusto Sakai (15-2). This main event match-up being between the 6th and 9th ranked fighters at heavyweight highlights the distinct lack of name-value on this card overall. None of the fighters featured in the main or preliminary cards has a top-five ranking, and the only other top ten ranked fighters are in the co-main event.
Jairzinho "Bigi Boy" Rozenstruik only debuted in the UFC in 2019, but since then has made impressive headway in the premier promotion's heavyweight division. In 2019 alone Rozenstruik collected victories over Júnior Albini, Allen Crowder, Andrei "The Pitbull Arlovski, and Alistair "The Demolition Man" Overeem - all of those by KO/TKO. 2020 was a tougher year for "Bigi Boy". In May he was knocked out in only 20 seconds by a marauding, savage punch combination from now-champion of the heavyweight division, Francis "The Predator" N'Gannou. Returning to the win column that August with a TKO victory over former heavyweight champion Junior "JDS" Dos Santos. This year has had a rocky start for Rozenstruik as he dropped a unanimous decision to fellow heavyweight contender Ciryl Gane in an unexpectedly boring fight night main event. Now looking to regain his momentum in his run toward the title, Rozenstruik must stave off the incoming tide of contenders at heavyweight.
Augusto Sakai debuted a year earlier than Rozenstruik but has been less active since his debut. In 2018 Sakai TKO'd Chase Sherman to start his UFC career. In 2019 he scored a split decision victory over aging legend Andrei "The Pitbull" Arlovski, along with a KO/TKO of contender Marcin Tybura. Last year Sakai earned another split decision victory over veteran Blagoy Ivanov, before losing by TKO to legendary former champion Alistair "The Demolition Man" Overeem. Rebounding off that loss, Augusto Sakai now looks to claim Jairzinho Rozenstruik's 6th ranked position in the heavyweight division, just outside of the title picture.
It speaks volumes that the main event of this fight night is between the 6th and 9th ranked fighters, both coming off of losses. Then again these fresh heavyweight contenders don't have a lot to lose popularity-wise, but they do have a lot to gain, both in popularity and in the potential for a future title shot. These two orthodox kickboxers should therefore throw caution to the wind, and attempt a show-stealing knockout to cement themselves in the heavyweight rankings, and in the minds of MMA fans worldwide.
Rozenstruik is best described as a powerful kickboxer with the ability to finish, but who lacks some fundamentals in grappling and the broader MMA game. All of "Bigi Boy"'s wins in the UFC have come by KO/TKO so he has undeniable striking power, but most of his performances have been marred by the lack of striking output. Even for a heavyweight, he doesn't have much pace behind his evident power, and he may need to step on the gas more if he intends to keep up the knockout rate he has achieved thus far.
Augusto Sakai also packs power. His Muay Thai (Thai kickboxing) involves lots of fakes and feints, with him typically targetting his opponent's legs with kicks or his opponent's head with powerful precision punches. And Sakai is surprisingly fast when he smells blood, pouncing on his opponent with sharp combinations, such as his near-perfect performance against Marcin Tybura, who he TKO'd in only 59 seconds.
Although the record of these two clearly favours Rozenstruik, I favour Sakai in this particular fight. Both men have substantial skill along with devastating power, I believe the difference will be Sakai's cleaner combinations. He also has a distinct advantage over Rozenstruik in the grappling department with his primary training camp being in 'BJJ' (Brazillian Jiu-Jitsu). The fight could go in a few different directions. Unfortunately, the most likely outcome between these two technical kickboxers is essentially a stalemate standing, with one of the two claiming the victory by points. But, if blood is spilled from either man, there's a good chance their opponent will go berserk in an attempt to finish the fight. Maybe it's not headlining fight exciting, but this bout has the potential that all great heavyweight fights have, and that's the potential for a savage stoppage.
Also on the main card is a fight between the violent veteran "Argentine Dagger" Santiago Ponzinibbio (27-4) and undefeated young prospect Miguel "Caramel Thunder" Baeza (10-0). Ponzinibbio is coming off an impressive 7-fight winning streak dating back to 2015 that was broken by Chinese veteran Li "The Leech" Jingliang in his last outing. In his short UFC career, Baeza has scored wins over Hector Aldana, Matt "The Immortal" Brown, and Takashi Sato – all by stoppage.
Further down in the preliminary card is a featherweight bout between submission specialist Youssef "The Moroccan Devil" (10-4) and striking specialist Sean "The Sniper" Woodson, who is a relatively ridiculous 6'2" at featherweight.
And to open the fight night we have a fight between exciting lightweight prospect Jordan "The Monkey King" Leavitt (7-0) - who won his last fight against veteran Matt Wiman via the ultra-rare result of a first-round slam knockout - and relatively untested lightweight prospect Claudio Puelles (8-0).
Overall this fight night has the ingredients to be truly special, but also the potential to suck. Whether it flies or flops, I'll be watching. And you should too. I can guarantee the worst combat sports event is better than the best of any team sport.
The main card starts at 11.00 A.M. this Sunday for us here in New Zealand. And, if you want to catch "The Monkey King" or "The Sniper", tune in to the prelims a few hours earlier at 8 A.M. Enjoy!