Everything you need to know about UFC Fight Night: Vettori vs. Holland
Publish Date

Sunday, 11 April 2021, 9:38AM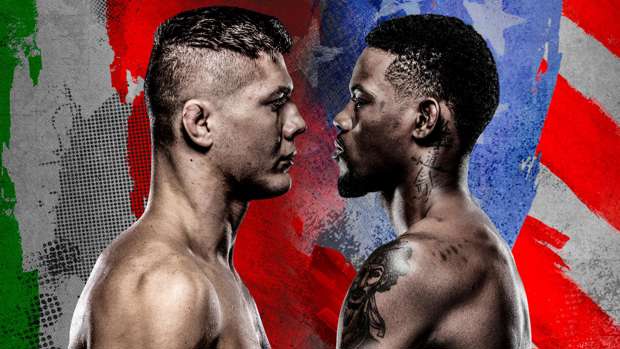 ACC UFC resident expert Felix Heath-Collins with everything you need to know ahead of UFC Fight Night: Vettori vs. Holland.
The UFC returns this weekend with Fight Night: Vettori vs. Holland this Sunday, with the main card starting for us in New Zealand at 7.00 AM. Although there are some interesting highlights throughout the main and prelim cards, by far the most significant fight is the main event.
Marvin Vettori vs. Kevin Holland:
Originally the headlining fight was a much more exciting match-up between Marvin Vettori and Darren Till. However Darren Till was replaced with rising contender Kevin Holland after a collarbone break last week forced Till's removal from the card.
Marvin "The Italian Dream" Vettori is an extremely well-balanced mixed martial artist, who employs an aggressive southpaw striking style, accompanied with good wrestling, top control when he does ground the fight, and potentially devastating ground-and-pound on top. Plus his tattoo game is on point; that left-arm sleeve is definitely an MMA tattoo 'GOAT' (Greatest Of All Time) contender.
With a young UFC career (debuting back in 2016) and only fighting around two times per year, Marvin Vettori's main draw back is inactivity. In that somewhat small list of UFC fights though, Vettori's impressive 6-2-1 (wins-losses-draws) octagon record has aged well. His 2018 split-decision loss to current middleweight champion Israel "The Last Stylebender" Adesanya has aged particularly well, especially considering the Vettori fight was one of Adesanya's toughest challenges at middleweight so far.
Marvin Vettori has a relatively conventional style of fighting. Instead of excelling in one particular component of MMA above all others, it's Vettori's combination of various mixed martial arts that truly make him so hard to beat. Vettori's only obvious weaknesses would be in his predictability. However if Vettori's predictability almost had him win against Israel Adesanya, he should have this one in the bag.
In stark contrast to Marvin Vettori's record and style is the rising contender Kevin Holland. After debuting two years later than Marvin Vettori (to the month) in August 2018, Holland has already amassed a similar amount of fights in almost half the time Vettori at a 7-3 record in the octagon.
Kevin Holland's style is loose, unorthodox, but devastatingly effective (if he takes the fight seriously, in contrast to the recent Derek Brunson loss). Not only did he steal the hype train of Joaquin Buckley by KO (following Buckley's savage jumping back kick to the head finish of Impa Kasanganay), he also had his own all time great finish when he knocked out legendary fighter Ronaldo "Jacare" Souza while grounded and underneath him, shocking the MMA world.
Kevin Holland has a second-degree black belt in Kung Fu, along with a much more impressive, high-level Brazilian Jiu Jitsu (BJJ) black belt from former UFC fighter Travis Lutter. The Kung Fu training isn't necessarily wasted in MMA for Holland considering his loose style and ability to adapt. His BJJ black belt under Lutter really covers his opportunistic striking style with solid defence and offence from underneath opponents.
Holland fights often and therefore keeps his game sharp. However, he also showed mental weakness in his last contest against elite gatekeeper Derek Brunson, where his usual fight talk devolved to begging ex-champ Khabib "The Eagle" Nurmagomedov in the crowd for wrestling help. Funny at first, after five rounds of talking without much fighting back and a unanimous decision loss, UFC president Dana White was "pretty pissed", and even walked out before the much-anticipated main event was even over.
So the real question comes down to consistency. Can Marvin Vettori enforce his dominant yet too conventional style, or can Kevin Holland employ his devastating yet too unconventional style?
It's the typical orthodox vs. unorthodox showdown we have seen many times in combat sports (for example the Mike Tyson vs. Evander Holyfield fights), but this time there are so many extra mixed martial arts variables to compound the confusion of predicting fights. Marvin Vettori has almost no weaknesses in his very consistent and well-rounded MMA style, but he doesn't have many particular strengths either. On the other hand, Kevin Holland is very skilled in certain positions (submitting and striking underneath with his elite BJJ black belt), but he has particular weaknesses in takedown defence and, potentially, mental fortitude as well. Marvin Vettori has this one by decision or KO if he can implement his full MMA game on his unorthodox opponent. Kevin Holland has this one by submission/KO if he can somehow force Vettori to engage him at his strengths - whether through footwork and positional dominance, or more likely, through trash-talking.
No matter who wins the fans will hopefully win too.