Everything you need to know about UFC Fight Night: Whittaker vs. Gastelum
Publish Date

Saturday, 17 April 2021, 2:46PM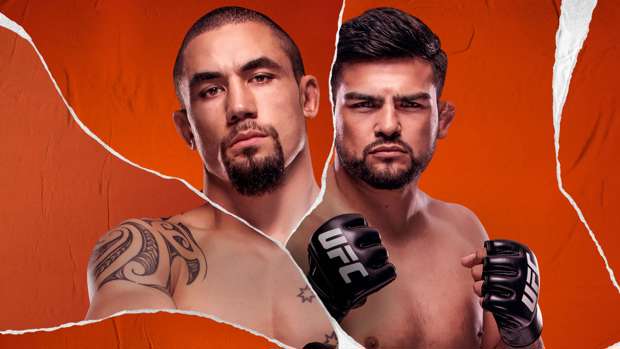 ACC UFC resident expert Felix Heath-Collins with everything you need to know ahead of UFC Fight Night: Whittaker vs. Gastelum.
The UFC is back again this weekend for a fight night headlined by the much-anticipated contest between the Australian former middleweight champion Robert "The Reaper" Whittaker and the perennial middleweight contender Kelvin Gastelum.
Originally this fight was booked for UFC 234 back in February of 2019, with the then-champion Whittaker pulling out of the contest for severe medical problems just hours before it was scheduled to take place. The current middleweight champion from New Zealand Israel "The Last Stylebender" Adesanya's co-headlining fight against Anderson "The Spider" Silva was then moved up to the headlining spot of the card.
Israel Adesanya defeated Silva by unanimous decision in a technical (if somewhat slow) match, then went on to fight Whittaker's expected opponent Kelvin Gastelum in an all time great war only two months later to co-headline UFC 236, earning him the interim middleweight championship in an all-time-great war. Six months later Adesanya followed that brutal performance with a perfect counter KO of Robert "The Reaper" Whittaker at UFC 243 in the then-champ's home of Australia (in front of a ridiculous crowd of 57,127 people, and many more watching online to boot).
Now Whittaker and Gastelum - formerly defending and contending for the middleweight title respectively - fight for the number one contender spot that Whittaker currently holds. Even though Gastelum is now only ranked eight in the middleweight division this fight has been awaited by MMA fans for over two years, not to mention the fighters who have now completed two whole training camps to fight the same person just once two years on. It's expected (although not guaranteed) that the winner of this contest will fight next for the middleweight championship against Israel "The Last Stylebender" Adesanya.
The stakes for this fight should encourage the combatants to take risks to win, especially after Marvin "The Italian Dream" Vettori defeated Kevin "The Trailblazer" Holland last week by a grinding (arguably boring) decision. Even though Vettori might deserve the title fight next he essentially needed an exciting finish to properly secure that spot - a finish he didn't truly attempt. In the fight this weekend however Whittaker wants the middleweight belt back badly, and Gastelum is so eager for the title that he adds the hashtag "#OnAmission4Gold" to most of his tweets.
Robert "The Reaper" Whittaker has had an impressive UFC career dating back to late 2012. Now only thirty years old Whittaker is truly in his athletic prime. In those eight years alone he has earned victories over one-time prospect Uriah Hall, the terrifying rock golem Yoel "Soldier of God" Romero twice, top prospect Darren "The Gorilla" Till, Jared Cannonier, and finishes of elite middleweight gatekeeper Derek Brunson and legendary fighter Ronaldo "Jacare" Souza.
Born in Auckland, New Zealand before moving at a young age to Sydney, Australia Robert "The Reaper" Whittaker represents Oceania with pride. He has a massive fan base the world over, who have affectionately nicknamed him "Bobby Knuckles". At a fairly average height of 5'11" in (180cm), Whittaker employs a unique blitz-based karate kickboxing style to swarm and finish opponents in typically exciting fights (Brunson, Souza) or to drag them out in marathon-like wars (such as the Romero fights). Even though Whittaker's style can be more accurately described as a boxing/kickboxing mix instead of karate, he does take some fundamentals of traditional karate and implement them in his style. These influences include his wide karate stance, the 'bouncing' to offset an opponent's timing, and lead-leg kicks used in a 'jab-like' manner to offset the opponent's attacks and set up follow-up offence. The problems with Whittaker's style were shown pretty clearly by Adesanya in their fight back in 2019, with major stylistic openings including a vulnerability while blitzing forward, and a skill-set tailored toward fighting aggressive forward moving fighters (like Brunson and Romero), while not being so good against elite counter strikers that can wait for a defensive mistake to capitalize on (like Adesanya). Thankfully for Whittaker, Gastelum is much more the former style than the latter.
After winning "The Ultimate Fighter" reality show's season 17 back in 2013 (despite being the last fighter picked during team selection, with him eventually ending up in MMA veteran Chael "The American Gangster" Sonnen's team), Gastelum has had a rocky yet highlight-filled career. Since debuting in the UFC he has beaten several notable fighters including Johny Hendricks, Tim Kennedy, Michael "The Count" Bisping, Ronaldo "Jacare" Souza, and Ian Heinisch. He also pushed the current middleweight champion Adesanya to a brutal five round decision that thoroughly tested the Kiwi champion.
Born in San José, California with Mexican heritage, and now fighting out of Yuma, Arizona, Kelvin Gastelum was a top prospect at welterweight early in his MMA career, before missing weight enough to basically get barred from the weight class by UFC president Dana White. Now at middleweight Gastelum has shined the brightest in his career yet. Despite being very short for the middleweight division at only 5'9" in (175 cm), Gastelum uses his reach very effectively. His southpaw style of boxing is super effective also, throwing people off their game with his slick punching combinations, willingness to trade shot-for-shot with opponents, and with his formidable 'chin' (the ability to absorb head strikes). His resilience to head damage is so strong in fact that he has never lost a professional MMA contest by KO/TKO, with his only losses coming by way of decision or submission.
The fight between these two greats of modern middleweight MMA should be amazing. Both Whittaker and Gastelum have the offensive and defensive skills to turn this fight into a Fight Of The Year (FOTY) contender for the promotion. And if Whittaker can finish Gastelum or beat him via a decision excitingly he should fight next for the title against Adesanya. A win over the former champion and all-time-great middleweight Whittaker would be by far the best 'scalp' in Gastelum's already-impressive collection. Personally, I can't wait.
Other exciting fighters on this card include Jeremy "Lil' Heathen" Stephens, Andrei "The Pitbull" Arlovski, and Whittaker team-mate Jacob Malkoun. The main card starts for us in New Zealand at 2.00 PM this Sunday.