Fish N' Chips From Whitby: The Curse of the Weka
Publish Date

Sunday, 20 September 2020, 8:00PM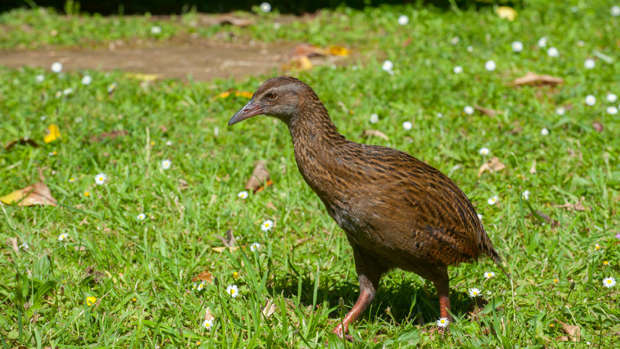 Musings from Tony Blain's acid-washed diaries...
The Curse of the Weka - 20th September 2020
It's the nature of things that they become less relevant over time. I include myself in this category, specifically in regards to any influence or impact I've made on life in New Zealand recently, as it's now been in excess of 10 years since I last trod the leafy byways of Aotearoa. 
So to be invited to once again make a contribution to the BYC, the thinking cricketers' theatre of the mind as I consider it, is both a privilege and an honour.
Many things have altered in the decade since my departure. I now have dual citizenship, awarded to me earlier this year by Mayor Hussain in the Batley Town Hall. Officially and spiritually I'm proud to lay claim to being both a Kiwi and a Yorkshireman - but in that order thanks very much. Once a Kiwi always a Kiwi I guess you could say, or to put it another way, although these days my fish 'n' chips are from Whitby, the sand between my toes will always be from Kaiteriteri.
I do take a keen interest in all things New Zealand I hasten to add, albeit, as Bette Midler once described, from a distance. I was concerned when the Christchurch earthquakes were so terrifyingly disruptive to the good folk of Canterbury, saddened by the departure of some of our icons, in Jonah, Pinetree and Marty Crowe, appalled by the mosque massacre last year, flabbergasted when White Island erupted on those poor sods who were having a day trip there on THAT day, enraptured by the All Black world cup wins, thrilled by the Mighty Black Caps brilliantly absurd Lord's final and now, along with the rest of humanity, am attempting hold firm while we're all held hostage to bacterial fortune until such time as a cure can be produced for the old Batmeat Bronchitis.
Before I make any offerings to the BYC congregation – before a ball is bowled, as it were - I would like to get something off my chest. I feel the timing is right for this confessional, given the current precarious status of the planet and its inhabitants and, additionally, the recent events that have brought into stark contrast the reality of our own collective mortality.
So in order to restart this new chapter afresh I'd first like to disbosom myself of a shameful act that's been a blight on my psyche for almost five decades. Some of you may find it shocking; others will be disgusted and enraged. I hope that you won't judge me too harshly.
In 1971 in Charleston, a small seaside hamlet 19 miles outside Westport, I killed a weka. Actually, strictly speaking I didn't in fact kill it; ultimately, the coup de grace was delivered by my friend and holidaying sidekick Brent Thomas, but that was an act of mercy after I'd drilled it in the temple with a flat stone I'd side armed from 10 yards away, maiming it horribly.
I honestly thought I'd have no chance of hitting the little chap when I launched the missile, given the adjustments needed for the curving arc of flight that occurs when a stone of perfect proportions for skimming across a pond is switched from a naval to an aerial commission.
The memory of the innocent bird lopsidedly flapping about in a mortally wounded state still haunts me. If only I'd clung on to that lovely elliptical stone wedged in my pudgy nine-year-old hand; if only I'd kept it for its original pond-bound deployment, that poor wee weka would have continued to go happily about his weka-ing business and I wouldn't have had to wrestle with these feelings of guilt and remorse for almost a half a century.
Matters weren't helped when several years later my family moved from Nelson to Motueka. 
Motueka means in the native tongue "Place of the Weka'' and I found it very unsettling to find myself, ensconced in a hotel (the Hotel Motueka, at that) in a town that bore the moniker of my shame. A short time later when a Kentucky Fried Chicken outlet sprang up next to the Swan Hotel (yet another painful if slightly obtuse reminder of the avian assassination), the swelling community pride at having acquired the trappings of modernity through instant access American style grilled fowl, really only served to compound my despair.
Even now, as though in retribution for the brutal and senseless slaying of a defenceless native bird, the Gods have deigned that as penance, while I nudge ever closer to the age of 60, I'm beginning to bear an uncanny resemblance to Colonel Sanders. It is, I've concluded, the curse of the weka.
Well chaps, it feels something of a relief to have finally been able to give voice to my dark secret. Perhaps now I can live my life in light and joy, not suffering the rasping spasm of the involuntarily sphincter clench every time I'm reminded of the awful act I perpetrated on the Coast all those years ago: when I see a bird, or an egg (or anything egg shaped or egg related), or a feather (or anything with feathers in it); or any chicken dish; or during the Christmas roast; or when Channel 9 trot out Daddles when someone's scored zero; or the four torturous days of Easter; or the number 22 when you're playing Housie; or when you're trying to win a teddy bear at a fair in the shooting gallery; or you happen upon a Road Runner cartoon when you're channel surfing in a motel.
At last I'm free. Thank you gentlemen. I think I'll go and have a Nando's.
Tony Elston Blain b. 17.2.62
11 tests: 456 runs; 19 catches, 2 stumpings
38 ODIs: 442 runs; 37 catches, 1 stumping
118 FC matches: 8 100s, 32 50s; 210 catches, 26 stumpings
110 List A matches: sod-all runs; 108 catches, 16 stumpings