Fish N' Chips From Whitby: Yes, Prime Minister
Publish Date

Friday, 23 October 2020, 8:00PM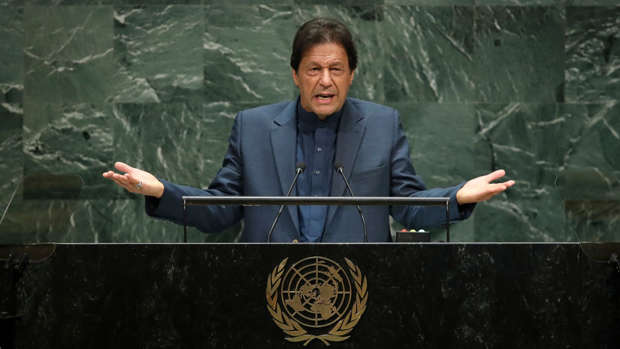 Musings from Tony Blain's acid-washed diaries... 
Yes, Prime Minister - 23rd October 2020
I faced Imran Khan twice. Both times I had the distinct feeling that he felt bowling to me was an utter waste of his time. According to the scorebook however, I was undefeated in both innings, with a combined total of about 80 runs. But the bald statistics don't tell the unexpurgated story of either meeting.
Meeting No 1: 1986 Sussex County Cricket Club, Hove.
I'd never worn a full faced helmet before. In fact, I only had the wee perspex side pieces and had to borrow Evan Gray's Hannibal Lecter type front grille that bolted on clumsily. It was like a Kenworth radiator. On a dank morning, Imran's first couple of rather casual overs had me feeling like I needn't have bothered with the extra armour. Then midway through his third, he let one rip. I was half way through a classical text book backward defensive (page 27 MCC coaching manual) when the ball clanged me straight in the kisser with the sound of a Sumo wrestler falling through a drum kit. I was unhurt, and more importantly, so was E.J.'s grille. A rather bored Imran went back to trundling a few down as I continued to block the pap out of it.
I had the distinct feeling that he considered it a travesty that his supreme talents were being squandered on someone of my meagre abilities.
Meeting No 2 : 1990 McLean Park, Napier.
Playing for a NZ 2nd Xl type team against the touring Pakistanis, after a so-so start for our scratch side, Gav Larsen and me began laboriously constructing a mid innings partnership. On a dead McLean Park pitch Imran was happy to let Aaqib Javed and Abdul Qadir do the donkey work on that scorching Napier afternoon. Like a couple of grimly determined Galapogos Island tortoises me and The Gav had ground out a hundred or so between us when Imran decided that it was time to end our stoic stand. Marking out his run he glanced at me briefly with a bored scowl.
I had the distinct feeling that he felt that someone of his brilliance should not have to lower himself to engage with someone so obviously and completely bereft of talent.
I coped with his first few deliveries well enough, then he went wide of the crease and fanged one in at the back end. It spat and steepled and got a touch on my glove as it smoked through to the keeper. The umpire, Lumpy Reardon, one of Taranaki's finest, knew that I was a "walker" so there'd be no need to pressurise himself into making a decision, knowing he could just leave it to me and my pristine conscience.
Next over when I was on strike to Aaqib Javed, I turned one behind square for a quick single. Saleem Malik swooped and threw the stumps down at the bowler's end, with me at full stretch… and comfortably out. Unfortunately for the tourists the throw caught umpire Graeme Cowan, one of Auckland's finest, a little off guard and as the stumps shattered his primary focus was on self preservation, hurling himself like a West Auckland stuntman away from Malik's rifling throw.
A short time later, the future World Cup winning captain and Prime Minister of all Pakistan, walking back to the top of his run, paused, turned and addressed the congregation. Speaking to everyone generally and me in particular he began in his unhurried Oxford english, "You know…. a true sportsman would be embarrassed. He may not walk, but he would be embarrassed." Realising the subtext that our two local umpires may take from his veiled accusation and how it could influence their decision making in the next round of talks, I felt the need to enter into negotiations.
Raising the historical but salient point that I felt the bowler was conveniently overlooking, I held the gaze of The Lion of Pakistan for a moment longer than was comfortable before replying to him, "That's pretty pharkin' rich coming from you guys." Gav and I batted through until just after tea before we declared.
But throughout my innings, I had the distinct feeling….
Tony Elston Blain b. 17.2.62
11 tests: 456 runs; 19 catches, 2 stumpings
38 ODIs: 442 runs; 37 catches, 1 stumping
118 FC matches: 8 100s, 32 50s; 210 catches, 26 stumpings
110 List A matches: sod-all runs; 108 catches, 16 stumpings