Manaia's Mad Mondee NRL Top 5 - August 3 2020
Publish Date

Monday, 3 August 2020, 3:59PM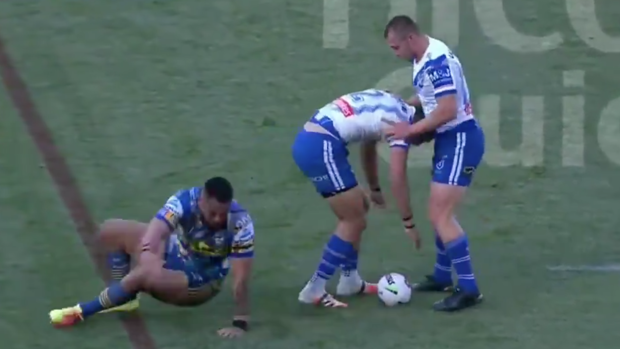 Manaia Stewart with the Top 5 best, worst & weirdest moments from the NRL over the weekend!
#5 If 2020 Was A Play-The-Ball
The first couple of times I watched this I couldn't wrap my head around so for those of you playing at home - HE'S FACING THE WRONG WAY lol shame.

#4 R.I.Ponga
Kalyn Ponga's pretty good at Rugba Leeg but this weekend Ryan Papenhhzdofushfasizen snatched his ankles and the internet had a field-day:
I think I tore my hamstring just watching that...

#3 Latrell With The Fox-Plant
The Rabbitohs kicked off Indigenous round this weekend with a bang - all 32 of the Bunnies points coming from Indigenous players. Latrell even going so far as to celebrate NZ's indigenous culture by giving the in-goal a Hongi. I don't know why but f*ck this cracks me up:


#2 Charlie Staines Pub
The Penrith rookie's local pub put on a promotion where they would give away free schooners for every try their boy scored in the NRL. The bloke has scored Six tries in his first 105 minutes of action. If you want to watch a pub go under you can just follow them on FB:

Honourable Mention: Madge Loses It
The Kiwi's coach was fired up at half-time giving the Tigers a spray for their poor performance, only leading the Warriors by 14-8 at the half.
I shudder to think what he did to that chair at full time because...

#1 The Warriors F*cking Won!
The reason the pokies are so exciting is because you don't win every time - The losses can be soul-destroying and the wins arousing. That's what makes the Warriors, pound-for-pound, the most exciting team to follow in professional sports. On Friday night Todd Payten went Max Bets x Max Lines and hit the feature! You can some of the free spins here:
The Wa-Wa's are still on the hunt for their new head coach and you'd have to say this win can't have hurt Payten's chances but I want them to know my hat's still in the ring too.
Words by Manaia Stewart - Please direct all hate to @mana_cuz on Twitter