LeBron James ejected as hell breaks loose in NBA
Publish Date

Tuesday, 23 November 2021, 9:04AM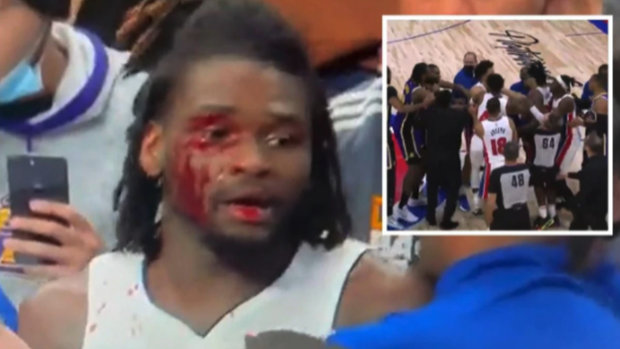 LeBron James has been ejected and booed mercilessly by an angry Detroit crowd after a fight broke out in the Lakers' bitter win over the Pistons on Monday.
The game exploded in the third quarter when James appeared to elbow Pistons star Isaiah Stewart to the side of the head as they contested a rebound on a second free-throw attempt.
The contact sent Stewart stumbling backwards.
When he regained his feet, he immediately charged at James before players from both teams could jump in between the two.
seething Stewart was escorted away by security and teammates, but broke free of their clutches and made a second charge at James before he was again stopped short of reaching the Los Angeles star.
He was seen staring at James after the incident with a murderous expression as blood poured down the right side of his face.
When the dust finally settled, Stewart and James were both tossed out of the game and were marched to their locker rooms.
Russell Westbrook was also issued with a technical foul for his role in the melee.
Replays showed just how close it came to becoming an all-in-brawl.