Tiger Woods in hospital after being pulled from wreck in car crash
Publish Date

Wednesday, 24 February 2021, 10:40AM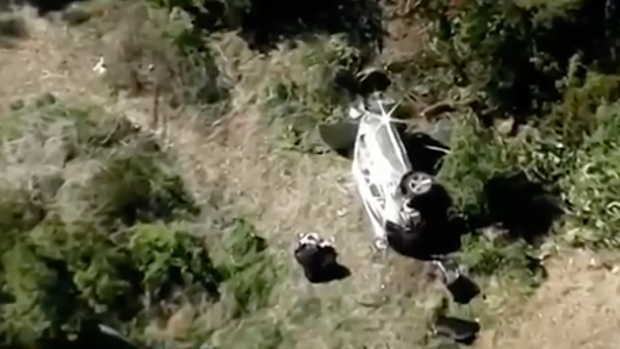 Golfing great Tiger Woods has been involved in a car crash after rolling his vehicle in Los Angles.
The Los Angles County Sheriff's Department released a statement on Twitter saying Woods was the sole occupant in the car.
He was 'extricated from the wreck' with the jaws of life, the statement said and was transported to hospital.
"Tiger Woods was in a single-car accident this morning in California where he suffered multiple leg injuries. He is currently in surgery and we thank you for your privacy and support," Woods' agent Mark Steinberg said in a statement.
Woods recently had his fifth back surgery and has had a troubled past with painkillers including one incident where police found him asleep at the wheel.
Earlier in the day, former NBA star Dwyane Wade posted a video on Instagram playing a round of golf with Woods.
Woods appeared in a TV interview earlier this week in which social media followers shared their concerns.
"Just me or did Tiger Woods just look completely zoned out during that interview?" tweeted one golf fan.
"He did not look in a good way it must be said," said one golf fan. "While he might compete at The Masters, I'd be very surprised if he makes the cut. Looks and sounds like he knows it could be the end now."
In 2009, Woods was involved in a car accident in Orlando, when he ploughed into a fire hydrant and from there into a tree in the early hours of the morning following an altercation with his then wife Elin Nordegren.
Eight years later he was found asleep at the wheel of his Mercedes by police. He said at the time he had taken prescription medication beforehand.
Shocking footage showed him unable to walk in a straight line, slurring his words and struggling to stay awake, while being quizzed by cops.
Earlier this week Woods said he doesn't know when he will return from a fifth back surgery, and he could not give a definitive answer Sunday when asked if he would be at the Masters.
"God, I hope so," Woods on the CBS broadcast of the Genesis Invitational.
Woods, at Riviera to hand out the trophy as the tournament host, had a microdiscectomy December 23. It was the fifth surgery on his back, and the first since a procedure to fuse his lower spine in April 2017.
"I'm feeling fine," Woods said. "I'm a little bit stiff. I have one more MRI scheduled so that we'll see if the annulus (fibrosus) is scarred over finally and see if I can start doing more activities. But still in the gym, still doing the mundane stuff that you have to do for rehab, the little things before I can start gravitating towards something a little more."
Woods has not played since he joined 11-year-old Charlie at the PNC Challenge a few days before his surgery.
"I don't know what the plan is," he said when asked if he would try to play before the Masters.
This article was first published on nzherald.co.nz and is republished here with permission