22 Thoughts on the 2019 Ice Blacks
Publish Date

Tuesday, 12 February 2019, 3:36PM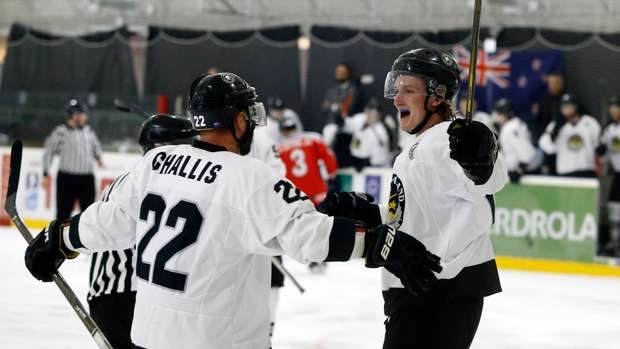 April will see the New Zealand Ice Blacks traveling to Mexico City for their annual IIHF campaign with a singular objective: to finish first and earn promotion.
With two months to go, it's down to the business end of preparations, culminating in an extensive ten-day training camp held in Vail, Colorado.
Puck Yeah will be right there with them, filming their progress for a documentary to be released later this year while also reporting back regularly so fans can stay connected with the Ice Blacks on the other side of the world. Such coverage is costly for us so please consider donating to our Givealittle page.
On Sunday night New Zealand's 22-strong traveling squad for the 2019 IIHF Division II-Group B World Championship was announced as follows:
Forwards:
Paris Heyd, Matt Schneider, Jordan Challis, Alex Polosov, Dale Harrop, Benjamin Gavoille, Frazer Ellis, Ryan Strayer, Joseph Orr, Nick Henderson, Andrew Cox, Martin Lee, Chris Eaden, Robin Vortanov (non-traveling reserve).
Defence:
Stefan Amston, Callum Burns, Nick Craig, Blake Jackson, Andrew Hay, Jaxson Lane, Stephen Mawson, Logan Fraser (non-traveling reserve).
Goalies:
Rick Parry, Csaba Kercso-Magos, Vince Mitalas (non-traveling reserve).
Andy Mills, the President of the New Zealand Ice Hockey Federation, has previously mentioned to me that he believes New Zealand sides should be playing in higher divisions than they currently do and I would for the most part agree with him on that statement – the Ice Blacks certainly should be.
After back-to-back silver medal placings at the IIHF Worlds, this year they must capitalise on their recent success against Australia and get back to the IIHF's Division II-Group A tournament.
Out of the five New Zealand Ice Hockey League clubs, the current Birgel Cup champion West Auckland Admirals boast the most Ice Blacks with seven this year, the Botany Swarm and Skycity Stampede both provide four, while the Dunedin Thunder and Canterbury Red Devils feature three and two respectively.
If all those that were named today remain healthy, this 2019 squad will be one of the strongest sides to wear the black jersey in recent history. And that's despite some notable omissions like goaltender Daniel Lee who was unavailable due to study commitments.
Anatoly Khorozov returns as head coach to see through his 'two-year mission' to make IIHF promotion a reality. However, Adam Blanchette won't be returning to the bench beside him for this year's campaign. Instead he will be joined by Andreas Kaisser, last seen coaching the Ice Fernz in 2018 and now the current General Manager of the NZIHL.
Here are my 22 thoughts (shout out to Elliotte Friedman) on the 2019 New Zealand Ice Blacks, starting with…
FORWARDS
Paris Heyd (Dunedin Thunder)
NZIHL commentator Matt Wiffen said it best, dubbing Paris Heyd "Captain Fantastic" after the skilled centre scored one of many highlight reels goals last season. And while he's not the captain of this side, the Dunedin Thunder's main man often leads by example with his on-ice performance.
Awarded the title of the NZIHL's 2018 MVP after almost taking the Thunder to the Birgel Cup Finals, his addition to the Ice Blacks is a no-brainer. My favourite element of Paris' game is how strong he is on his edges – when he's controlling possession, defenders have a tough time forcing a turnover. More often than not he's creating a high percentage scoring chance instead.
2018 Stats: 17 games, 15 goals, 21 assists, +6, 10 PIMs, 18.75 S%

Matt Schneider (Skycity Stampede)
Backing up the selection of Heyd with more offensive power is Stampede captain Matt Schneider. Hailing from Vernon, BC and once drafted by the Calgary Flames in the 2004 NHL Entry Draft, this 6-foot-7 (but feels more like 7 foot on skates) behemoth can dominant a game early with equal parts size and skill.
We have seen Schneider do exactly that countless times since his NZIHL debut in 2012. Last season he was the top scorer with 46 points in 18 games and was crowned league MVP the season before that.
Possessing a wicked shot that goes in more often than not, Schneider is a fierce competitor that hates to lose. He will be a key part of the Ice Blacks' offence – good luck to any goalie trying to see past his screen.
2018: 18 games, 22 goals, 24 assists, +29, 22 PIMs, 55.00 S%
Jordan Challis (Botany Swarm)
With 157 games over 12 years, Jordan Challis' game is on roll after coming off his best season offensively. With 24 points in 15 games he led the up-and-down Swarm in scoring, followed up by an impressive outing for New Zealand against Trans-Tasman rivals Australia at the 2018 Winter Games.
Turning 27 shortly before training camp, Challis still has a lot to offer the Ice Blacks.
When interviewing the 43-cap veteran after their test series win over the Mighty Roos back in September, it was clear just how much achieving IIHF promotion would mean to him – Challis embodies the belief that New Zealand should be at a higher level and competing against Australia more.
Challis also has dad strength now, so there's that.
2018: 15 games, 9 goals, 15 assists, even +/-, 20 PIMs, 34.62 S%
Alex Polosov (Swarm)
Once an age-grade representative for Estonia in 2004-05, Alex Polosov now calls New Zealand home and returns to the Ice Blacks fray for a third consecutive international season after a strong performance in the black jersey last year – scoring 9 points in 5 games.
The 5-foot-9 forward provides solid offensive depth for this 2019 lineup. If one of the main cannons fails to fire, Polosov still remains a threat with his ability to finish plays effectively during 2-on-1 breakouts. Here's hoping he can continue the excellent chemistry with Ryan Strayer as seen at the 2018 Winter Games.
2018: 16 games, 6 goals, 6 assists, -3, 14 PIMs, 31.58 S%
Dale Harrop (West Auckland Admirals)
The Christchurch native had one hell of a 2018 season – NZIHL champion, Trans-Tasman Challenge winner, and two-time participant of the 'Kurt Baker Challenge.'
The Admirals enjoyed plenty of goal-scoring up and down the lineup on their way to their first Birgel Cup victory, with Harrop being one of those consistent performers – tallying 20 points in 16 games.
Harrop is the type of character that every locker room needs. He knows how to keep things light, but also when to switch into beast mode and score crucial goals while staying out of the penalty box.
2018: 16 games, 5 goals, 15 assists, +9, 10 PIMs, 45.45 S%
Benjamin Gavoille (Thunder)
After making his New Zealand debut during the Winter Games series, Mexico City will be Benjamin Gavoille's first IIHF experience for the Ice Blacks.
The French-born forward was instrumental in seeing the Dunedin Thunder come so close to securing a Birgel Cup Finals berth for the first time since 2014, finishing third in team scoring behind Heyd and Brandon Egli (27) with 20 points.
Gavoille's attitude coming into the team really impressed me. While NZ might be his second home, he appreciates how meaningful the black jersey is for the country's elite athletes – he has well and truly earned his spot with his initial performance in that same jersey.
2018: 17 games, 13 goals, 7 assists, +8, 10 PIMs, 27.66 S%
Frazer Ellis (Admirals)
Named 2018 MVP of a championship-winning team, at only age 22 Frazer Ellis' two-way game is growing from strength to strength – he contributes regularly on the score sheet and denies opportunities for his opponents at the other end.
During last year's IIHF Worlds in Spain, Ellis was burying the puck at a goal per game pace for New Zealand. The 2019 campaign has the potential to be a breakout year for the young forward with plenty of support from his fellow Admirals on hand.
2018: 18 games, 11 goals, 14 assists, +16, 37 PIMs, 52.38 S%
Ryan Strayer (Stampede)
The introduction of Ryan Strayer to the Ice Blacks lineup for the Winter Games felt like a breath of fresh air – and his style of play is one we're fond of here at Puck Yeah.
His infectious energy both on and off the ice is not to be underestimated – if the debutant wasn't contributing offensively, which he was, he can find other ways to have an impact on the outcome. Going to the corners, disrupting rushes and creating turnovers, it's all part of Strayer's game and he too, along with Gavoille, rightfully deserves a place in the 2019 roster.
2018: 18 games, 5 goals, 14 assists, +8, 12 PIMs, 22.73 S%
Joseph Orr (Thunder)
Currently playing US collegiate hockey for Williston State College, Joe Orr is backing up his seventh and best season for the Dunedin Thunder with two goals and eight assists in 13 games of ACHA competition.
While the flying winger was part of New Zealand's Winter Games roster last year, the Mexico City tournament will be Orr's first IIHF senior competition. Previous he represented the country at under-20 and under-18 competitions.
He is the second youngest member of the team, behind Callum Burns, but his play on the ice will likely suggest otherwise with his strong puck-handling skills – I won't be surprised if Orr produces at least one highlight reel worthy goal during April's tournament.
2018: 17 games, 9 goals, 8 assists, -3, 12 PIMs, 20.00 S%
Nick Henderson (Admirals)
Admirals fan favourite and the man affectionately known as 'Hendo' is going into his seventh consecutive year with the Ice Blacks, making up part of the side's veteran group.
Once considered more of a defenceman, Henderson has transitioned well to the wing, his now preferred position. He can score goals but I would consider him more of a playmaker that will help anchor New Zealand's second or third line.
2018: 18 games, 7 goals, 14 assists, +11, 22 PIMs, 35 S%
Andrew Cox (Perth Thunder, AIHL)
I will admit that Cox is a player that I don't get the chance to see play very often aside from when he's with the Ice Blacks.
For the past seven years the Auckland-born winger has been applying his trade across the ditch in the AIHL for the Perth Thunder. While Cox enjoyed high-scoring years in 2014 and 2015, last season was his best yet with 31 points in 28 games. I look forward to seeing what he will bring to the table this year.
2018: 28 games, 12 goals, 19 assists, 18 PIMs
Martin Lee (Montreal)
Lee is another player I don't get to see play much – the last time he stepped out on the ice for a NZIHL game was back in 2013 for the Canterbury Red Devils. Since then he has played at an elite level in Poland and Sweden, but Lee now resides in Montreal where he runs the 'ML Hockey Development' school.
Seven years removed from his last IIHF appearance for the Ice Blacks, the journeyman's vast experience from playing around the world will help keep this team grounded.
Chris Eaden (Canterbury Red Devils)
The Ice Blacks are immediately stronger with this man in the lineup – Eaden is the NZIHL's all-time leader in goals (203) and points (372). That's a two points per game pace. But after a disappointing 2018 season that saw Canterbury finish last, the Red Devils captain will be looking to start the 2019 season on a more positive note.
Eaden takes his strength and conditioning more seriously than most, establishing 'The Eaden Project' where he helps his clients achieve their own fitness goals with the motto 'Making normal people abnormally fit.' With extensive knowledge in this area, Eaden brings more to the table than just his scoring prowess – and superior fitness will be important to edging out the competition if games go into overtime.
If you don't believe me just check out @eadenproject on Instagram.
2018: 14 games, 8 goals, 12 assists, -18, 33 PIMs, 14.55 S%

DEFENCE
Stefan Amston (Stampede)
Originally from Sweden, the home of offensively gifted defencemen, I would consider Amston the biggest offensive weapon the Ice Blacks currently have on the blue line.
Last year's tournament in Spain was Amston's debut as a New Zealand citizen/representative, racking up 5 assists across his first 5 games. More points on the board this time around could result in seeing gold around his neck come April 27 – that just happens to be the day after my birthday, and all I want this year is to see this team finally achieve what they are capable of doing.
2018: 18 games, 6 goals, 7 assists, +21, 8 PIMs, 50.00 S%
Callum Burns (Stampede)
The youngest member of this year's squad knows how to fly! Once a winger, Burns has quickly grown into his new defensive role for the Stampede and the Ice Blacks as well. But that doesn't stop him from displaying his explosive speed – he's a talented puck-carrying defender that loves to create scoring chances off the rush and it's a pleasure to watch it happen from the stands.
A pairing of Amston and Burns could be lethal for the Ice Blacks' special teams.
2018: 15 games, 2 goals, 10 assists, +9, 12 PIMs, 50.00 S%
Nick Craig (Admirals)
After suffering an injury early last season that saw the Ice Blacks captain sitting on the bench and chomping at the bit for the Winter Games plus the Admirals' Birgel Cup run, Nick Craig is back and ready to lead the Ice Blacks to a first-place finish – he won't be satisfied with another silver medal.
He will feel at home with so many of his Admirals teammates joining him for this journey. I know I'm not the only one who can't wait to see what results a hungry Craig is capable of producing.
2018: 5 games, +5, 2 PIMs
Blake Jackson (Admirals)
Considering Jackson only registered 3 shots on goal for the entire 2018 NZIHL season, one of which went in, his focus is more on keeping the opposition at bay and clearing any rebound opportunities away from his netminder. But perhaps he should shoot more? There must be some lucky powers behind that moustache.
The Admirals defender was part of the 2012 Ice Blacks team that last played at the Division 2A level…I think you know where I'm going with this. Division 2B silver medals just don't cut it anymore.
2018: 18 games, 1 goal, 2 assists, +3, 31 PIMs, 33.33 S%
Andrew Hay (Swarm)
As one of three Hay brothers to represent New Zealand in the past 12 months, Andrew knows what it means to wear the black jersey with pride, and he does so by providing a solid stay-at-home presence on the blue line.
As with Blake Jackson, Andrew was on the last Ice Blacks team to compete in the IIHF division above where they are currently placed. No doubt he would like to help guide New Zealand back there before he ever considers the notion of hanging up the skates – which is crazy. Surely it must be NZ law by now that at least one member of the Hay family is an Ice Black at all times.
2018: 15 games, 1 goal, -3, 29 PIMs, 12.50 SG%
Jaxson Lane (Red Devils)
While the Canterbury Red Devils were well represented in this year's New Zealand Under-20s team, Lane is one of only two in the Ice Blacks – the other being stalwart Chris Eaden. This will be his first IIHF experience at the senior level, but the defender has previously worn the black jersey for the Under-18s and Under-20s back in 2011-12.
With Lane's Red Devils coach Khorozov also running the bench at Mexico City and the experience of fellow d-men Craig, Jackson and Hay behind him, there is plenty of support, making this tournament a great opportunity for Lane to establish himself.
2018: 16 games, 2 goals, 6 assists, -20, 16 PIMS, 15.38 SG%
Stephen Mawson (Swarm)
Mawson's inclusion to the squad is a testament to how hard he works to be successful. Having only picked up ice hockey a few years ago, he was more accustomed to the hard floors of inline hockey, but has since quickly become a key member of the Botany Swarm's defensive core in just three seasons.
Playing forward during the latest summer edition of the Backyard Hockey League in Auckland, Mawson finished third in league scoring behind Botany Swarm/Iceholes teammate Ritchie Hopkinson and Kyle Kaliniak with 28 points in 15 games.
The Ice Blacks rookie has seen plenty of ice time and on a good team he can definitely produce. Bring the flow, bring the noise.
2018: 14 games, 2 goals, 3 assists, -11, 20 PIMs, 16.67 SG%
GOALIES
Rick Parry (Admirals)
As far as hockey careers go for New Zealand-born goalies, Parry is the gold standard to follow for the country's younger goaltenders that are starting to come through the ranks. To help facilitate their growth he recently created the 'Rick Parry Goalie Academy' with his first camp coming up next month.
Sharing starts with Csaba Kercso-Magos, the veteran of 129 NZIHL games finished third amongst the league-leading goalies for 2018.
It's no secret that I'm a big fan of Parry both as a person and a hockey player, his interview on the Puck Yeah podcast remains one of my favourites to date. I have full confidence that this Admirals goalie tandem can also deliver the goods just as they did in the NZIHL last year.
2018: 6-2 record, .913 SV%, 3.25 GAA
Csaba Kercso-Magos (Admirals)
After a highly successful year that saw the Hungarian-born goalie put up his best numbers since making his NZIHL debut in 2011, now's the time for Kercso-Magos to make a run at the starting job for the Ice Blacks.
Last season proved that he is capable of stepping up for those big game moments as seen with three strong starts for the Admirals during the NZIHL playoffs – allowing 2.33 goals per game in a fierce battle with the Dunedin Thunder and the Skycity Stampede for top honours. Considering the high goal totals often seen in the league, those numbers were more than enough to keep his team in contention.
I've been impressed with Kercso-Magos' ability to calm down and simply focus on making the next save. At 25 he's hitting his prime and will provide a few good years in the crease for the Ice Blacks, especially with the Stampede's Daniel Lee also pushing for starts when he's available.
2018: 9-1 record, .931 SV%, 2.77 GAA
Words by Logan Swinkels

This article was first published on puckyeah.nz and is republished here with permission.