Who has the best BYC pitch in NZ?
Publish Date

Tuesday, 18 January 2022, 3:13PM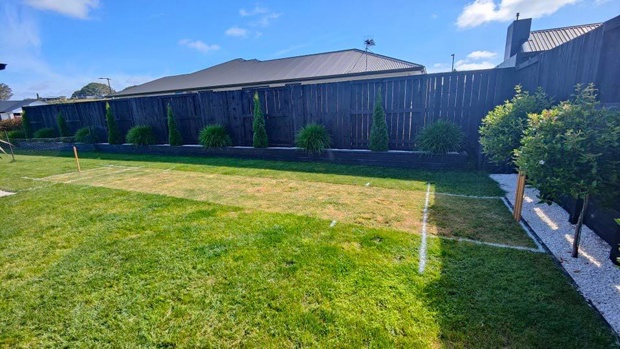 Throughout the summer months, Kiwis flock to all four corners of the country to partake in various recreational activities but there is one that transcends all ages and genders. The rules are fluid, the balls are almost always doctored and the conditions are often the most challenging on earth. Welcome to the most quintessential summer pastime, Back Yard Cricket (BYC).
It's a format that requires just 2 simple bits of equipment and any grassy piece of real estate (although from the footage below from former Australian fast Brett Lee – just the footpath outside his house will do).
This summer The Alternative Commentary Collective (ACC) has been in search of the best BYC arena in NZ.
"Its not just the pitch itself that's important when it comes to a classic kiwi BYC pitch." says The ACC's Jeremy Wells "It's also the intricacies and the challenges some people face, from the fact you might not have any grass at all to the fact your grandad's prized roses are right bang in the middle of a beautiful clip through the leg side. Also, the fact you can lay down a BYC pitch anywhere is why it's such a great format for all ages, some of the entries so far have been from some pretty spectacular locations"
Alongside some pretty amazing locations are also those BYC set-ups that sport rollers, pavilions, picket fences and in some cases there own terraces.
Expat Kiwi's feeling a tad homesick have also contributed to the entries with some fairly winter-bound BYC pitches being submitted.


The competition is running until the end of summer with the eventual winner being crowned 2022's "BYC Pitch of the Year" with the top 12 locations being turned into a calendar that would rival any back of the toilet door number.
To enter your BYC pitch simply tag in @TheACCnz on Instagram or message The Alternative Commentary Collective on Facebook.
Take your Radio, Podcasts and Music with you